Eagle (1980s)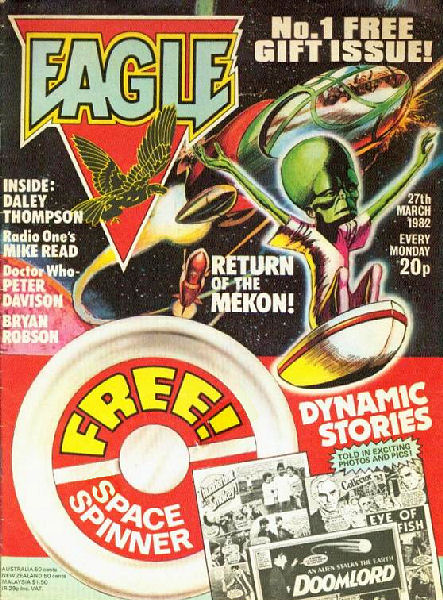 a.k.a.: Eagle and Scream, Eagle and Tiger, Eagle and Battle, Eagle and Mask, Eagle and Wildcat, New Eagle
Publisher: I.P.C. / Fleetway
Format: Weekly Comic, became monthly in the last couple of years. Photo strips and comic strips, later just comic strips.
First Issue: 27th March 1982
Last Issue: January 1994
Absorbed: Scream (7th July 1984), Tiger (6th April 1985), Battle (30th January 1988), Mask (29th October 1988), Wildcat (8th April 1989)
Absorbed into: None. Cancelled.
Strips: Ant Wars, The Avenger, Billy's Boots, Bloodfang, The Brothers, The Collector, The Computer Warrior, Comrade Bronski, D.A.D.D., Dan Dare, Dark Angels, Deathwish, Detective Zed, Dolebusters, Doomlord, Ernie, The Fifth Horseman, The Fists of Danny Pike, Gaunt, The Hand, The House of Daemon, The Invisible Boy, Joe Soap, MACH One, M.A.C.H. Zero, Manix, The Monster, One-Eyed Jack, Saddletramp, Sergeant Streetwise, Survival, Thirteenth Floor, Thunderbolt and Smokey, The Tower King, Toys of Doom, Walk or Die, Golden Boy, Mask of Evil, Rat Trap, Charley's War
Comments: An attempt to revive the original and fondly remembered Eagle comic of the 1950s/1960s. Though not as successful, it still managed a good run in excess of a decade. It initially included photo stories, although these were dropped relatively quickly.
Back to General UK Comic Book Heroes.
Back to UK Superheroes Main Page.
All images and characters depicted on this site are copyright their respective holders, and are used for informational purposes only. No infringement is intended and copyrights remain at source.