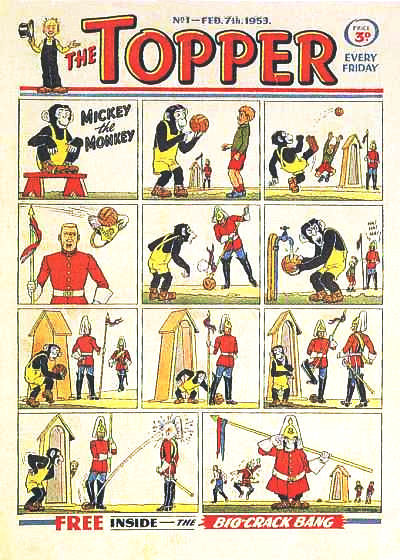 Topper
a.k.a.:
Publisher: D.C. Thomson
Format: Weekly comic strip anthology
First Issue: Topper #1 (7th February 1953)
Last Issue: Topper #1874 (15th September 1990)
Absorbed into: The Beezer and Topper
Strips: A Day in the Life of A Super Salesman, Al Change, Ali's Baba, The Amazing Peet from Planet K, Andy Ladd, Beryl the Peril, Big Fat Flo, Big Uggy, Big X, Bogeyman, Captain Blood, Danny's Tranny, Desert Island Dick, Dopey Joe, Figaro!, Flip McCoy – the Flying Boy, Foxy, Fred the Flop, Ghastly Manor, Hoozee the Whatsit, Hungry Horace, Inky Top Imps, The Iron Eaters, Jimmy Jinx and What He Thinks, Jimmy's Mighty Midgets, Jingo the Jester, The Jolly Rogers, Julius Cheeser, Keyhole Kate, King Gussie, Mickey the Monkey, The Mysterious Monty Mercury, Nobby, Numskulls, Peter Piper, Pup Parade, Quiz Kid, Scaredy Cat, Send for Kelly, Sir Laughalot, The Sky Shark, Smart Art, Souper Boy, Spike, Splodge; Splursh, the Marsh 'Un; Stavros, Super Specs, Thor Thumb, Tiny, Tiny Tim, Tom and Terry, Tricky Dicky, Werewolf Willy, The White Witch, The Whizzers from Ozz, Willy Nilly, Wulf of the Arrows
Comments:

Hoozee the Whatsit


Splursh's first encounter with his soon-to-be friend Mary.
Back to General UK Comic Book Heroes.
Back to UK Superheroes Main Page.
All images and characters depicted on this site are copyright their respective holders, and are used for informational purposes only. No infringement is intended and copyrights remain at source.