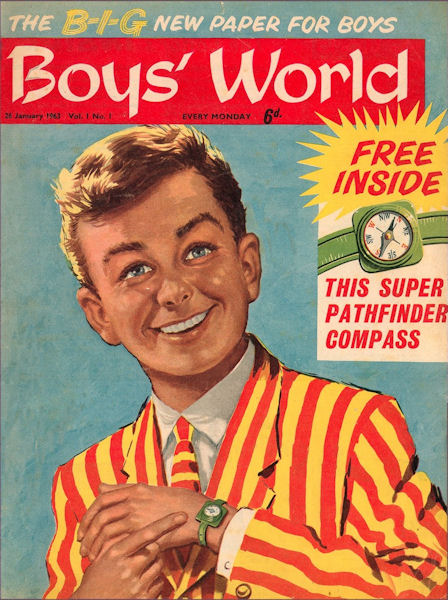 Boys' World
Publisher: Odhams (Longacre Press)
Format: Weekly anthology
First Issue: Boys' World Vol.1 #1 (26th January 1963)
Last Issue: Boys' World Vol. 2 #40 (3rd October 1964, 89 issues in total)
Absorbed: None
Absorbed into: Eagle
Strips: Billy Binns and his Wonderful Specs, The Boys of Castleford School, Bret Million, Dr. What and his Time Clock, The Iron Man, John Brody, Merlo the Magician, Pike Mason, Private Proon, Raff Regan, Wrath of the Gods
Annuals only - Harry the Hairy Hunter; Lancelot Knight, Investigator; N.E. Spooks; Ormless and Gormless: The Terrible Danes; Pinch and McNab
More details below.
Comments: Launched by Odhams Press on 26th January 1963, Boys' World's pitched itself closer to the highly successful adventure comic The Eagle and recently released "eductional" magazine Look and Learn, rather than more anarchic fair such as The Beano. It contained features and text stories, but was dominated by adventure strips, largely drawn by artists with exceptionally realistic styles, such as Ron Embleton, Frank Bellamy and Luis Bermejo.
The first issue featured the strips The Sea Ape, What is Exhibit X?, Wrath of the Gods, and The Boys of Castleford School in Secret of the Tower, as well as a serial text story The Ship That Vanished, two one-off text tales: Chikal the Cheetah and The Southpaw, and a feature Let's Go to the Pictures, which in this case promoted Lawrence of Arabia. The first two strips above would prove to be merely the initial adventures for their respective stars, oceanic adventurer Robert Wentworth "Pike" Mason and Daily Newsflash reporter John Brody, while Castleford's pupils would enjoy a second adventure before the focus of their strip shifted to one specific pupil, Billy Binns. Likewise, Let's Go to the Pictures remained an ongoing presence, each week shifting to cover another recently released movie, such as How The West Was Won and The Bridge on The River Kwai. The second issue saw the addition of half-page humour/eductional strip Did You Know? by Reg Parlett, each installment informing the reader of a handful of random facts balanced out with Reg's tongue-in-cheek responses. By the fifth issue another regular feature What's in a Name? had debuted, explaining the origins of different surnames, and from the seventh issue a new cover feature, What Would You Do?, challenged the readers to find a solution to various lifethreatening dilemmas posed as a single panel.
The Ship That Vanished concluded with issue #10, to be replaced in #11 by Merlo the Magician, written by science fiction writer Harry Harrison, creator of Deathworld and The Stainless Steel Rat. Another significant contributor was fantasy writer Michael Moorcock, later creator of Elric and other novel series, writing installments of Do You Know Your Name? as well as other one-off features and short stories (such as the prose tale Time Drop in Boys' World Annual 1965). Issue #24 proved a significant milestone for the comic, with the conclusion of Pike Mason's initial Sea Ape adventure, the start of new adventures for Jeff Brody and Merlo the Magician (with the latter transforming from a text tale to a comic strip), a new chapter of Wrath of the Gods, the transformation of The Boys of Castleford School into Billy Binns and his Wonderful Specs, and the debut of humour strip Private Poon and adventure strips The Iron Man and The Angry Planet, the latter an adaptation by Harrison of his Deathworld novel and starring space hero Bret Million. Other later additions included the illustrated feature Hand of Fate. Bret's second and final adventure concluded in vol.2 #17 (Boys' World having renumbered to Vol.2 #1 in January 1964, after 49 issues of vol.1) to be replaced the next issue by World War II pilot Raff Regan, while Pike Mason concluded his adventures in vol.2 #21, with What is My Name? taking over in vol.2 #22; the same issue also saw the debut of Dr. What and his Time Clock. All the other regular strips continued up until Boys' World was cancelled with vol.2 #40 (a total of 89 issues), and merged a week later into The Eagle. War of the Gods, Raff Regan, Billy Binns and Iron Man transferred to their new home, where the last of these would prove enduring enough to continue his adventures until that comic's demise in 1969.
Despite the weekly comic coming to an end, the Boys' World Annuals which had begun in 1963 (with Boys' World Annual 1964) continued for several more years, ending with Boys' World Annual 1972. These featured additional strips not included in the weekly comic (as far as I am aware). At least one, Slumberjack was a reprint of an older strip, Buster's Lazy Sprockett, while others might similarly be characters that originated in other comics, or could be brand new and produced purely for the annual (both were not uncommon practises back in the day). These included Ormless and Gormless, N.E. Spooks, Pinch and McNab, Harry the Hairy Hunter and Lancelot Knight, Investigator.
Pike Mason

Pike Mason was a sea-adventurer who travelled the globe on his ship, The Sabre, with his Filipino assistant Quarro. They investigated many strange phenomena, such as the monstrous myth of the "sea ape" of the Island of Groans.

Illustrated by Luis Bermejo and written by Tom Tully, Pike Mason enjoyed three adventures in Boys' World: The Sea Ape in issues #1-24, The Curse of Zentaca in #25-46, and The Monster of Duncrana in #47-21. He also appeared in at least two of the annuals: Island of Fear in Boys' World Annual 1964 and Slave Kingdom in the 1965 annual.

Jeff Brody

Jeff Brody was the science investigator for the Daily Newsflash, and stumbled across outre stories on a regular basis, such as the case of Exhibit X?. Hearing sailors in a dockland tavern discussing an old, barnacle-encrusted object they had fished out of the sea and handed over to Tollworth Museum, Brody smelled a story, but when he visited the museum he instead discovered a strange device that made him feel somehow uneasy. When he refused to agree with the curator that nothing was there, the man attacked him. After overpowering the curator, Jeff reported what had happened to the police, but the device was gone by the time the cops accompanied him back to the museum. As Jeff investigated further, he learned the device was taking over people's minds via high-pitched soundwaves and making them manufacture smaller duplicate devices to distribute and so extend its control further. Jeff possessed "ultrasonic hearing" that allowed him to consciously hear the sound and was thus immune, but this made him a target for anyone under Exhibit X?'s control. With the help of other similarly immune individuals, he eventually ended Exhibit X?'s threat.

Written by Willie Paterson, Jeff Brody starred in five epic adventures that spanned the entire run of Boys' World: What is Exhibit X? ran from #1-23, The House on Scar Island from #24-44, The Fire Creatures #45-vol.2 #12, The Invisible Man #13-17 and The Green Men #18-40. Colin Andrew drew the first series, Frank Langford the last, and Brian Lewis the middle three. Brody also appeared in Boys' World Annual 1965 in Fires of Vishna, and there was a text story, Army on the March, starring someone called Brody in Boys' World Annual 1966, but I'm unsure if that is Jeff Brody, or another character who merely shares the surname.

Wrath of the Gods

Probably the best remembered strip in Boys' World was Wrath of the Gods, an epic fantasy which told the tale of Arion, who was charged to find the lost weapons of Ajax by Zeus, facing numerous mythological challenges along the way. Written by Willie Paterson, Wrath of the Gods was drawn by Ron Embleton for the first segment, The Bow of Delos (Boys' World #1-23), with John Burns taking over for the rest of the run: The Chalice of Apollo in #24-45, The Weapons of Ajax in #46-vol.2 #31, and The Future-Stone in #31-40 (and then continuing in Eagle). Wrath of the Gods also turned up in Boys' World Annual 1966.

The Boys of Castleford School

Drawn by Eric Kincaid, the boys boarding at Castleford enjoyed two adventures, The Secret of the Tower in #1-17, and The Phantom Rider in #18-23, before the strip shifted focus to pupil Billy Binns.

Did You Know?

An ongoing half page feature informing readers of trivia, counterpointed by humour.

What Would You Do?


A running cover feature which started with issue #7 and carried on right until the final Boys' World, What Would You Do? posed varying crises situations for the readers to resolve.

What's in a Name?

A full page illustrated feature, What's in a Name? explored the origins of various surnames, with each issue looking at different names linked by some type of common theme, such as bird-related names.

Merlo the Magician

A spy created by Harry Harrison, Merlo the Magician was originally intended to be named Merlin, until someone higher up in Boys' World's management decided it needed changed. Initially he appeared in a twelve part text story, The Spell of Magic (Boys' World #11-23), before transitioning to a comic strip. Harrison wrote the first two Merlo comic strips, Men Without Faces (Boys' World #24-43) and The Army of Crime (Boys' World #44-vol.2 #17), before handing over to another writer for the remaining two stories, Danger in the Desert (Boys' World #18-27) and Operation Rescue (Boys' World #28-40). All parts had art by Garcia Pizarro. Merlo returned in the Boys' World Annuals with four stories: 1964's Smash and Grab; 1965's Death in Venice, 1966's Payroll Raid, and 1967's Man Overboard.

The first Merlo the Magician story can be read in its entirety on the Harry Harrison News Blog.

Billy Binns and his Wonderful Specs

A spin off from The Boys of Castleford School that began in Boys' World #24, Billy Binns was transformed from being a sporting duffer to a sporting genius by a pair of magical spectacles. Inevitably, he had a tendency to lose them at critical junctures during stories, leaving his chances of winning whatever sporting challenge he was facing in serious doubt, then he'd regain them by luck just in time.

Billy enjoyed a sixty-six issue run in Boys' World, plus a story in Boys' World Annual 1965, before transferring to Eagle. Bill Mainwairing handled art chores for the weekly installments.

Private Poon the Barrack Square

One of Boys' World limited number of humour strips, Private Poon was a soldier whose inadequate and inept problem solving skills usually resulted in chaos, though he often lucked out and came out alright in the end. It was drawn by Leslie Harding.

The Iron Man

The robotic Iron Man began in Boys' World #24, in a tale drawn by Gerry Embleton. He enjoyed four adventures until Boys' World demise, in #24-34, #35-49. vol.2 #1-28, and #29-40, the last three illustrated by Martin Salvador. He also turned up in Boys' World Annual 1965.

Brett Million

In the year 5000A.D., space adventurer Brett Million is a troubleshooter who can be hired to resolve virtually any problem, be it the hostile flora and fauna of the planet Pyrrus that is actively seeking to wipe out the human colonists, or the mining world Eisen where equipment and men are mysteriously vanishing, literally disappearing into thin air in front of witnesses.

Brett Million's first case, The Angry Planet, began in Boys' World #24 and ran until #45. With art by Frank Langford, it was partially adapted by scripter Harry Harrison from one of his own novels, Deathworld, down to the name of the planet (Pyrrus) and some of the supporting cast (Kerk) being the same in both media. The second story Harrison scripted for Million was brand new, and especially well remembered both for the writing and for the stunning art by Frank Bellamy. It ran from Boys' World #46 through to vol.2. #17. There was also another, shorter tale in Boys' World Annual 1964, titled Robot World.

Raff Regan

Squadron Leader Raff Regan was a RAF pilot who served in World War II. His adventures appeared in vol.2 #18-40, plus most of the annuals.

What is My Name?

After being forced to ditch his fighter jet in the sea off the Hebridean island of South Uist, Flight Lieutenant Jimmy Pierce is saved from drowning by a mysterious hermit the locals call the Nameless One. The hermit then asks Jimmy to repay him...by finding out what his name is. And thus Jimmy finds himself embroiled in what will turn out to be a tale of magic and ancient curses.

Dr. What and his Time Clock

Dr. What invents a time clock that allows him to travel back and forth through history.

Created by Artie Jackson, Dr What was the first Doctor Who pastiche in comics, debuting in Boys' World vol.2 #22 (30th May 1964), and ran for the remaining 19 issues of the title. The entire series was later reprinted in Cor! Summer Special 1972, and seems to have been sufficiently well received that a new 12 page story (or old, previously unused one) appeared in Cor! Summer Special 1974. He also guest starred in one of the Jasper the Grasper stories in Cor! Annual 1974, picking up Jasper McGrab in Victorian times and bringing him to the modern day to attend the Cor! Xmas party.

Pinch and McNab

Inept but lucky police officers Pinch (tall) and Mac (small) pursue criminals Buggsy and Muggsy in Boys' World Annual 1966.

Ormless and Gormless: The Terrible Danes

Created by John Ryan, Ormless and Gormless appeared in Boys' World Annual 1964. Danish kings and extremely competitive siblings, their arguments over who was better were observed by the future King Alfred, at this juncture only a boy.

I'm not sure if this was their only outing.

N.E. Spooks - Ghost Hunter!

Ghost Hunter N.E. Spooks is for hire to end any annoying hauntings. However, he's fairly inept at it. Hired to clear Spectre Castle of the ghosts of a thousand evil doers, he scares them out by donning a mask of his grotesque landlady, Mrs. Hobgoblin, but the ghosts hide in the boot of his car and begin haunting his office. Later, while on holiday in Little Hootlebury, he is asked to remove a ghost train running through the closed station of Hootlebury Halt. Spooks discovers the "ghost" is merely the noise of an express train running through an echoey canyon on a nearby line, but gets himself caught on the train's back bumper and dragged along for miles. Subsequently charged with stopping pirate Captain Crawfish's haunting of a church graveyard, Spooks disperses the flowers triggering the hayfever that awoke the spirit, but while this allows Crawfish to rest in peace, the scattered blooms rouse the rest of the pollen-sensitive pirate crew.

Created by Joseph Lee, N.E. Spooks was a humour strip that appeared in Boys' World Annual 1968 and 1969, two stories apiece for a total of four tales. It's unclear if he's intended to be human himself, given his slightly unusual appearance, and his landlady, Mrs. Hobgoblin, definitely isn't. His car's number plate is 1066 B.C.

Lancelot Knight, Investigator

Judo expert Lancelot Knight is a freelance investigator who will take on any case, anywhere, his only personal tie seems to be his housekeeper Mrs. Sparks.

Created by John Angus and Luis Bermejo. As far as I can tell, he first appeared in Eagle Annual 1968, before turning up in Boys' World Annual 1969, 1970 and 1971.

Harry the Hairy Hunter

Harry works for a London-based zoo, catching exotic animals for them to display. Instructed by Mister Keeper that they want him to bring back the Abominable Snowman, Harry immediately leaps atop his ostrich steed Gertie, races to the airport, and purchases a day return to the Himalayas. Soon locating the "beastie" he nets and crates it, and returns home proclaiming another triumphant expedition and his most magnificent catch yet. However, when he cracks open the crate he discovers that all it contains is water: "the bloomin' thing's melted."

A surprisingly fun and manic little strip which appeared in Boys' World Annual 1970.
Comics historian Steve Holland has written an utterly brilliant reference book about Boys' World (which I have, but not to hand, or I'd have answers to all the stuff I mention I'm unsure about above). If you've got to the bottom of this page, I assume you are probably somewhat interested in the title, and if that's the case, then I highly recommend you pick up a copy. This page does not hold a candle to Steve's exhaustive work.
Back to General UK Comic Book Heroes.
Back to UK Superheroes Main Page.
All images and characters depicted on this site are copyright their respective holders, and are used for informational purposes only. No infringement is intended and copyrights remain at source.