Buster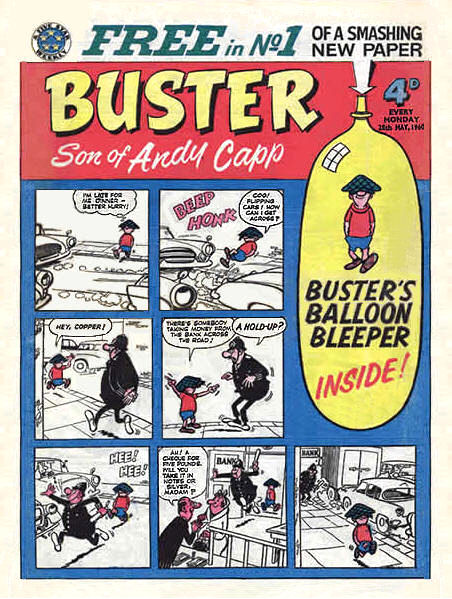 a.k.a.:
Publisher: Fleetway, I.P.C.
Format: Weekly comic strip anthology
First Issue: 28th May 1960
Last Issue: 22nd December 1999 (#1901)
Absorbed: Radio Fun (25th February 1961), Film Fun (September 1962), The Big One (February 1965), Giggle (1968), Jet (October 1961), Cor!! (June 1974), Monster Fun (October 1976), Jackpot (February 1982), School Fun (1984), Nipper (September 1987), Oink!!, Whizzer and Chips (November 1990)
Absorbed into:
Strips: Astounding Adventures of Charlie Peace, Bonehead, Brad Break, Buster (later Buster's Diary), Captain Swoop, Chalky, Cliff Hanger, Cruncher, Charlie Drake, Dr. Zitbags Transylvanian Pet Shop, Faceache, Football Madd, Galaxus, George and the Dragon, Gums, Gus the Gorilla, Jack Pott, The Kids of Stalag 41, Kid Gloves, Kid Kong, Lazy Sprockett, Leopard from Lime Street, Mighty Mouth, Mummy's Boy, Nellyphant, Nipper, Patch Eye Hooker, Pete's Pocket Army, Ricky Rainbow, Roaring Forties, School Belle, Superman (reprints of US Superman stories), The Terrors of Tornado Street, Tom Thug's Schooldayz, Top of the Class, Val's Vanishing Cream, Von Hoffman's Invasion, Walt Teaser, Whacko, The Wizard of Football, X-Ray Specs, Young Arfur
Comments:
Back to General UK Comic Book Heroes.
Back to UK Superheroes Main Page.
All images and characters depicted on this site are copyright their respective holders, and are used for informational purposes only. No infringement is intended and copyrights remain at source.