Reality-2000 A.D.

Usual Designator: N.A.

Also known as: Dimension Beta-7 (see comments)

Multiverse: 2000 A.D. (includes several smaller multiverses, including Judge Dredd's)

Significant locals: Claw Carver, Earl Reagan, Skizz, Bill Savage, Judge Dredd, Judge Anderson, Hammerstein, Ro-Jaws, Nemesis, Torquemada, Rogue, Friday, Johnny Alpha, Wulf Sternhammer

Significant locations: Mega-City One

Visited by: Judge Death, Batman, Halo Jones, DR, Quinch, Sam Slade, Ace Garp

Local travellers: Judge Dredd, Judge Anderson, Hammerstein

First appeared: Flesh, 2000 A.D. Prog 1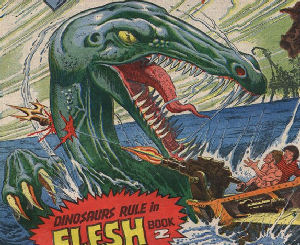 History: (Flesh Book 2) circa 200 million BC: Trans-Time operatives come back in time to hunt the Triassic seas for meat to feed the hungry people of the 23rd century. However, the fugitive Claw Carver arrives fleeing from Trans-Time's disastrous Cretaceous mission, while the vicious Nothorsaurus Big Hungry puts man on the menu.
(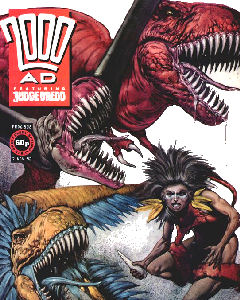 Flesh: Legend of Shamana) Jurassic era (exact date unknown): Time to Time, a rival to Trans-Time, sets up penal colonies and dinosaur meat processing facilities in this era, only for the dinosaurs to spontaneously and instinctively work together to repel the intruders, acting like anti-bodies to an invading infection.
(Flesh: Chronocide) circa 80 million BC: Earl Reagan, survivor of the disaster in Trans-Time's 65 million BC operation battles terrorists hoping to prevent another disaster while his allies take on the same terrorist group in the Pleistocene.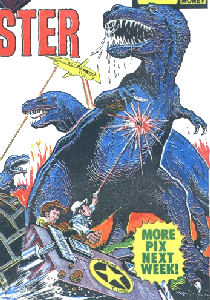 (Flesh Book 1) circa 65 million BC: Trans-Time operatives hunt the Cretaceous, but find the local predators see them less as competition than as new prey. The Tyrannosaurus Old One Eye proves especially dangerous; after slaying her own offspring, Satanus, following a leadership battle, Old One Eye goes on to destroy Trans-Time's main base in this era, leading other local species in overrunning it. The villainous Claw Carver flees the base's destruction, but unintentionally goes back to an earlier era rather than forward to his own time.
(Nemesis Book 7: Two Torquemadas) A little later in the same era the alien Thoth travels back in time and releases Satanus' clone into the wild, after it has served him as a faithful pet far in the future.
(Flesh: Chronocide) circa 20,000 BC: Earl Reagan's colleagues try to prevent terrorists who have travelled back to this era.
(Strontium Dog: Max Bubba) 793 AD: Mutant fugitive Max Bubba and his gang escape back to this era, arriving in Scandinavia, where they begin killing locals to disrupt ancestral lines in the future. Search/Destroy Agent Johnny Alpha travels back and captures them with the assistance of Viking Wulf Sternhammer, who ends up accompanying Alpha back to the 22nd century.
(Nemesis Book 7: Two Torquemadas) 15th century AD: The Grand Master of Termite, Torquemada, travels back in time to meet his namesake ancestor, Spain's Grand Inquisitor Tomas de Torquemada. While in this era, he slays the time-travelling Thoth, son of his foe Nemesis.
(Strontium Dog: The Schickelgruber Grab) 1945: To claim the bounty set by the Committee of Ultimate Retribution, S/D agents Johnny Alpha and Wulf Sternhammer arrive back in wartorn Germany and capture Adolf Hitler from his bunker in Berlin, intending to take him to the future to stand trial. Rival S/D agents including Stix also come back in time, hoping to steal Alpha and Sternhammer's prisoner and bounty.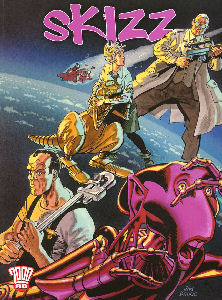 (Skizz) 1983: Tau Cetian Interpreter Zhcchz crash lands in the north of England. He is hunted by government agents, but is assisted by friendly locals Roxy, Loz and Cornelius.
(Strontium Dog: Bitch) 1987; Kaiakos-K rebels travel back from the 23rd century and abduct American President Ronald Reagan. He is later returned after being rescued by S/D Agents Johnny Alpha and Durham Red.
(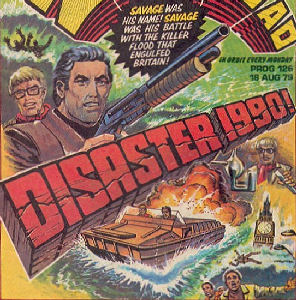 Disaster 1990) 1990: After a nuclear submarine explodes under the North Pole, creating a massive tidal wave of melted ice, much of the U.K. is submerged. Trucker Bill Savage is among the survivors who fights to stay alive until the ice freezes again.
(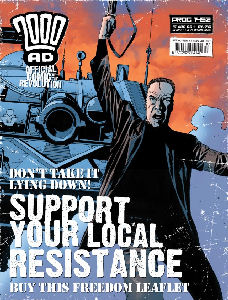 Invasion) 1999: The Volgs invade Western Europe, including Britain. With his family slain early in the occupation Bill Savage becomes a relentless resistance fighter.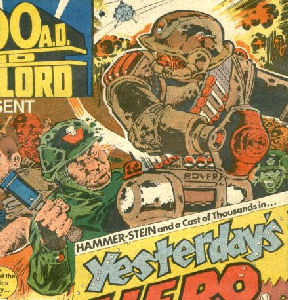 (Ro-Busters: Hammerstein's Memoirs / Savage Book 5) 2009: War droids are created and tested in the battle field, with the Mark 3 going into mass production after a successful test of the prototype, Hammerstein. These war droids attack Volg-occupied Britain.
At some uncertain date after this the Volgs are driven back and the first Volg war ends (see Conflicts below).
(Judge Dredd) 2027: President Thomas Gurney appoints Eustace Fargo the Government Special Prosecutor for Street Crime, his remit to find a way to stop rising gang violence.
(Judge Dredd) 2031: Fargo introduces the Judge system to ease pressure on the overworked courts. Initially working as supplements to the police, Judges are allowed to dispense instant justice without needing to go to trial.
(Judge Dredd) 2040s: Satanus is resurrected, the first dinosaur to be cloned from reclaimed DNA.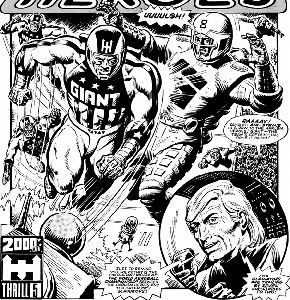 (Harlem Heroes) 2050s: The brutal and fast moving sport of Aeroball becomes the world's most popular sport. The Harlem Heroes team are devastated in a road-liner crash, but still go on to win the world championship. Shortly after this the survivors of the Harlem Heroes form the Harlem Hellcats Inferno team, playing the even more dangerous new sport.
(ABC Warriors) circa 2060s (see Conflicts): A second Volg war engulfs the globe, and is fought mostly using Mek-troopers. When it ends, Hammerstein's squad is sent to Mars to help bring peace to the colony there.
(Judge Dredd) 2066: Rico and Joe Dredd are among the first batch of clones created to become Judges.
(Judge Dredd) 2070-71: President Booth begins the Atomic Wars, but Mega-Cities tend to survive with minimal damage thanks to laser defence systems. Booth is deposed by the citizens, and the Judges are asked to take over running the country. Robot troops loyal to the existing regime battle the Judges, but are defeated at the Battle of Armageddon.
(Judge Dredd) 2079: Rico and Joe Dredd graduate and become street Judges. Unfortunately Rico soon becomes corrupt, forcing Joe to sentence him to 20 years on the Titan Penal Colony.
(Ro-Busters) 2080: Ro-Busters uses droids for disaster relief, but eventually goes into liquidation. Hammerstein, his friend Ro-Jaws and other droids are scheduled for destruction so that their owner can fraudulently claim the insurance, but instead escape, with many setting off into space for a secret free robot colony.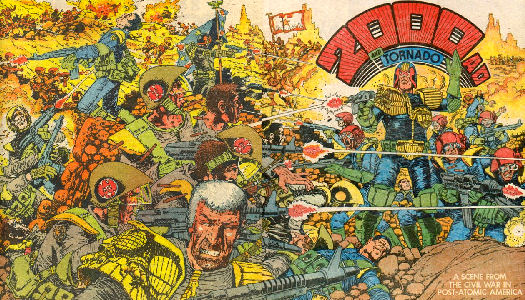 (Judge Dredd) 2083: Civil War briefly erupts in the U.S. between Mega-City One, Two and Three, with the latter unhappy with external governance by its sister cities. In 2086 the war ends in stalemate, and rather than continue a pointless conflict, Mega-City One allows Mega-City Three to secede; the newly independent city renames itself Texas City.
(Judge Dredd) 2099: Statue of Judgment is unveiled. Construction robot Call-Me-Kenneth leads a mechanical uprising, but led by Dredd, the Judges soon end the Robot Wars. Rico finishes his sentence and returns to the city to confront his brother, but is slain.
2100: When the deadly 2T(FRU)T virus breaks out in Mega-City Two, Dredd leads an expedition across the Cursed Earth to deliver the antidote. In his absence the ambitious and insane Deputy Chief Judge Cal, head of the SJS, begins a grab for power by using the Judge's briefing machines, which plant information direct into their brains, to brainwash most of the Judge's to be unswervingly loyal to him.
2101: Dredd returns home to a hero's welcome, but Cal frames him for murder. Even though Dredd manages to prove his innocence, Cal continues his planned grab for power, having Chief Judge Goodman assassinated and appointing himself Chief Judge. Dredd leads a resistance movement of Judges who accidentally evaded the brainwashing, including Academy of Law tutors.
2102: Cal is finally slain by Dredd's ally Fergie on the 100th day of his reign, just before carrying out a sentence of death on the entire city. The undead Judge Death comes from his own reality to visit his lethal brand of justice on Dredd's city, but is captured within the mind of telepath Cassandra Anderson. Soon after this, Psi-Judge Feyy makes a dying prediction that Mega-City One will be doomed in 2120 unless Owen Krysler, the psychic mutant known as the Judge Child, can be found to lead the city. Dredd leads a mission to find Krysler, even heading into space when the Angel Gang kidnap the boy, but when he finally catches up with the boy, Dredd judges him to be evil, and rejects Feyy's prediction as flawed.
2103: Death is freed by his colleagues, but Dredd and Anderson pursue the Dark Judges to Deadworld and seemingly destroy them. Later in the year East-Meg One sends an undercover judge, Orlok, into Mega-City One, to poison the water supply with a rage-inducing supplement, triggering city wide Block Wars.
2104: Orlok is finally caught by Dredd, but his arrest triggers the next phase of East-Meg's plan. Supreme Judge Bulgarin starts the Apocalypse War, launching a devastating nuclear attack on Mega-City One, whose defenses are in chaos; East-Meg One is protected from the retaliatory strike by Apocalypse Shields, which transport Mega-City's missiles to another reality. Dredd eventually leads a covert mission to commandeer an East-Meg missile bunker, and uses the Sov-Block city's own weapons to reduce East-Meg One to a smoking crater, ending the war. Mega-City One begins the slow process of rebuilding.
2106: With the development of the Proteus time capsule, Dredd and Anderson go on a mission to 2120 to check out the validity of Feyy's prediction. They find a city of horrors ruled by the Mutant, a mutated clone of the Judge Child, and barely make it back home. To prevent this timeline coming to pass, the forewarned Judges destroy the Mutant in its infancy.
2107: Judge Anderson is tricked into reviving the Dark Judges, who are ultimately trapped in between dimensions.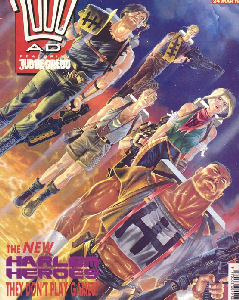 (Harlem Heroes) 2109: Terrorists who have named themselves after the Harlem Heroes escape from an underground penal colony.
(Judge Dredd) Meanwhile, the same year, Judda attack Mega-City One. Dredd uses the excuse of pursuing escaped prisoner Chopper to Oz as cover to get close to the Judda's Uluru base, and nukes it.
2111: Questioning his own judgment, Dredd takes the Long Walk.
2112: The Sisters of Death bring the Dark Judges back to Mega-City One and turn it into a Necropolis, with the mind-controlled Judges helping slaughter the citizenry, killing 60 million citizens. Dredd and former Chief Judge McGruder return from the Cursed Earth and free the city from the reign of terror, though Death remains on the loose.
2113: Judge Death escapes via Dimension Jump technology to Gotham City on Earth-1 (Post-Crisis & Zero Hour version, DC Universe), and the vigilante Batman in turn ends up in MC1, where Mean Machine Angel promptly steals the D-Jump technology to follow Death. After Judge Dredd arrests Batman, Judge Anderson helps him escape and with Dredd in tow they travel to Gotham City to catch Death and Mean Machine Angel.
2114: The necromagus Sabbat, a criminal from 2178, travels back in time and attacks every Mega-City with a vast zombie army. S/D Agent Johnny Alpha follows him from the future, and joins Dredd and judges from across the world in stopping him.
2121: Nero Narcos begins the Second Robot Wars and successfully seizes control of MC1. Assisted by Brit-Cit, Dredd destroys his robot army and Narcos is slain.
(Strontium Dog) 2150: "Nobody ever knew who fired the first missile - but suddenly the whole world went crazy!" The Great War of 2150 devastates the globe. 70% of Britain's population is slain, and in the aftermath the number of mutant births dramatically increases. Anti-Mutant laws are implemented, pioneered by Nelson Bunker Kreelman. However, his son John Kreelman is born later that year, and proves to be a mutant. Nelson keeps this secret, forcing the child to constantly wear goggles to hide his eyes, the outward sign of his mutation.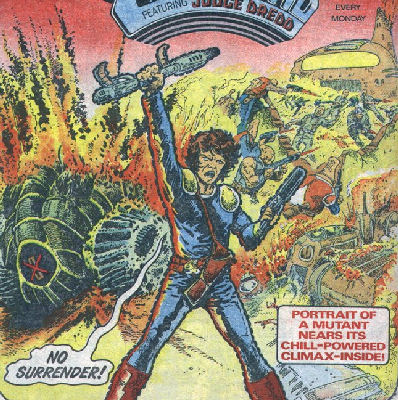 2162: John learns of his mutation, but runs away after his father rejects him, and enlists in the Mutant Army as Johnny Alpha.
(Red Razors) 2163: The Sov-Block use brainwashed criminals as judges, the most efficient of whom is Judge Razors.
(Strontium Dog) 2164: Aged 14, Alpha leads his first guerilla raid.
2167: Now 17, Alpha is second-in-command of the Mutant Army. The rebellion reaches its climax, and Kreelman is deposed. Mutants gain back a modicum of rights, but the ringleaders, including Alpha, have to accept exile from Earth in return. Most of them become Search/Destroy Agents, derogatively known as Strontium Dogs.
2178: Alpha pursues Sabbat the Necromagus back to 2114.
(Flesh) 23rd century: Most of Earth's native animals have died out, leaving mankind subsisting on synthetic meat substitutes. Trans-Time Incorporated send operatives back to the time of the dinosaurs to harvest their meat.
(Durham Red) 34th century: S/D agent Durham Red revives from an unintentionally long cryogenic sleep, and finds mankind and mutants again at loggerheads.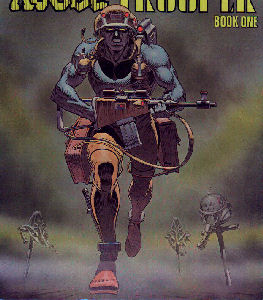 (Rogue Trooper) unspecified date: Earth has divided into the Norts and Southers, who waged brutal wars across the stars on several worlds. On Nu-Earth, the use of toxic chemicals leads to the development of Genetic Infantryman. After they are massacred, the survivor goes rogue to find the Souther General who betrayed them.
(Nemesis the Warlock) unspecified date: Mankind has become insular and anti-alien; Earth is renamed Termite, and man lives under the ground. Torquemada rises to power and launches a holy war against the rest of the galaxy. He is opposed by Credo, and it's alien leader, Nemesis the Warlock.
Conflicts: With strips that were not initially planned to share a universe, it's unsurprising that some dating conflicts have arisen.
The official 2000 A.D. site places the ABC Warriors strip and the end of the Volg War as happening in 2023. Immediately after the war's end, Hammerstein's unit is sent to tame Mars, where among other opponents, they face Golgotha, the offspring of the Satanus clone. Unfortunately Judge Dredd's strip states that Satanus didn't get cloned until at least 2040. Either the cloning has to take place earlier, or we've got to assume that there's more than one Volg War, and it is the second one which ends later. This actually makes more sense, as it is unlikely that if the entire world had been at war for more than 20 years (1999 to 2023) that Martian colonies would have been set up during that conflict; the resources for space exploration on that scale would have gone into the war effort. If there are two conflicts, Hammerstein seems to have fought in both - in the Ro-Busters flashback story to his origin, one of his allies hopes to help build the new Mega-Cities, and at the end of that flashback he is put in charge of robots identical to himself; a platoon of similar robots turn up in Savage, set circa 2008; the ABC Warriors strip by contrast shows a more technologically advanced world with a plethora of different robot designs. It's probably not unreasonable to assume that the introduction of Hammerstein-style war robots helped drive the Volgs back and end the first Volg conflict, but that a few decades later the Volgs tried again, now equipped with their own robot designs.
Tying in with the Volg conflict indirectly is Ro-Busters. It's set in 2080, again after the Atomic Wars, but in a world that doesn't seem to fit that description. However, it is mostly set in Britain, so presumably the damage there was less severe, at least until after the second British Civil War of the 2090s. Howard Quartz apparently turns up in Bill Savage's era (circa 2008) and also in Ro-Busters. However, by the latter he has mostly replaced his human body with robotic parts, and when we meet his brother Ebeneezer we see that Howard's still human sibling is ancient.
Comments: Assuming Strontium Dog is definitely part of this timeline (see below), then per "Journey into Hell" in Prog #116, this reality is "Dimension Beta 7 on the Curtis Scale."
When two strips are connected by guest appearances from characters from other strips, where time or dimension travel wasn't used to get between strips, then they are considered linked (unless other factors come into play - see Savage note below). Shared events are considered less strong links - e.g. the Volg War appears in multiple stories in 2000 A.D. and is a link, but two different realities may have both experienced the Second World War, so shared events in themselves are not absolute confirmation. As noted on the map page, shared species are not considered evidence of a shared timeline - after all, the human race appears in most stories, and Predators have menaced both Batman and Judge Dredd, who explicitly don't share the same timeline. Using the above guidelines, the following stories are established as part of this timeline:
Flesh (Cretaceous era/first storyline) - ties to Judge Dredd because Satanus, who dies in Flesh is resurrected via cloning in Judge Dredd.

Disaster 1990 - shares lead character with Invasion, explicitly written as a prequel to Invasion.

Invasion - shares lead character with Savage, whose opponents, the Volgs, are also the same foes fighting the same war in ABC Warriors.

ABC Warriors (early stories) - Introduced as a spin-off prequel to Ro-Busters, and initially told as a flashback to that story. Hammerstein is fighting the war that began in Invasion, and when his team goes to Mars they encounter Golgotha, the offspring of the cloned Satanus, their first tie to Judge Dredd (and indirectly Flesh). Hammerstein's later involvement in the new US Civil War is depicted in Judge Dredd. Immune to aging because of their robot nature, the Warriors survive on into Nemesis' much later era.

Harlem Heroes (original series) - John "Giant" Clay appears as an older man in Judge Dredd.

Inferno - direct sequel to Harlem Heroes.

Ro-Busters - features Hammerstein and (briefly) Joe Pineapples, both members of the ABC Warriors.

Judge Dredd - Dredd encountered the cloned Satanus, tying him to Flesh. He has met Hammerstein, tying him to ABC Warriors, and John "Giant" Clay, whose son and grandson became judges, tying him to Harlem Heroes.

Umpteen stories are spin-offs of Dredd and set in his era. I'm not going to list them all here, but you can find them on the main 2000 A.D. page.

Red Razors is set fifty years after Judge Dredd, but explicitly in the same world, and a Dredd clone turns up.

Harlem Heroes (second series) - the penal colony criminals named themselves after the original Harlem Heroes squad.

Nemesis encounters the ABC Warriors, tying him back to them. His strip also has Satanus in it, and a Mega-City Judge turns up in one issue, but both are brought to Nemesis' era by time travel, so they don't count for proving a shared timeline.
Realities presumed to be part of the timeline. These are via time travel connections - in other fictions, time travel can mean travelling sideways to a parallel timeline at the same time as going back or forward in time. However, authorial intent in 2000 A.D. generally seems to be that time travel stays within a single timeline. The definite exception to this has to be the later ABC Warriors stories, set after they travel back from the far future to late 21st century, because details of the timeline they end up in clash with the timelines of other stories.
Flesh (Book 2 on, plus the native 23rd century era of the dinosaur hunters) - time travel links these to the Cretaceous era Flesh, meaning in theory that sideways travel to other timelines might be occurring. However, based on authorial intent, it's meant to be the same timeline, so I've included it in the history above.

Strontium Dog (and same era spin-offs Strontium Dog, Tales from the Doghouse, etc) - time travel links Johnny Alpha and Judge Dredd, and though Alpha knows Dredd's time as his past, the possibility exists that Alpha is only one possible future for Dredd. However, again authorial intent is for them to be sharing a timeline, so Strontium Dog is factored into the history above. That said, more recent Strontium Dog stories have apparently hinted that earlier stories are merely fictional accounts of his adventures; whether this will result in a second Strontium Dog timeline is uncertain at this point.

Durham Red's solo stories apparently cast doubt on her past adventures in Strontium Dog. Again, whether this makes her solo adventures a millennia after the Strontium Dog stories a separate timeline, I don't yet know. For the moment though, I've included her era as part of the history.

Rogue Trooper - Friday and other GI's time travel to Mega-City One in 2000 A.D. Prog 900. There is a prototype GI in Judge Dredd Megazine, but since Friday's owners traded technology for the right to use Mega-City One as a safe harbour, the Judges may have obtained the tech needed to create the GI that way.

Skizz - the Gun Lords of Omega Ceti who appear in Skizz encounter a Mega-City One Judge after time travelling.
Realities that at first glance might be assumed to be part of the timeline, but which further inspection suggest are separate timelines.
Robo-Hunter - Sam Slade spent a significant period adventuring in Brit Cit, which is also the name of a city in Judge Dredd. However, it's difficult to reconcile his timeline with the main one. His first adventure is set in 2140 AD, and he had an (unseen) 40 year career prior to that, meaning he's been a Robo-Hunter since 2100. There's little chance his kind of operation would have been legal in Dredd's Mega-City One (though it would mean he started working just after the Robot Wars, so it's not impossible - Texas City might be freeier with citizens owning guns and private operators using them on the street). By 2140 he's operating in an unspecified US city that apparently does not have Mega-City style judges and laws, suggesting the Judges are gone by then; given that Dredd's currently set in 2131, that seems a little unlikely. We know Brit Cit is destroyed no later than the British atomic war of 2150 and long gone by the era of Johnny Alpha (circa 2180s). However, the clincher is space travel; Dredd goes hunting the Judge Child across the galaxy circa 2102, but Robo-Hunter's first episode confirms that in his timeline faster-than-light travel isn't developed until 2110.

Savage shares the lead character with Disaster 1990 and Invasion, but ABC Warriors turn up in Book 5, and one of Savage's assassinations is referred back to in ABC Warriors' second timeline. This means that while we might assume events in Savage happen in the main 2000 A.D. timeline, it might be the case that instead the main timeline's Bill Savage only experiences events up until the end of Invasion, and the Volg War becomes one of robots shortly thereafter (ABC Warriors's original timeline), while that the Volg War subsequently goes on differently and drags on much longer in Savage's timeline, leading into ABC Warriors' 2nd timeline.