TV Comic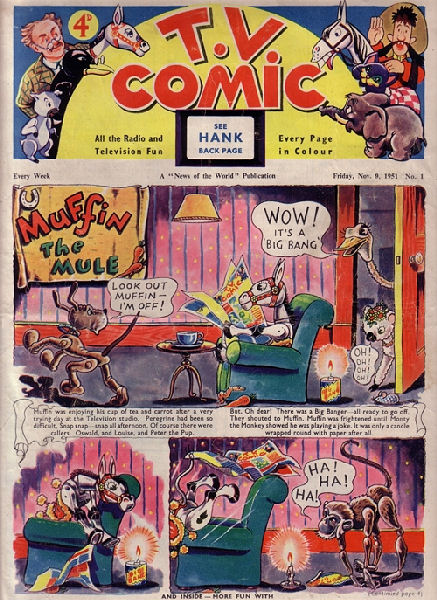 a.k.a.: TV Comic Express, TV Comic Plus TV Action, TV Comic Plus Tom and Jerry Weekly, Mighty TV Comic, TV Comic incorporating Target
Publisher: News of the World, Beaverbrook, TV Publications, Polystyle
Format: Weekly comic strip anthology
First Issue: 9th November 1951
Last Issue: 29th June 1984 (1697 issues)
Absorbed: TV Action, TV Express, Tom and Jerry Weekly, Target
Absorbed into: N.A. Title cancelled.
Strips: Adam Adamant, A Team, The Avengers, Barney Bear, Basil Brush, Battle of the Planets, Black Beauty, Bootsie and Snudge, Bugs Bunny, Buzby, Captain Caveman, Charlie's Angels, Coco the Clown, Dads Army, Diddymen, Dr Who, Droopy, Fireball XL5, Four Feather Falls, Hagar the Horrible, Hank, Huckleberry Hound, Incredible Bulk, Jack & Jill, Johnny Morris' Animal Magic, Kicktail Kid, Kojak, Larry the Lamb, Lenny the Lion, Lone Ranger, Mighty Moth, Muffin the Mule, Mr. Pastry, Noddy, Packi, Pink Panther, Popeye, Prince Valiant (reprinting the Hal Foster strip), Prudence Kitten, Rod Hull & Emu, Roy Rogers, Scooby Doo, Sgt Gunn, Skippy the Bush Kangaroo, Sooty, Space Patrol, Star Trek, Supercar, Superpooch, Tales of the Golden Monkey, Tarzan, Telegoons, Texas Ted, Tom & Jerry, Tom Puss, Treasure Island, Tusker & Tikki, TV Terrors, World Cup Willie
Comments: Launched by the News of the World newspaper group on 9th November 1951, though far from the first title to carry strips based on popular TV shows, TV Comic would prove to be the UK's best remembered (rivaled only by Look-In) and most enduring TV tie-in comic, surviving for 1697 issues, or just shy of 33 years.
It began its run aimed squarely at younger children, with most of its strips based on shows aimed at pre-schoolers, such as Muffin the Mule (the first cover star for the title), Larry the Lamb, Mr. Pastry and Tom Puss, though a few stories aimed at slightly more mature audiences, such as Prince Valiant, were included. As time passed TV Comic changed hands, moving to Beaverbrook, and as time passed and the shows some of the strips were based on vanished from television, new strips were added based on new shows such as Sooty (who replaced Larry the Lamb on the cover circa issue 200), Noddy (who took over from Sooty on the cover around a year later) and Lenny the Lion (who similarly replaced Noddy a year or so subsequently).
In 1954 Beaverbrook also launched another title, Express Weekly; initially intended as a challenge to the Eagle, it was renamed TV Express a few years later, and shifted focus from original series to featuring TV tie-ins aimed at an older audience than TV Comic. Even as this was happening, TV Comic's own content began to mature, with new strips based on series such as Treasure Island, Gerry Anderson's puppet shows Four Feathers Fall, Supercar and Fireball XL5, American cartoons such as Popeye (who became the newest cover star), and the occasional original strip such as Mighty Moth. Beaverbrook sold both titles to TV Publications some time around the end of the 1950s, and with TV Comics focus continuing to shift to strips aimed more at school age pupils, in 1960 TV Publications launched sister title TV Land, taking TV Comics' old role as the title aimed at pre-schoolers.
In January 1962 both TV Express and TV Land were cancelled and merged into TV Comic, which was subsequently sold to Polystyle, who would remain the title's publishers thereafter. In 1963 the Telegoons started, followed a year later by TV Comics' best remembered strip adaptation, Doctor Who. A year after that, in 1965, TV Comic suffered a blow when Gerry Anderson struck a deal with rival publisher City Magazines, and moved his strips to a new venture, TV Century 21. Weathering this, TV Comic added strips based on new hit show the Avengers, only to lose that series a year later to DC Thomson.
By 1967 Doctor Who had become TV Comics' unquestionable main selling point, taking over as the cover star for a while, but the cover soon returned to featuring more juvenile fair with Ken Dodd's Diddymen taking over. In 1968 the Avengers returned to TV Comic; around the same time TV adventurer Adam Adamant enjoyed a brief run in the title, while children's puppet Basil Brush began what would prove a somewhat longer engagement within TV Comics' pages. Early in 1969 new feature Tom and Jerry took over on the cover, where they would outlast many of their predecessors, and in 1970 Catweazle enjoyed a run before shifting to TV Comics' newest rival, Look-In.
In 1971 TV Comic lost Doctor Who to new Polystyle publication Countdown, a title launched to bring the Gerry Anderson series back into the Polystyle fold now that Century 21 Publications (born out of the partnership of City Magazines and Gerry Anderson's Century 21 Productions) had closed shop. In 1972 Dad's Army took up residence in TV Comic, and in 1973 Doctor Who returned when TV Action (the renamed Countdown) was cancelled and merged into its older sibling. Further new strips such as the Pink Panther and Roobarb were added during the 1970s, but sales were waning in the face of competition from the likes of Look-In. With September 18th 1976's issues 1292, TV Comic was rebranded Mighty TV Comic and became tabloid sized (larger pages matching the size of British newspapers), with new strips Star Trek and Hagar the Horrible added to bolster the line-up. A new cover design emphasised more of the internal strips at the cost of the cover strip, and soon after popular TV series Captain Pugwash was also added to the line-up.
In 1978 with issue 1377 two new adventure series were added, Scott Goodall's original strip about skateboarding hero the Kicktail Kid, and Lucan, based on the Kevin Brophy TV series about a boy raised by wolves. In August 1978 and with issue 1393 TV Comic absorbed another failing sister title, Target, changing back to its original paper size and picking up strips Kojak, Charlies' Angels and Target from the merger. Early in 1979 TV Comic lost the long-running Doctor Who strip as Marvel UK snapped up the license to launch Doctor Who Weekly. Though TV Comic would survive for several more years, it never fully recovered from this loss, and sales never returned to their past heights. Despite adding a string of new series such as Superpooch, Buzby, the Incredible Bulk, Scooby Doo, Bugs Bunny, Road Runner and Battle of the Planets, the title continued to struggle, and began to rely increasingly on reprints. In its final year it added comic strips based on The A-Team and Tales of the Gold Monkey, but these couldn't reverse falling sales, and on 29th June 1984 TV Comics' long run came to an abrupt end. Unlike most British titles it did not merge into another title, but simply ceased publication, with only small notes in the A-Team and Gold Monkey strips indicating those series were ending to warn readers that the title was shutting down.
Back to General UK Comic Book Heroes.
Back to UK Superheroes Main Page.
All images and characters depicted on this site are copyright their respective holders, and are used for informational purposes only. No infringement is intended and copyrights remain at source.