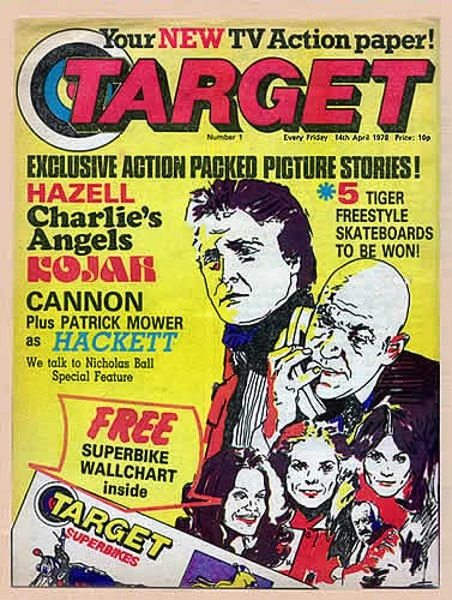 Target
a.k.a.:
Publisher: Polystyle
Format: Weekly anthology
First Issue: Target #1 (14th April 1978)
Last Issue: Target #19 (18th August 1978)
Absorbed: None
Absorbed into: TV Comic
Strips: Cannon, Charlie's Angels, Hazell, Kojak, Target
Comments: Launched by Polystyle the week of 14th April 1978, Target was a weekly title intended as a companion comic to Polystyle's established TV Comic, aimed at a slightly older demographic, harkening on its cover by name back to Polystyle's defunct TV Action. Its strips were all based on crime-busting TV shows.
Target, the comic's title strip, was a BBC1 police drama set in Southampton and starring Patrick Mower as Detective Superintendent Steve Hackett; intended as a counterpart to ITV's successful Sweeney, it was between its first and second seasons on TV when the comic was released, and the TV show was already struggling for survival, not an auspicious sign for the comic.
Hazell was ITV's cockney private detective James Hazell, played by Nicholas Ball, whose first series had just finished airing a couple of weeks before Target hit the shops.
Charlie's Angels was based on the ABC TV show, Kojak covered the adventures of Telly Savalas' famous detective, while Cannon, about William Conrad's LA detective Frank Cannon, was a reprint of the strip that had originally appeared in TV Action.
With low production values and frankly uninspiring covers, Target's days were numbered almost from the outset, and it was cancelled with its 19th issue on the week of 18th August 1978. The cover hinted to readers of this demise with a note "Exciting news inside", a sure sign to any knowledgeable reader that the title they had been faithfully collecting was being terminated and merged into another more successful sibling, in this case TV Comic.
Back to General UK Comic Book Heroes.
Back to UK Superheroes Main Page.
All images and characters depicted on this site are copyright their respective holders, and are used for informational purposes only. No infringement is intended and copyrights remain at source.