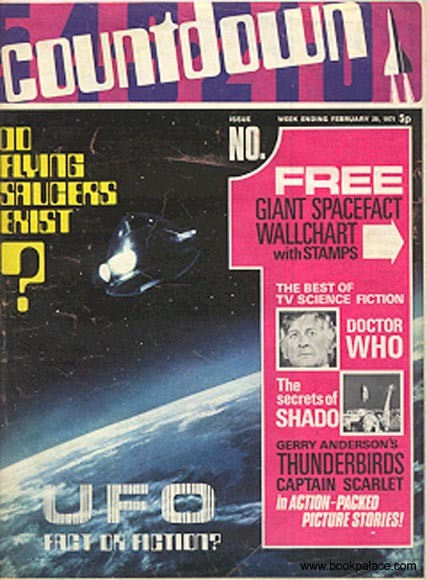 Countdown
a.k.a.: Countdown for TV Action, TV Action in Countdown, TV Action + Countdown, TV Action
Publisher: Polystyle
Format: Weekly anthology comic.
First Issue: Countdown #1 (20th February 1971)
Last Issue: TV Action #132 (25th August 1973)
Absorbed: None
Absorbed into: TV Comic
Strips: Alias Smith and Jones, Cannon, Captain Scarlet, Doctor Who, Hawaii Five-O, Mission Impossible, The Persuaders, U.F.O.
Comments: Countdown was a comic which initially featured Gerry Anderson characters and Doctor Who. Unusually, the front cover was page 24 and the back cover was page 1 - the page numbers were counted backwards, reflecting the comic's name. From issue 45 to 56 it changed its name to Countdown for TV Action!, then 57 and 58 became TV Action in Countdown, before the title changed to TV Action + Countdown for 59 to 100 and then just TV Action until the title cancelled with #132, merging with TV Comic thereafter. Countdown also had three annuals and two Holiday Specials.
Back to General UK Comic Book Heroes.
Back to UK Superheroes Main Page.
All images and characters depicted on this site are copyright their respective holders, and are used for informational purposes only. No infringement is intended and copyrights remain at source.