The Spider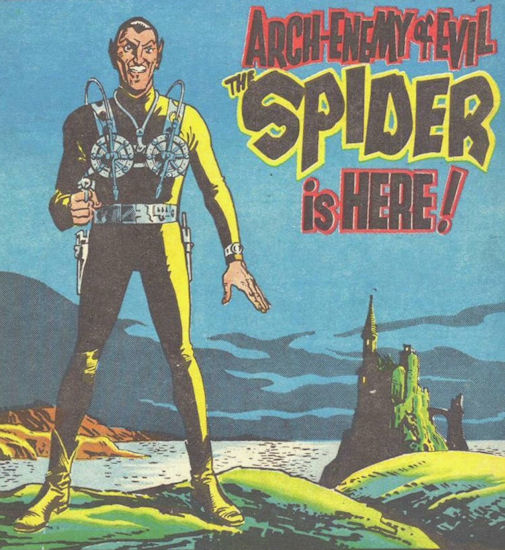 Real Name: Unrevealed
Identity/Class: Human technology user
Occupation: Criminal mastermind; later crimefighter
Affiliations: "Professor" Pelham; Roy Ordini; Society of Heroes.
Enemies: Dr Mysterioso, the Android Emperor, The Exterminator, the Crime Genie, Spider-Boy, the Sinister Seven, the Snake, The Death-Master ; Red Baron ; Jack Staff ; Unit D; Ant, Mr Mass, Obero the Bubble Man, Pan Therr, Chessman, Robot Archie
Known Relatives: None known
Aliases: Alfred Chinard; Spiderman, Blackman (names used in France), L'Uomo Rango (The Spider-Man, Italian name)
Base of Operations: New York
First Appearance: Lion (I.P.C., 26 June 1965 - 26 April 69); Vulcan (1975-76); Kobra (Germany); Jack Staff
Powers/Abilities: The Spider swung from building to building on a nylon line. His suit used a light weight exo-skeleton to enhance the wearer's natural abilities, making them stronger and more agile than the normal human. Sensors also monitored position and balance, automatically stabilising the wearer should they stumble or fall. His suit comes complete with a jet pack on the back and with breathing apparatus to allow him to operate underwater. His web gun could fire sticky, steel strong strands to entangle opponents, which the Spider himself was immune to. He would fly greater distances using his one man helicar. The Spider is also extremely intelligent and devious, and a superb hypnotist.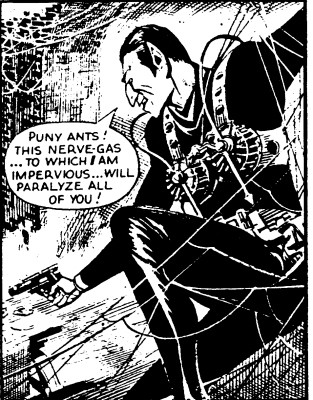 History: The Spider was a daring criminal mastermind whose fantastic equipment enabled him to spin his own web. His great ambition was to become the uncrowned king of crime. To achieve this goal, he organised a gang of criminals which included such specialists as 'Professor' Pelham, a brilliant crooked scientist and Roy Ordini, ace safe-cracker.
After a little while he grew bored of being a criminal, and became a crimefighter instead.
(Starring...The Spider!, text story, Lion Annual 1969) A group of crooks plan to kill the Spider by luring him out into the open using his sole weakness - his vanity. So they announce the making of a movie about him, knowing that he will want to be the star. Although this does indeed draw the Spider out, he still proves too ingenious to fall into their traps.
(The Spider versus The Red Baron, Lion Annual 1969) The Red Baron launches an attack on New York, only to draw the ire of the Spider, who invades his gigantic airship, sabotages it, and captures the crook.
Comments: Some of the many foes the Spider faced during his four year run in Lion included Dr Mysterioso, the Android Emperor, The Exterminator, the Crime Genie, Spider-Boy, the Sinister Seven, the Snake, The Death-Master and the Ant - most of these opponents were created during the period that Jerry Siegal (of Superman fame) was writing his strip. He was briefly allied with the Society of Heroes.
The Spider's first adventures were reprinted in Vulcan in the 1970s, and also as part of Fleetway's Super Library Stupendous Series in new stories featuring new foes such as Mr Mass (who had mass production lines of weapons), Obero the bubble man, Pan Therr (who played his pipes and turned people into criminals) and Chessman.
Thanks to Rog Harrison for confirming the Super Library stories were new ones, not reprints.
Overseas reprints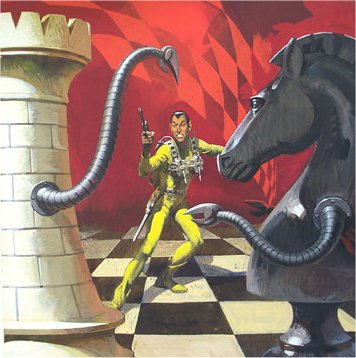 Germany: In Germany in the seventies the magazine Vulcan was re-published under the title "Kobra", showcasing Mytek The Mighty, Tim Kelly, Steel Claw, The Spider and Robot Archie. Unfortunately, the stories which were published in Kobra were partially incomplete, apparently switching stories unpredictably. Finally, the magazine was discontinued, leaving German fans hanging as to the fate of their favourite characters. Thanks to Sven Feyerabend for this information.
Spain: Manuel Oliveros writes in to tell me of the Spider's Spanish appearances. He notes that the character appeared in at least two titles. "The first one was I think in the sixties, along Mytek and Steel Claw in Ediciones Vértice. Some of these same were later rebound in thicker tomes apparently from the same unsold prints, or printing again together a number of tomes.
Then the Spider reappeared in Hora T, Super Relatos Gráficos de Terror, EL Hombre Araña (Hour T, Super Graphical Stories of Terror, the Man Spider). These were in 18 horizontal x 26 vertical cm format, 36 pages color covers included, inside black and white. Issue 1 is of 12 of May 1975, by Editorial Bruguera S.A: Price was 20 pts. Titles included:
1. Genio del Crimen (Genius of the Crime); 3. Contra el Espejo Viviente (Against the Living Mirror); 5. Contra el Exterminador (Against thr Exterminator); 7. Cómplices del Crimen (Accomplices of the Crime); 9. Contra el Monstruo Alienígena (Against the Foreign Monster); and 11. Frente a Frente.
The hero retains the English name Spider, that is, was not translated." Thanks for this in depth commentry Manuel.
Italy: Alberto Becattini lists his Italian appearances: "Title: Spiderman - L'uomo Ragno (Bianconi Publishing) #1 (8/1967) - #12 (9-10/1968). #1 (8/67) "The Man Who Stole Manhattan" [Fulcrum], 114 pp. (art: Aldo Marcuzzi); #2 (9/67) "The Power Professor", 112 pp. (art: Aldo Marcuzzi); #3 (10/67) "Lost World" [Dr. Argo], 118 pp. (art: Aldo Marcuzzi); #4 (11/67) "Crime Industry" [Mass], 118 pp. (art: Giorgio Trevisan); #5 (1/68) "The Bubbles of Justice" [Hobero], 114 pp. (art: Spanish artist? Perhaps Martin Salvador?); #6 (2/68) "The Immortals" [Orcus, king of the Immortals], 116 pp. (art: Spanish artist? Reminds me a little bit of José Ortiz, but it isn't him); #7 (3/68) "Heart of Stone", ??? pp. (art: Spanish artist? Perhaps Martin Salvador? Same as #5); #8 (4/68) "The Scarecrow" [ditto], 120 pp. (art: Spanish artist? Same as #6); #9 (5/68) "The Dimension Dominator" [The Shriveller], 120 pp. (art: Aldo Marcuzzi); #10 (7/68) "Checkmate" [The Chessman], 114 pp. (art: Aldo Marcuzzi); #11 (8/68) "The Crime Melody" [Pan Therr], 106 pp. (art: Giorgio Trevisan); #12 (9-10/68) "Dangerous Games" [George Footleboy], 111 pp. (art: Spanish artist? Same as #6). Painted Covers: Aldo Marcuzzi? #1, 2; Emilio Uberti #3-12.
Title: Cobra (Alhambra Publishing). This features The Spider (here simply called "L'Uomo Ragno" = "The Spider Man") as a back-up feature from #1 (9/68) to #6 (2/69). The story, published in six episodes, has The Spider facing The Exterminator. Art is, I think, by Reg Bunn. I suppose this has been reframed from "Lion" to fit the pocket format (2 panels per page). Total pages here: 140."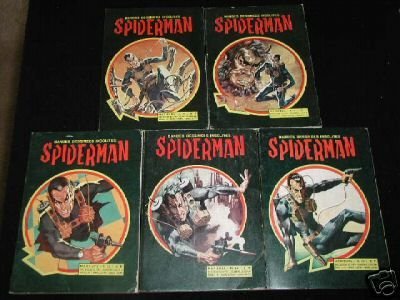 France: Joseph Altairac informs me that the Spider was reprinted in France, under the name Spiderman (during the sixties and seventies) and then Blackman (in the eighties). Mike Murphy sent me pictures of some of the French editions.
Turkey: Ete Kurttekin informs me he first encountered the character in 1976 in a Turkish magazine called "Milliyet Cocuk Dergisi"
India: N.Suresh pointed me to site which mentions his appearances in India, where Lion Comics publish him in the Tamil language.
Yugoslavia In Yugoslavia circa 1977 the Spider enjoyed a run of reprints in Eks Almanah. His Serbo-Croatian name was Pauk, which (unsurprisingly) translates as Spider. Thanks to Miodrag Milosavljevic for this information.
So the Spider is quite the international star.
Later U.K. appearances
Back in the U.K. he remained popular with later writers. A counterpart to the Spider, the Arachnid, was a victim of the Fury's purge of superheroes on Captain U.K.'s world.
In 1992, mistakenly believing they owned the rights to several IPC characters, the new owners of 2000A.D. revived the Spider and others for the 2000A.D. Action Special alongside a number of other strips featuring old British characters. In this atrocity the Spider was portrayed as a psychopathic cannibal who had sewn his costume onto his body, and kept a larder of murder victims hidden in the London Underground. This special is one of the biggest insults to the memory of a classic character I have ever seen. I mention it only because others keep thinking I'd forgotten to include it; I hadn't. I'd chosen not to, and had been trying to block it from my memory. It really is that awful. The only decent thing to come out of it is the colour artwork below; the black and white image gives you an idea of how he was actually depicted within the story.
| | |
| --- | --- |
| As depicted on 2000A.D.'s Action Special's contents page | And here's how he was portrayed within. Blech. |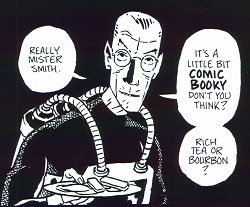 An older version of the Spider appeared in Paul Grist's Jack Staff comic. Apparently the two were each other's arch-nemesis in the early 1960's (in 1962 the Spider was sparring with Unit D, prior to his first recorded appearance in Lion - presumably this happened before moving to New York where he set himself up to become master of the underworld). By 2000 the Spider has returned to Britain and retired under the name Alfred Chinard (unlikely to be his real name, since A. Chinard is an anagram for Arachnid), but the return of Jack Staff and the theft of one of his Spider-suits prompts him to come out of retirement. He continues to enjoy himself outwitting his old nemesis. This was a much better revival of the character in my opinion than the aforementioned travesty from 2000A.D.
2005 saw a revival of the Spider as part of Albion, a six-issue mini-series from D.C. Comics' imprint Wildstorm, plotted by Alan Moore, written by Leah Moore and John Reppion, and drawn by Shane Oakley (with Brian Bolland on covers). Since the character is now owned by Time Warner (who bought IPC and also own DC), and his use in Jack Staff had been unauthorised, subsequent appearances of the character there only ever used the Chinard name. However, those involved in producing Albion gave an acknowledgement to his Jack Staff appearance by also mentioning A.Chinard as one of the Spider's aliases.
| | |
| --- | --- |
| Paul Grist's Alfred Chinard | Titan's cover for King of Crooks |
The first (and thus far only) reprint volume of the Spider's adventures from his appearances in Lion was also published by Titan. Since it was intended for sale in the U.S. as well as the U.K., the volume was titled King of Crooks to avoid trademark problems.
CLARIFICATIONS: Not to be confused with
Any Additions/Corrections? Please let me know.
Back to General UK Comic Book Heroes.
Back to UK Superheroes Main Page.
All images and characters depicted on this site are copyright their respective holders, and are used for informational purposes only. No infringement is intended and copyrights remain at source.