Look-In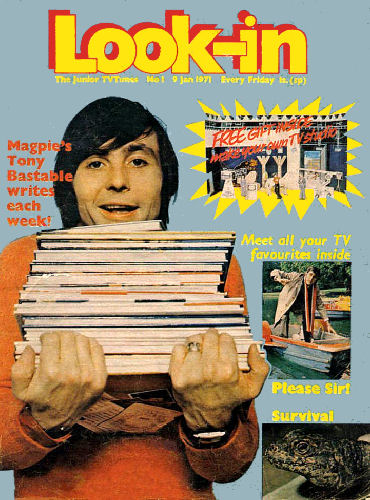 a.k.a.: The Junior TV Times
Publisher:
Format: Weekly title, comic strips and prose features
First Issue: 9th January 1971
Last Issue: 12th March 1994 (1210 issues [estimated])
Absorbed: N.A.
Absorbed into: N.A.
Strips: Abba, Adventures of Black Beauty, Adventures Of David Cassidy, The A-Ha Story, Airwolf, Alias the Jester, Alf, A-Team, Battlestar Galactica, Benny Hill, Bionic Action, Bionic Woman, Bless This House, Bright's Boffins, Buck Rogers in the 25th Century, Bucks Fizz, Catweazle, Charlie's Angels, CHiPs, Crowther in Trouble, Dangermouse, Dick Turpin, Doctor at Large / at Sea / On the Go, Dogtanian, Duckula, Elephant Boy, Elvis Presley, Fall Guy, Famous Five, Fenn St Gang, Five Star, Flaxton Boys, Flight To Fortune, Flintlock, Follyfoot, Freewheelers, Further Adventures of Oliver Twist, Galaxy High School, Garfield, Haircut 100, How The West Was Won, Into the Labyrinth, It's Madness, Jason Donovan, Just William, Kids From 47a, Knight Rider, Kung - Fu, Kylie Minogue, Les Dawson Is Superflop!, Logan's Run, Magnum P.I., Man About the House, Man from Atlantis, The Marked Man, Mark Strong, Michael Bentine's Potty Time, Mind Your Language, Mork and Mindy, Murphy's Mob, On the Buses, Pathfinders, Please Sir!, Prize Idiots, Redgauntlet, Robin of Sherwood, Rock on Tommy!, Sapphire and Steel, Scooby Doo, Settle Down Now! With Ken Goodwin, Slik, Six Million Dollar Man, Smurfs, Space 1999, Starcruiser, Star Fleet, Story Of The Beatles, The Story So Far, Street Hawk, Super Gran, Terrahawks, That's My Boy, Timeslip, Tomorrow People, Voyage to the Bottom of the Sea, When They Were Young, The World at War, Worzel Gummidge, Wreckers At Dead Eye
Comments: While earlier titles, such as TV 21, had incorporated strips based on TV shows, to my knowledge Look-In was the first title to be exclusively filled with licensed strips. It had a bizarrely eclectic mix - on the television side, there were strips based on British and US sitcoms, US dramas, and British and US science-fiction series, but there were also strips set around the fictional adventures of hit pop bands, and the very occasional strip adapting prose novels. It proved to be surprisingly enduring, with a run of over 20 years, seeing off challenges from rival publications trying to copy its success, such as Beeb Magazine and TV Tops.
Back to General UK Comic Book Heroes.
Back to UK Superheroes Main Page.
All images and characters depicted on this site are copyright their respective holders, and are used for informational purposes only. No infringement is intended and copyrights remain at source.