COUNT DUCKULA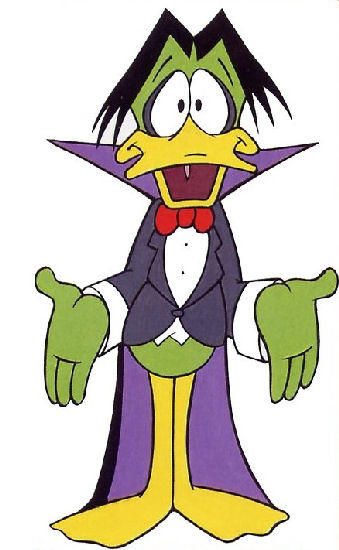 Real Name: Count Duckula
Identity/Class: Vampire duck
Occupation: Dilettante
has tried his hand at being detective, mountie, farmer
Affiliations: Nanny, Igor, Tremendous Terrance, Baron Greenback, Dr.Frankenstoat
Enemies: Dangermouse, Von Goosewing, McDuckula, How Fat, the Egg, the Crow brothers, Maurice the Strongman, Charlie the Clown, the Mutinous Penguins, Gaston, Pierre, Cruel, the Phantom of the Opera, Dr.Quackbrain
Known Relatives: Cousin (mentioned in Episode #2, Vampire Vacation)
Aliases: Sid Quack
Base of Operations: Castle Duckula
First Appearance: Dangermouse "The Four Tasks of Dangermouse" (Cosgrove Hall for Thames Television, 8th February 1982)
Powers/Abilities: All the traditional vampire powers. Additionally, Duckula could be revived even if destroyed by a means that would normally eliminate a vampire for ever. Castle Duckula could teleport itself and it's occupants anywhere in the world instantaneously, though it would also automatically return home at dawn, Transylvanian time, whether the residents were back inside or not.
History: "Castle Duckula, home for many centuries to a dreadful dynasty of vicious vampire ducks – the Counts of DUCKULA. Legend has it that these foul beings can be destroyed by a stake through the heart, or exposure to sunlight. This does not suffice, however, for they may be brought back to life by means of a secret rite, which can be performed once a century, when the moon is in the eighth house of Asparagus. The latest reincarnation did not run according to plan..."
The latest in a long line of vampire fowl, Count Duckula live in Castle Duckula, deep in Transylvania. The Count desired to be a star, and his villainous schemes to achieve this goal led him into conflict with top British secret agent Dangermouse on a number of occasions. Eventually, under unknown circumstances, the vampire was destroyed. Luckily for Duckula though, that was not the end of his story; once a century a mystic rite could carried out which would revive him, and the timing worked out fairly well. Duckula's faithful manservant Igor initiated the ceremony, but at a vital juncture, when blood was meant to be added to the mix, the castle's incredibly dim maid servant Nanny handed Igor a bottle of tomato sauce instead. Duckula revived anyway, but to Igor's chagrin, he was a vegetarian, with a much less villainous demeanour. No longer a threat to the world, Duckula's eccentricity and desire for fame and wealth remained, leading his servants and him into a variety of adventures. Not everyone accepted Duckula's reformed nature; not only did Igor constantly scheme for ways to return his master to his former evil path, but vampire hunter Von Goosewing was a regular thorn in Duckula's side.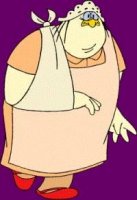 Comments: Voiced by David Jason.
Duckula began his career as a villain in the Dangermouse episode "The Four Tasks of Danger Mouse". His impact was sufficient to bring him back for a handful of rematches, before he was launched in his own show. Presumably deciding it would be difficult to sustain the show if Duckula remained a bad guy, he was reformed (literally) as described in the opening sequence of the show.
Duckula appeared in 4 episodes of Dangermouse,
The Four Tasks of Danger Mouse

The Return of Count Duckula

The Great Bone Idol

Duckula Meets Frankenstoat
before being spun off into his own show.Cosgrove Hall produced the series in association with Thames Television, making 65 episodes in total between 1988 and 1993.
No Sax Please - We're Egyptian

Vampire Vacation

One Stormy Night

Transylvanian Homesick Blues

Restoration Comedy

Mutinous Penguins

Dr. Von Goosewing's Invisible Ray

Down Under Duckula

All in a Fog

Castle Duckula: Open to the Public

The Ghost of McCastle McDuckula

Igor's Busy Day

Autoduck

The Vampire Strikes Back

Hardluck Hotel

The Hunchbudgie of Notre Dame

Dear Diary

Rent a Butler

Jungle Duck

Mobile Home

A Fright at the Opera

Dr. Goosewing and Mr. Duck

Town Hall Terrors

Sawdust Ring

Duck and the Broccoli Stalk

Family Reunion

Ghostly Gold

Ducknapped

The Lost Valley

Incredible Shrinking Duck

Hi-Duck

Prime-Time Duck

Bloodsucking Fruit Bats of the Lower Amazon

The Count and the Pauper (I Don't Wanna Work on Maggots Farm No More)

In Arctic Circles

Transylvanian Take-Away

Who Dunnit?

No Yaks Please Were Tibetan

Beau Duckula

Mississippi Duck

Amnesiac Duck

Mysteries of the Wax Museum

Return of the Curse of the Secret of the Mummy's Tomb Meets Franken Duckula's Monster ...

Lost City of Atlantis

Bad Luck Duck

Private Beak

Astro Duck

Unreal Estate

Bombay Duck

There are Werewolves at the Bottom of My Garden

Duck Ahoy

The Great Ducktective

Dead Eye Duck

The Show Must Go On

A Christmas Quacker

The Rest is History

O.O. Duck

Mystery Cruise

Around the World in a Total Daze

Manhattan Duck

Alps-A-Daisy

Prince Duckula

Venice a Duck Not a Duck

A Mountie Always Gets His Duck

The Zombie Awakes
Marvel Comics also released a Duckula title which ran for a couple of years, as part of it's short lived children's line, Star Comics.
Website devoted to Cosgrove Hall, including excellent stuff on this character here. You can watch episodes of Count Duckula for free online at Joost.
CLARIFICATIONS: Not to be confused with
Any Additions/Corrections? Please let me know.
All images and characters depicted are copyright their respective holders, and are used above for informational purposes only. No infringement is intended and copyrights remain at source.