Sapphire and Steel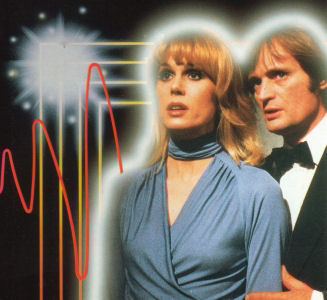 Created by P.J.Hammond, Sapphire and Steel detailed the missions of a pair of mysterious beings who appeared to be agents of an unknown power. Their origins were hinted at, but never explained, though it seemed they were tasked with dealing with any cases which might threaten the fabric of time.
From the opening titles, it was clear the two headline characters were not alone in dealing with these cases:
"All irregularities will be handled by the forces controlling each dimension. Transuranic, heavy elements may not be used where there is life. Medium atomic weights are available: Gold; Lead; Copper; Jet; Diamond; Radium; Sapphire; Silver and Steel. Sapphire and Steel have been assigned."
Over the course of the (sadly) short-lived series, we saw four of the agents (the title characters, plus Silver and Lead), and two more not listed above were named: Mercury and Bronze. Some more information about the agents came from a discussion Sapphire had with a human boy in the first story, when she informed the child that there were 127 of them, including 12 Transuranics. Steel however countered that the Transuranics should not be counted, since "they're unstable".
The original series consisted of six episodic tales of varying lengths. In 2004 Big Finish began producing new audio adventures with Susannah Harker and David Warner taking on the title roles. The series also brought back Silver, played by original actor David Collings, as well as introducing additional agents, Gold and Ruby. Set after the end of the TV show, the audio version lasted for three series and a total of fifteen episodes.
Agents
Opponents
| | |
| --- | --- |
| | |
| The Shape | Transient Beings |
All images and characters depicted are copyright their respective holders, and are used above for informational purposes only. No infringement is intended and copyrights remain at source.