BEEB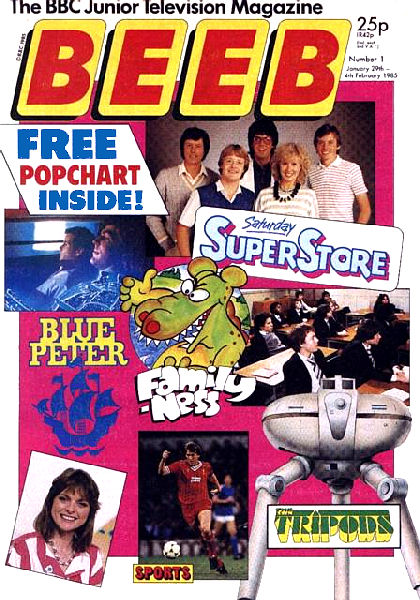 a.k.a.: The BBC Junior Television Magazine
Publisher: Polystyle Publications
Format: Weekly comic strip anthology.
First Issue: 29th January 1985
Last Issue: 11th June 1985 (20 issues)
Absorbed: N.A.
Absorbed into: N.A.
Comments: In 1985 the BBC decided the time was ripe to launch a new comic to replace the late lamented TV Comic (and not incidentally grab a share of the successful ITV-connected magazine Look-In's market). BEEB (always all capitals, despite not being an acronym) launched in January of 1985. Polystyle Publications handled the actual publication, with Dennis Hooper editing, but the title didn't do so well, and cancelled after 20 issues (though not 13 as some reference guides claim).
Some of this failure was probably down to the content. Like Look-In, it featured articles, celebrity pin-ups, and features, all aimed at a teenage audience, including regular section based on the light entertainment shows Saturday SuperStore and Blue Peter, one, John Craven Reporting, based around the well-liked reporter who for many years had presented the children's news show, John Craven's Newsround, and one, David Icke's Sports Desk, written by then-sports presenter David Icke. There was also Turn On, Tune In, a page which listed "Junior Television and Radio Highlights" for the week the magazine came out; in an era before the internet and on-demand television, advance listings of what was being broadcast and when on TV and radio were selling points. With only a short run, BEEB had the same seven strips throughout its entire existence, four adventure/drama strips and three humour strips; one strip, The Tripods, had three pages per issue, as did Grange Hill (though all black and white for this school drama), while the other adventure strips got two pages and the humour strips received one page apiece. Five of those strips were based on BBC shows, and one, Automan, on an American show then being aired on the BBC; though mostly well drawn, none of the strips bar perhaps Grange Hill were based on especially popular shows. This was likely a factor in its failure as a magazine, though Colin Shelbourn, editor of the rival Look-In, also cited a lack of promotion by the BBC as a contributing factor. It would be succeeded by the somewhat more successful Fast Forward magazine, launched four years later in 1989.
BEEB did contain one original strip, Hampster's Tales, which ran in issues 2 through 15, and then vanished again until returning for the final issue.
None of the BEEB strips carried writer or artist credits, making identifying the creators tricky in some instances. However, some of the artists, such as John M. Burns, did sign their strips.
Strips: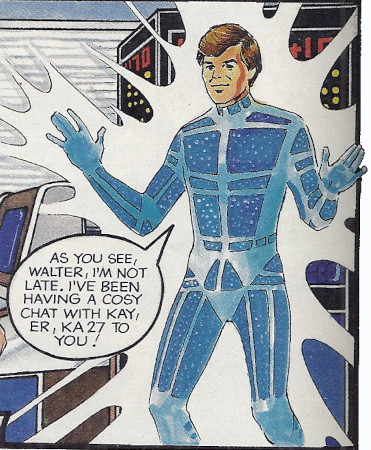 Based on the short lived US superhero, Automan was in colour for the first installment and black and white thereafter. Automan finished in issue#18 of BEEB, skipping the titles final two weeks.


The Bananaman strip was a strange case, a comic strip based on a cartoon, but where that cartoon was itself based on a comic strip which was still being published in another title, Nutty, being published by a rival comic company. Despite being produced by the same creators who did the Nutty strip, the BEED stories were brand new, not reprints.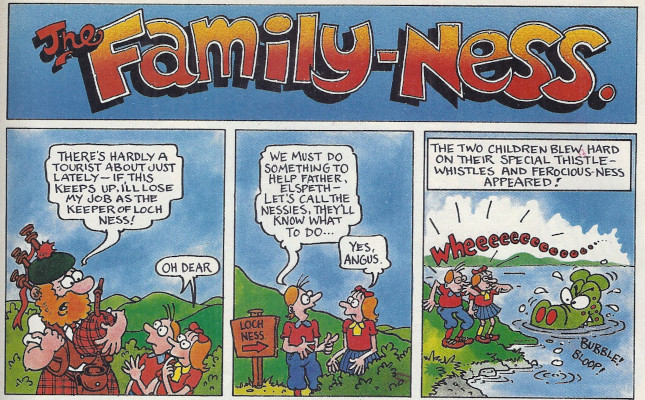 Family Ness


The Family-Ness, a BBC cartoon created by Peter Maddocks of Maddocks Cartoon Productions, told the adventures of a family of Loch Ness Monsters and their human friends, the children Angus and Elspeth MacTout. The monsters' names are all puns utilising Ness as their surname - Ferocious Ness, Eyewit Ness, etc. The BEEB strip was a one page colour affair.

Grange Hill


Grange Hill was a school-based drama set in and around the lives of pupils and staff of the titular Grange Hill School in north London. The TV series had begun airing in 1978 and by the time it got its strip in BEEB it had been on for nearly seven years and had already seen the original characters grow up and leave school to be replaced by a new cast; it would go on to run for an impressive total of 31 years, totaling 601 episodes, as well as having a much shorter lived spin-off, Tucker's Luck, recounting the post-school life of the most popular of the original pupils. Grange Hill was the most popular series covered by BEEB, and as such got three pages per issue. BEEB also wasn't the only place a Grange Hill comic appeared - the series enjoyed eight annuals, most published by Fleetway, a strip (Grange Hill Juniors) in IPC's School Fun, two issues and a special of its own dedicated magazine, and a strip in listings magazine the Radio Times.

The BEEB strip is set at the start of series eight of the TV show, just after Grange Hill had merged with two rival schools.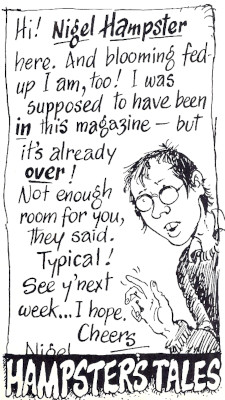 Hampster's Tales


Though his strip didn't start until the second issue, star Nigel Hampster announced his forthcoming debut at the end of the first issue of BEEB. The magazine's only original strip, it featured the ramblings of the titular Hampster as he encountered life through his somewhat surreal perspective.

Having started properly in the second issue, Hampster had a full page in every subsequent issue through to and including the fifteenth, then shrunk down to a quarter page for the remainder of BEEB's run.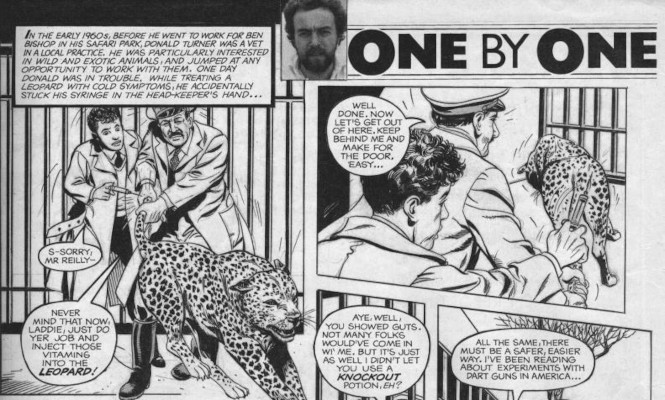 One By One


Created by Anthony Read and inspired by real life veterinarian David Taylor, One by One following the escapades of safari park vet Donald Taylor. The second season of the show was just airing when BEEB began telling the tale of Donald's younger days, prior to him working at the safari.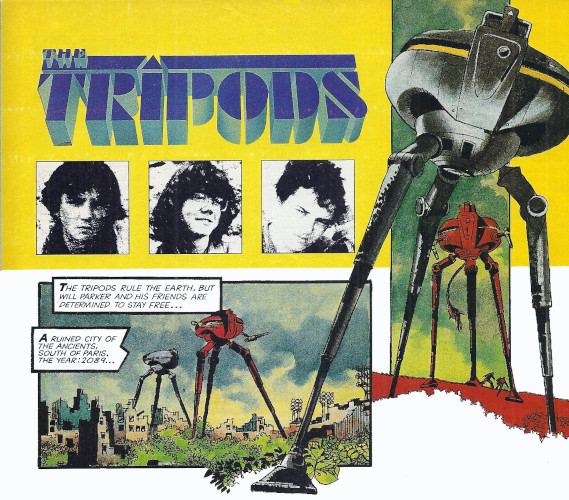 The Tripods


Based on the BBC TV show The Tripods, which itself was adapted from the John Christopher Tripods novels, about an Earth that had been conquered decades ago by aliens who now bestrode the conquered landscape in giant three-legged war machines, monitoring human slaves forced to live in small rural colonies, kept docile by mind-controlling "caps," metal skull plates implanted into their heads once they reached adulthood (attaching the caps to a child would kill them, as their skull would still be growing). The TV show lasted two series, adapting the first two out of the (then) trilogy, following a trio of youths, Will Parker, Henry and "Beanpole," who had fled their homes just before they were due to be capped. Set during the first book/season, which covered the lead characters journey through England and then France, seeking to find their way to a rumoured sanctuary, a hidden colony of rebel humans who lived uncapped, the Beeb strip revealed some new adventures the trio had endured during this trip, starting during the events of what had been the TV show's fourth episode.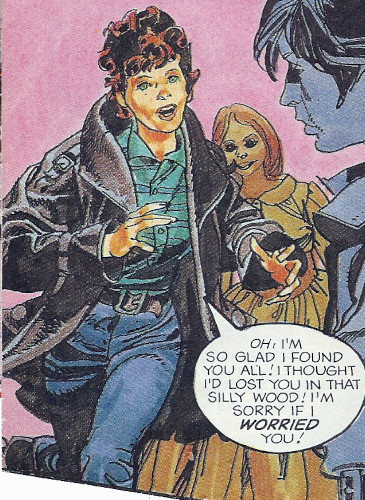 Tripods was one of only two strips to normally have three pages per issue, two of which were in colour, though in the final two issues this shrank down to just the two colour pages.

Tripods was drawn by veteran artist John M. Burns. Because of BEEB ending so abruptly, the serialised story ended unfinished. It was also notable for introducing a new character originating from neither the novels nor TV show to join the trio of boys, a girl called Fizzio (shown left), to act as their guide. Fizzio had belonged to a group of people living near the ruined Paris who were descendants of English football fans who had apparently become trapped there during the Tripod invasion, and whose lives now revolved round a vague remembrance of football. Thus they had names like Striker, Scout, and viewed the newcomers as "Subs" (substitutes); Fizzio was apparently a bastardization of physiotherapist, as she was introduced when she treated minor injuries sustained by the newcomers. Fizzio was introduced in the second issue of BEEB, but only officially joined the boys on their journey when they departed from Paris in issue#5. The series ended on a cliffhanger (see image below), with a note identifying the next installment (that never came) was to be "The Flood."

Bizarrely, this was only one of two strips covering The Tripods at this time, as Boys' Life Magazine, the official magazine of the Scouts organization, was in the middle of adapting the novels, at the same time, a venture that ran from May 1981 to August 1986, successfully covering all three novels.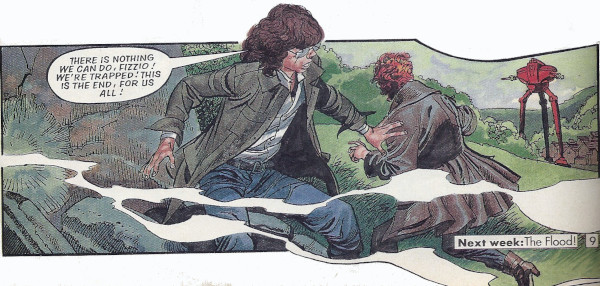 Back to General UK Comic Book Heroes.
Back to UK Superheroes Main Page.
All images and characters depicted on this site are copyright their respective holders, and are used for informational purposes only. No infringement is intended and copyrights remain at source.