Beeb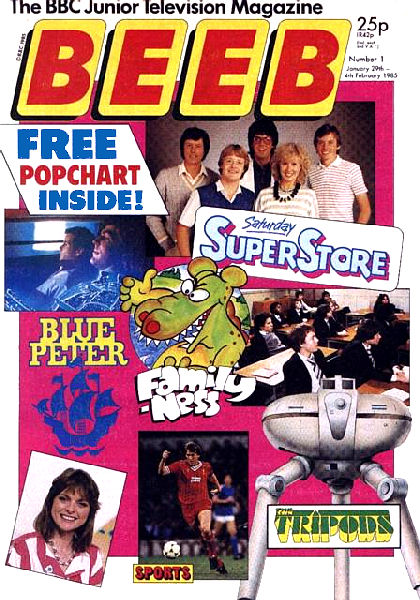 a.k.a.: The BBC Junior Television Magazine
Publisher: Polystyle Publications
Format: Weekly comic strip anthology.
First Issue: 29th January 1985
Last Issue: 11th June 1985
Absorbed: N.A.
Absorbed into: N.A.
Strips: Automan, Bananaman, Family Ness, Grange Hill, One By One, The Tripods
Comments: In 1985 the BBC decided the time was ripe to launch a new comic to replace the late lamented TV Comic (and not incidentally grab a share of the successful ITV-connected magazine Look-In's market). Polystyle Publications handled the actual publication, with Dennis Hooper editing, but the title didn't do so well, and cancelled after 20 issues (though not 13 as some reference guides claim - and for any doubters out there, check out this link where you can read the entire 20 issues worth of the Tripods strip).
Back to General UK Comic Book Heroes.
Back to UK Superheroes Main Page.
All images and characters depicted on this site are copyright their respective holders, and are used for informational purposes only. No infringement is intended and copyrights remain at source.