Wham!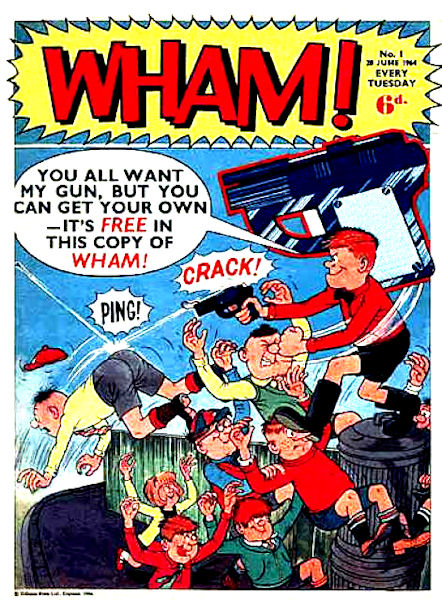 Publisher: Odhams Press
Format: Mostly comic strips, with some text stories and features.
First Issue: 20th June 1964
Last Issue: 13th January 1968 (187 issues)
Absorbed: None.
Absorbed into: Pow!
Strips: Doomsday School; Fantastic Four (reprints of US title of same name), Kelpie the Boy Wizard, Billy Binns and his Wonderful Specs, Johnny Straight (retitled reprint of Zip's Wells Fargo), Tornado Jones, General Nitt and his Barmy Army, The Wacks, The Tiddlers, Eagle-Eye Junior Spy, Danny Dare, Biff the Humbugs, Pest of the West, George's Germs, Footsie the Clown, Frankie Stein, Glugg, the Bouncers, Jasper the Grasper, The Good Sports, Sammy Shrink, School for Scoundrels, Baby Whamster
Comments: Wham! was the first of what would become known as The Power Pack comics, alongside sister titles Pow!, Smash! and Fantastic. Originally similar in style to rival title The Beano, Wham! began reprinting American Marvel comics with the Fantastic Four.
Back to General UK Comic Book Heroes.
Back to UK Superheroes Main Page.
All images and characters depicted on this site are copyright their respective holders, and are used for informational purposes only. No infringement is intended and copyrights remain at source.