Shiver and Shake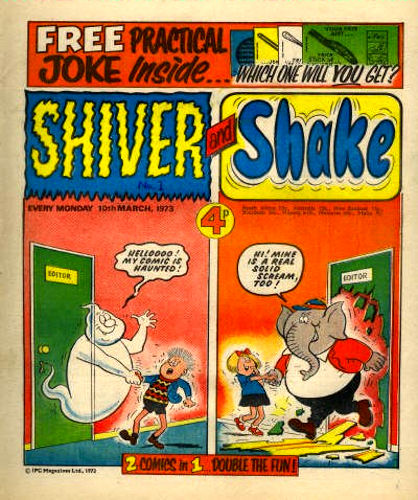 a.k.a.:
Publisher: I.P.C.
Format: Weekly anthology
First Issue: 10th March 1973
Last Issue: 5th October 1974 (79 issues)
Absorbed: None
Absorbed into: Whoopee!
Strips: Adrian's Wall, Biddy's Beastly Bloomer, Blunderpuss, Charlie Williams, Clever Cloggs, Comics College, Creepy Car, Creepy Creations, Damsel in Distress, The Desert Fox, The Duke's Spook, Eagle Eye, The Fixer, The Forest Legion, Frankie Stein, Freddie Fang, Gal Capone, The Ghostly Galleon, The Ghost's Revenge, Ghouldilocks, Ghoul Getters Ltd, Grimly Feendish, Gus Gorilla, The Hand, The Haunts of Headless Harry, Hire a Horror, Horrornation Street, Jail Birds, Jasper the Grasper, Jelly Baby, Lolly Pop, Malice in Wonderland, Match of the Week, Menace of the Alpha Man, Moana Lisa, Percy the Peacemaker, The Phantom Piper, Riddle-Me Ray, Robin Hood and his One Man Band, Scatty Bat, Scream Inn, Shake, The Shake Squad, Shiver, The Shiver Givers, Simple Simon, Soggy the Sea Monster, Sports School, Sweeny Toddler, Teacher's Pet, The Terrible Trail to Taggart's Treasure, Toby's Timepiece, Tough Nutt and Softy Centre, Val's Vanishing Cream, Webster, Who'd Kill Cockney Robin?, Wizards Anonymous, Ye Haunted Lake
Comments: "2 comics in 1...double the fun...Shake is inside Shiver!"
So proclaimed the tag line of IPC's Shiver and Shake, launched on 10th March 1973. Like its contemprary, Whizzer and Chips, Shiver and Shake portrayed itself as two titles, with Shake, a fairly traditional British humour comic, presented as a pull-out section inside Shiver, a horror humour oriented comic. The names Shiver and Shake were likewise borrowed, from two ghosts who had appeared in strips in Cor!!, though Shiver, who had been a ghostly cavalier skewered by a phantom blade, became a portly "sheet" ghost who starred in The Duke's Spook inside the Shiver section of the new comic, while Shake, who had originally been a portly sheet ghost virtually identical to the one now called Shiver, became an anthropomorphic elephant who starred in his own namesake strip in the Shake section of the comic. The Shiver section also made good use of two horrific stars of past comics, Grimly Feendish, who had begun life as the antagonist in Eagle-Eye Junior Spy's strip in Wham!, and Frankie Stein, likewise from Wham!, who would eventually supplant Shiver and Shake as the comic's cover star. Each issue also included a Creepy Creatures illustration on the back page, with artist Ken Reid illustrating monsters described by readers' letters. A strike in 1974 meant Shiver and Shake wasn't published in July of that year, skipping four issues, but production resumed in August 1974, only for the title to be cancelled in October 1974. It was absorbed into Whoopee!, but continued to have both thirteen annuals, released from 1973 to 1985 (dated 1974 to 1986), and eight holiday specials, released between 1973 and 1980, despite this cancellation.
Back to General UK Comic Book Heroes.
Back to UK Superheroes Main Page.
All images and characters depicted on this site are copyright their respective holders, and are used for informational purposes only. No infringement is intended and copyrights remain at source.