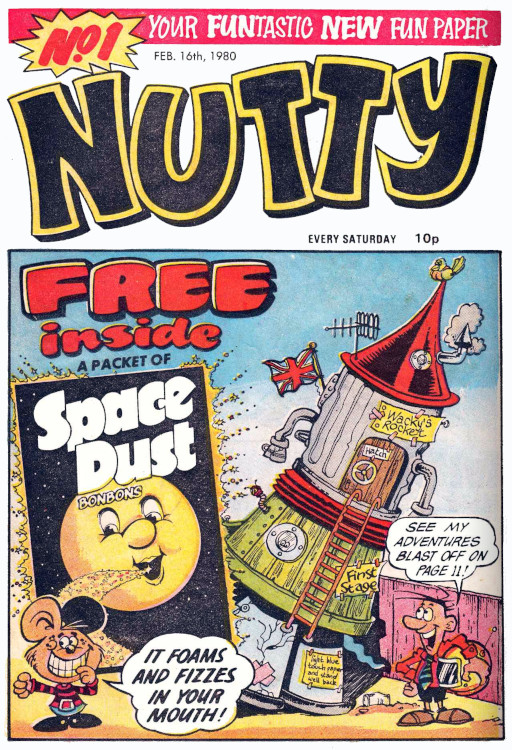 Nutty
Publisher: D.C. Thomson
Format: Weekly comic strip anthology
First Issue: Nutty #1 (16th February 1980)
Last Issue: Nutty #292 (14th September 1985)
Absorbed: None
Absorbed into: Dandy
Comments: Nutty was one of the last humour titles launched by DC Thomson, with most of the company's new comics of that decade - Buddy (1981), Spike (1983), Champ (1984) - being more adventure oriented. After the seventies, where comics based round a single theme such as sport, war or science-fiction, had become common, Nutty was somewhat of a throwback. Upon its start it carried a single non-comedic strip, General Jumbo, borrowed from its elder stablemate Beano, which had long since shed any remaining adventure series. Many of Nutty's strips would prove forgettable, although one, the terrible toddler Cuddles, proved to have legs, ultimately surviving Nutty's demise in 1985 to transfer to Dandy, where he teamed up a similarly monstrous infant, Dimples. However, the undoubted success story of Nutty was the comedic superhero Bananaman, who would go on to have his own cartoon and eventually a stage play, and has survived the demise of not only Nutty, but also his second home, Dandy, and who continues to appear in new stories to this day in DC Thomson's only surviving weekly anthology, Beano.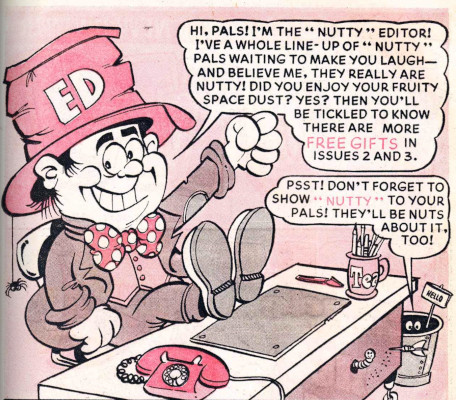 The cover stars for the first issue were Wacky, the Crackpot Inventor, and artistic mouse Doodlebug; other characters in the comic subsequently took turns on the front of the title, until Nutty#41, when Bananaman, now the clear star of the book, took up permanent residence, transforming it into an additional story page; the second part of these stories were on the back page until #100, when he took over the centre pages that had previously been the domain of the canine Wild Rovers, and in so doing expanded his stories to three pages. He remained on the cover and centre pages for every subsequent issue all the way until Nutty's final issue, #292.
Like many comics, Nutty had a fictional editor, unimaginatively introduced in the first issue simply as the "Nutty" Editor, which by the second issue had shortened to Nutty Ed, sounding more like a name. He introduced himself to the readers on the first interior page of the first issue, and appeared on the first interior page again to introduce the subsequent two issues, and subsequently hosted the intermittent and short lived Ed's Tales before quietly fading away. Nutty#4 and #5 saw Doodlebug take over that interior page to host Nutty's Special Doodlebug Competition, a drawing contest. He was still there in Nutty#6, but now the bottom third of the page was claimed by Ed's Tales, with Nutty Ed returning to introduce a four panel humour strip. The final week of the Doodlebug competition was Nutty#7, and with Nutty#8 it was replaced by a new competition, Nutty's Scoopy Snaps, a photography contest, which ended in Nutty#10. From Nutty#11 the inside front page started being used for strips.
Nutty ultimately ran for over five and a half years, accumulating a respectable 292 issues before its was cancelled and absorbed into The Dandy; the newly subtitled Dandy and Nutty#2287 came out on 21st September 1985, with Nutty's Peter Pest, Snobbs and Slobbs, and Bananaman surviving the transition. Having briefly guest starred in the General Blight strip of the final issue of Nutty to herald the forthcoming merger, Dandy star Desperate Dan now guested Bananaman in Dan's strip to welcome him to his new home. All the other Nutty stars vanished with the merger, including initially Cuddles, as Dandy had its own infant terror, Dimples; instead he became the lead in Hoot, a new comedy strip comic which launched in October 1985, only a month after Nutty's demise. Hoot proved short lived, and itself merged with Dandy after a year, at which point Cuddles and Dimples joined forces and began sharing a strip. Nutty's memory was preserved until Dandy and Nutty#2327, cover dated 28th June 1986; from the following issue, the subtitle was dropped. However, its legacy remained, even after Dandy itself died in 2012. Cuddles continues to make occasional appearances, and Bananaman's strip remains a consistent feature all these decades later.
Strip summary:
(alphabetically): Bananaman, The Bar-O Boys, Bigfoot, Big 'n' Bud, Blubba and the Bear, Cannonball Kid, Cuddles, Dick Turban, Doodlebug, Ed's Tales, Ethel Red, General Jumbo, Jay R. Hood, Jack Flash, Kid Kats, Mitey Joe, The Mouseketeers, Nip and Rrip, Pearl Potter, Peter Pest, Pig Tales, Rocky, Samuel Creeps, The School Belles, Scoopy, The Snobbs and the Slobbs, Sports Fan, Starship Lollipop, Steevie Star, Turbo Sarge, Tweet William, Wacky, The Wild Rovers
(In debut order): Initial line-up in the first issue:
First issue:
Later additions:
| | | |
| --- | --- | --- |
| Ed's Tales Introduced in Nutty#6 | Sports Fan Introduced in Nutty#25 | Blubba and the Bear Introduced in Nutty#29 |
| Jay R. Hood Introduced in Nutty#32 | The Snobbs and the Slobbs Introduced in Nutty#35 | Jack Flash, replacing General Jumbo starting in Nutty#35 |
| Nutty Tales Introduced in Nutty#39- | Tweet William Introduced in Nutty#55 | Rocky Introduced in Nutty#55 |
| Cuddles Introduced in Nutty#57 | Mousketeers Introduced in Nutty#66 | Kid Kats |
| Starship Lollipop | Bigfoot | |
| | | |
| | | |
| | | |
| | | |
| | | |
Back to General UK Comic Book Heroes.
Back to UK Superheroes Main Page.
All images and characters depicted on this site are copyright their respective holders, and are used for informational purposes only. No infringement is intended and copyrights remain at source.