Daniel Brereton's The Nocturnals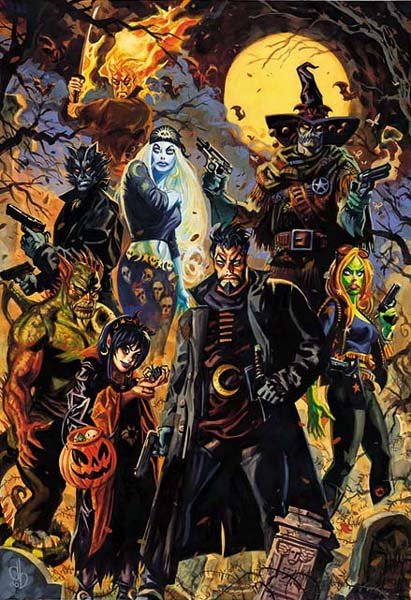 Created by Daniel Brereton, the Nocturnals are a group of beings who live in the darkness of our world, avoiding daylight. Led by Doc Horror, a refugee from another dimension who fled to this one with his daughter Evening (Halloween Girl) when his own world was invaded, the Nocturnals combine horror with film noir gangster stories. The gang first appeared in a mini series "The Nocturnals: Black Planet" from Bravura / Malibu in 1995 (reprinted by ONI Press as a graphic novel), then returned in "Nocturnals: Witching Hour" from Dark Horse in 1998, and "Nocturnals: Troll Bridge" from ONI Press in 2000. Most recently (2001) they have been seen in "Nocturnals: The Dark Forever" and "Gunwitch: Outskirts of Doom". As regular site contributor Joshua Geren points out, Brereton refers to the Nocturnals as a foray into "monster noir".
For more information on what Daniel Brereton is working on at the moment, as well as additional stuff on the Nocturnals, check out the Official Site.
Other Brereton Creations
All images and characters depicted on this site are copyright their respective holders, and are used for informational purposes only. No infringement is intended and copyrights remain at source.