L. Miller and Son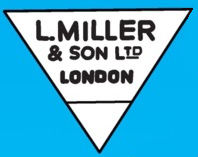 History: Founded by father and son Leonard and Arnold Miller in 1943, L. Miller & Son, Ltd. was a British publisher who sought to take advantage of the wartime ban on imported printed matter by reprinting U.S. comics for the U.K. market. Beginning with 1945's Master Comics, they began reprinting Fawcett Publications titles, later adding other titles for King Features Syndicate characters. In the 1950s Arnold Miller set up his own branch of the company, Arnold Book Company (ABC) to publish original British comics, such as Ace Malloy of the Special Squadron (a war comic), Mike Donovan Detective Comic, and Space Comics, which starred Captain Vic Valiant of the Interplanetary Police Patrol, Space Commander Kerry and Space Commando, and in 1952 Arnold hired Mick Anglo to work on some of these titles. Late in 1953 Fawcett, fighting a law suit from DC Comics claiming Fawcett's Captain Marvel infringed their copyrighted character Superman, cancelled their Captain Marvel titles, cutting off Miller's supply of new material for what was one of their most lucrative titles.
Asked by Len Miller to come up with a substitute, Mick Anglo created Marvelman, whose powers and origins closely mirrored Captain Marvel. This new title proved to be an instant success, as were tie-in titles Young Marvelman and Marvelman Family. Anglo was also put in charge of several Western titles, with his studio producing new material for Miller's Annie Oakley, Jim Bowie and Davy Crockett titles, amongst others. However, with sales dropping by the end of the 1950s, L. Miller cancelled Marvelman Family, and switched to reprinting older stories in the other two Marvelman titles and their Western comics. Anglo left to launch his own publishing company, Anglo Features (a.k.a. Anglo Comics), while L. Miller experimented with suspense and horror genre reprints licensed from several US companies and published in two new titles, Mystic and Spellbound. In 1966 L. Miller Ltd sold their printing plates to Alan Class Comics and left the comic publishing business
Publications: Marvelman, Marvelman Family, Young Marvelman, Spellbound
Characters:
Back to General UK Comic Book Heroes.
Back to UK Superheroes Main Page.
All images and characters depicted on this site are copyright their respective holders, and are used for informational purposes only. No infringement is intended and copyrights remain at source.