Swift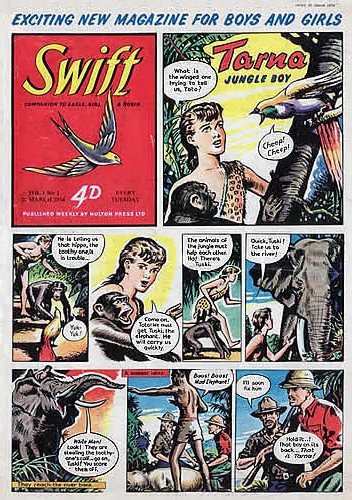 a.k.a.:
Publisher: Hulton Press, later Odhams
Format: Weekly anthology
First Issue: Swift vol. 1 #1 (20th March 1954)
Last Issue: Swift vol. 10 #9 (2nd March 1963, a total of 477 issues)
Absorbed: Zip (10th October 1959)
Absorbed into: Eagle
Comments: Swift was the fourth of Hulton Press' titles, following the success of Eagle (aimed predominately at older boys), Girl (aimed at, you guessed it, girls) and Robin (aimed at pre-school age children). Its target audience were boys in the later years of primary school, and the initial line-up included Tarna, Jungle Boy (a young Tarzan clone), The Sign of the Scarlet Ladybird (an advertising strip promoting Ladybird clothing via a pair of young sibling adventurers), Western strip Tom Tex, Pinto and Buckskin, and humour strip Sir Boldasbrass.
Strips: The Phantom Patrol; Smiley, The Prisoner of Zenda, Mono the Moon Man, The Fleet Family, Swiss Family Robinson, Robin Hood, King Arthur and His Knights, The Further Adventures of Robinson Crusoe, Blackbow the Cheyenne, The Sign of the Scarlet Ladybird, Paul English, Pony Express; Tom Tex, Pinto and Buckskin; Slicker, Famous People of Today, Things to Do, Educating Archie, The Magic Penknife (text series), Wyatt Earp Frontier Marshal, Wells Fargo, Dixon of Dock Green, Then and Now, The Rolling Stones, Sally of Fern Farm, The Boy David, Sue Carter, Sammy, Son of Drake, The Bentine Bumblies, The Bouncers, Our Gang, The Happy Hussar.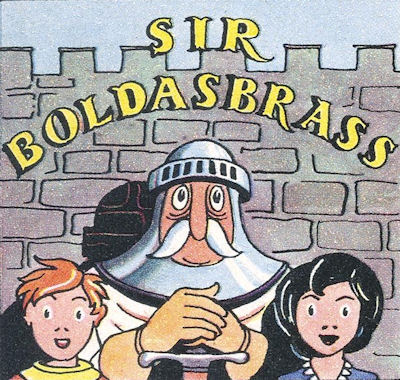 Sir Boldasbrass
Sir Boldasbrass was a medieval knight who lived in Blockhead Castle with his nephew Cedric and niece Cynthia. He wasn't exactly the smartest or bravest knight, although he was by no means a total dunderhead or coward either. When danger threatened Sir Boldasbrass or his castle, it was often the quick thinking of Cedric and Cynthia that saved the day; however, the pair were easily bored, and on more peaceful days their search for amusement and diversions caused the poor knight many problems and much discomfort.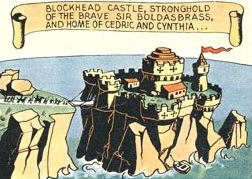 Debuting in the first issue of Swift, Sir Boldasbrass was created, written and drawn by John Ryan, who also created Captain Pugwash and Harris Tweed, Extra Special Agent, both for Eagle, and Lettice Leefe, the Greenest Girl in School for Swift's sister paper Girl. Given the colour centre pages, Sir Boldasbrass featured prominently in the early issues, but ultimately proved to be less successful than Ryan's other series (Tweed and Leefe both enjoyed lenghty runs, while Pugwash, though short lived in Eagle, made a comeback in books, which in turn led to both a TV series and lengthy Radio Times run), ending within a year. In 1972 Ryan created the children's TV series Sir Prancelot, who lived in Crumblecreek Castle with his children Sim and Sue; the similarities to Sir Boldasbrass were presumably not coincidental.
Tarna, Jungle Boy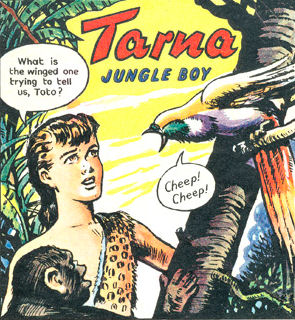 Tarna the Jungle Boy had grown up in an unspecified, presumably African, jungle, and had learned to communicate with the local animals, becoming their friend and ally against human poachers. His closest friends were the chimp Toto and elephant Tuski.
Swift's original cover star, Tarna was initially drawn by artist Walter Pannett, and later by Harry Bishop. Clearly inspired by Tarzan, over time Tarna grew into an adult, eventually losing the cover to the Australian boy Smiley in 1958. Tarna continued his adventures inside Swift up until it merged into Eagle in 1963. In 1954 he was briefly adapted to radio as part of Radio Luxembourg's short lived Merry-Go-Round series.
Back to General UK Comic Book Heroes.
Back to UK Superheroes Main Page.
All images and characters depicted on this site are copyright their respective holders, and are used for informational purposes only. No infringement is intended and copyrights remain at source.