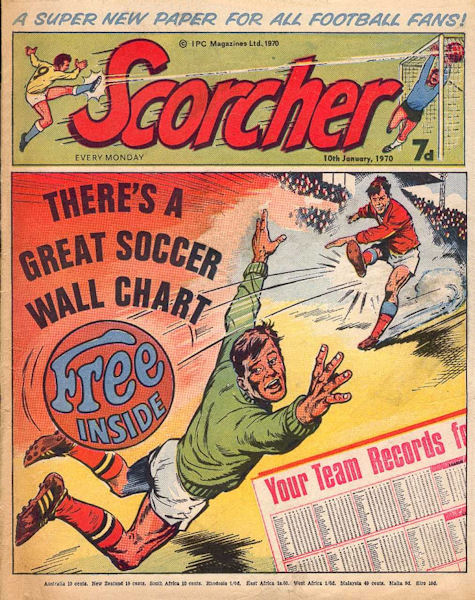 Scorcher
a.k.a.: Scorcher and Score
Publisher: IPC
Format: Weekly anthology
First Issue: Scorcher #1 (10th January 1970)
Last Issue: 5th October 1974
Absorbed: Score 'n' Roar
Absorbed into: Tiger
Strips: The Amazing Strollers, Billy's Boots, Bobby of the Blues, The Boy in the Velvet Mask, Byrd of Paradise Hill, Charlie Ironsides, The East Mount Mob, Hot Shot Hamish, Jack and Jimmy, Jack of United, Jimmy Jinks, Jimmy of City, Lag's Eleven, Lord Rumsey's Rovers, Kangaroo Kid, King of Football, Know-All, Manager Matt, Nipper, Paxton's Powerhouses, Royals' Rangers, Sub
Comments: Launched by IPC on 10th January 1970, Scorcher was something new for the company. While the majority of British comics were anthologies whose tales covered a mixture of genres, Scorcher was the first single-themed comic - all the strips were rooted in football, although there was still a surprising amount of diversity worked in once that basic precept was taken into account. The more standard strips included Royal's Rangers, the stories of the members of Caxford Rangers as recounted by their manager Ben Royal; Bobby of the Blues, the tale of Bobby Booth, youngest player for Everpool City, who were nicknamed the Blues because of their football strip; Byrd of Paradise Hill, where promising footballer Richard Byrd turned down a chance to try out for Hampton Orient and become a professional player in favour of becoming a teacher at Paradise Hill Secondary Modern School, where he naturally used football to inspire and win over his pupils; and Ken Reid's humour strip Sub, about an unlucky substitute player's constant attempts to actually play in a game.
More unusual but still football themed, was Paxton's Powerhouse, about Vince Paxton, a "ruthless soccer-dictator" so brutal that he'd tackle his own teammates for the ball if he thought they weren't playing well enough, and who became obsessed with creating an unbeatable team, even to the point of secretly hiring a team of scientists to develop devices such as a "skill-absorber." Even more unlikely was the tongue-in-cheek Lag's Eleven, where criminal mastermind Willie "Brilliant Genius" Smith plotted to escape Bankhurst Prison and its chief warder, "Bad News" Benson, and so started a football team as part of an elaborate plan to escape during the team's first away match. The comic's most enduring series was Billy's Boots, about Bingley Road Junior School pupil Billy Dane, who shared his friends' love of football but had no skill whatsoever, until he found a pair of old football boots in his grandmother's attic that used to belong to England centre-forward "Dead-Shot" Keen; apparently the late Keen's spirit hung around in the boots, because whenever Billy wore them, he became a master footballer. Billy's Boots would outlast Scorcher, surviving into its successor Scorcher and Score and then Tiger after that.
The comic's most outrageous strip was Kangaroo Kid; one of more bizarre memes that turned up from time to time in British comics was that children who had grown up in the wild and been raised by various animals would develop into incredible sportsmen (rather than jungle lords like Tarzan, Mowgli or Ka-Zar). As the strip's name suggests, in Kangaroo Kid's case, his surrogate parents had been kangaroos in Australia's Outback, and thus he developed superhuman leg muscles. An English football team, Redstone's Rovers, visiting Australia for a summer tour, spotted him kicking an abandoned football like a missile at a jeep chasing some kangaroos; since they were about to return home to face a new football season a man down due to injury, they recruited the feral child to be their new player.
Scorcher lasted for 77 unnumbered issues, the last cover dated 26th June 1971, before merging with IPC's second football-themed title, Score and Roar. Usually such mergers meant one title or the other was dominant, slowly absorbing the other, but in this exceptional case the newly formed Scorcher and Score was treated as a brand new comic with a new first issue. Lag's Eleven, Bobby of the Blues and Billy's Boots survived the merger, and the new title ran another three years before merging with Tiger in 1974. Despite the weekly comic's relatively short life, Scorcher Annuals continued on being published; fourteen were published between 1971 and 1984. Two Scorcher Holiday Specials were published, before becoming Scorcher and Score Holiday Specials for the next two years, but after the merger with Tiger, the Score name was dropped, and a further five Scorcher Holiday Specials were published.
Back to General UK Comic Book Heroes.
Back to UK Superheroes Main Page.
All images and characters depicted on this site are copyright their respective holders, and are used for informational purposes only. No infringement is intended and copyrights remain at source.