Blackhawk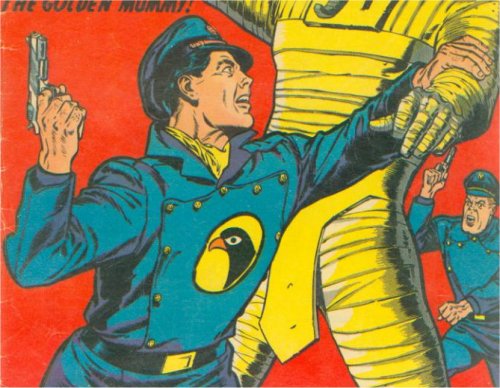 Real Name: Bart Hawk
Identity/Class: Normal human
Occupation: Pilot
Affiliations: The Blackhawks (Stanislaus, Andre, Hendrick, Boris, Zeg, Olaf, Chop Chop), Lady Blackhawk, Winston Churchill, Duchess Ramona Fatale
Enemies: Assassin Squad, Baron Blood, Basilisk, the Bat, Blackbeard, Black Flag, Black Tigress, Black Widow, the Blast Bandits, Blonde Bomber, Butcher, Butcher Squadron, Buzzard, Captain Harpy, Captain Squidd, Captain von Tepp, Carnage, Chameleon, Cobra, Colonel Frog, Colonel von Tepp, Crimson Hoods, the Crossbow, Danya, Darkk the Destroyer, Death Legion, Dragon Queen, Dr.Baroc, Dr.Koro, Dr.Mendoza, Dr.Mole, Dr.Omega, Domino, Eel, Electronic Brain, Fear, the Flying Panthers, the Fox, Garg the Destroyer, General Panic, General Raige, General von Kummel, Genghis Khan, Golda, Golden Mummy, Grin the Grabber, Hangman, Hitla, Human Bomb, Iron Emperor, Iron Hammer, the Jailer, Killer Shark, Killer Vulture, King Cobra, King Condor, King Murder, Zoltan Korvas, Laska, Lilith, Madame Butterfly, Madam Double Cross, Manta Ray, "Death" Mayhew, Mr.Carnage, Mr.Yesterday, the Mockers, der Morder, Nichevo, Phantom Raider, Professor Merson, Queen Bee, Rattlesnake Squadron, Red Executioner, Red Laura, Rocketmen, Sakyo the Madman, Satana, Scavengers of Doom, Scorpion, Sea Devil, Sirena, Skull the Ruthless, John Smith "Stalin's Ambassador of Murder", the Sniper, Spider Web, the Thunderer, Tigress, Tondeleyo, Valkyrie, Vampira, the Vengeful Bowman, von Krug, Von Volter the Terrible, Vulture, the Whip, Witches of Death, Xanukhara
Known Relatives: Jack (brother, deceased), Connie (sister, deceased)
Aliases: Big Eye, Mr.Cunningham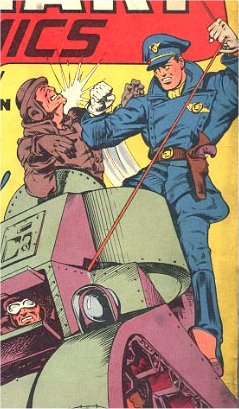 Base of Operations: Blackhawk Island, Atlantic Ocean (possibly two islands, the first in the Orkneys, the second in the Pacific near the continental U.S.)
First Appearance: Military Comics #1 (Quality, August 1941)
Powers/Abilities: Incredibly skilled pilot. Excellent fighter
History: "The greedy grasp of tyranny is upon Europe, and ramparts of evil challenge the free-born peoples of the world to dispute Nazi cruelty if they dare! And there are those who dare, who never refused a dare yet! Messengers of destruction to all evil and injustice -- The Blackhawks!"
Blackhawk was a member of the Polish resistance (originally he was meant to be Polish, but retcons later made him Polish-American, who had joined the resistance because America was doing nothing about the invasion of his ancestral home), fighting the Nazis with daring night attacks in a plane he had painted black. However, after one such raid, he was pursued back to his family's farm by Colonel Von Tepp, who then bombed the house, killing Blackhawk's younger brother and sister. Blackhawk vowed revenge, and began a ceaseless campaign to destroy the Hun; he soon attracted like minded fliers from other occupied countries, leading to the formation of the Blackhawk Squadron (Poles Blackhawk and Stanislaus, the English Chuck, Dutchman Hendrickson, Frenchman Andre, Swedish Olaf and Chinese Chop-Chop (Liu Huang), answerable only to Winston Churchill.
Post-war, he fought both communists and supervillains, even briefly gaining superpowers himself.
Comments: Created by Chuck Cuidera and Bob Powell, with input from Will Eisner.
For a truly in-depth look at Blackhawk, check out Dan Thompson's Unofficial Blackhawk Comics Website. A lot of the information on this page comes from that excellent site (used with Dan's kind permission).
After his debut in Military Comics #1, Blackhawk gained his own title when Uncle Sam was retitled Blackhawk as of #9 (Winter 1944). Military Comics became Modern Comics with #44 (November 1945, after the end of the war), but Blackhawk continued to star in the title until it was cancelled in October 1950 with #102.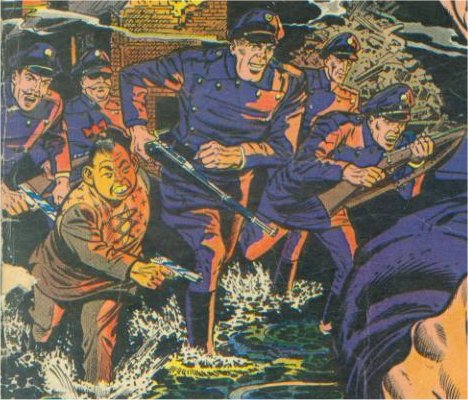 In 1956 Quality Comics, Blackhawk's original publisher, sold off its characters to National Comics (the future D.C.), with the exception of Blackhawk, which was leased to its new home on a royalty basis (D.C. would eventually purchase the full rights to the character). The first National Comics issue was Blackhawk #108. The new management introduced mascots (Blackie the hawk, Bravo the chimp), a female ally (Lady Blackhawk in #133, February 1959), and reveal the lead character's real name (Bart Hawk, very Polish sounding). In #228 (January 1967) the team were briefly given costumes which granted them superpowers and turned into secret agents; this dire mistake led to the title's cancellation in November 1968; the last issue was #243.
A little over seven years later, D.C. restarted the title, continuing with the old numbering, turning the team into mercenaries, with Blackhawk maintaining a second identity as corporate head Mr.Cunningham. The revival didn't stick, and once again the title was cancelled, with #250 (February 1977). A second relaunch, in October 1982, returned the team to their WWII origins. This was more successful, and laster to #273 (November 1984).
Originally a Polish soldier, Blackhawk was later revised to be Polish-American (I guess someone felt that any heroic lead had to be an American) - which makes me wonder how come he took his younger brother and sister with him when he left the States to join the Polish resistance.
Howard Chaykin obviously felt the same way, as he revamped the character into the post-Crisis D.C. universe in 1987 with a three issue mini-series. He made Blackhawk a Pole again, specifically Janos Prohaska. However the character bore little real resemblance to the Blackhawk of old, other than visually. This version of Blackhawk returned as one of a number of serials in anthology title Action Comics in 1988, and then got their own series in March 1989, which lasted 16 issues.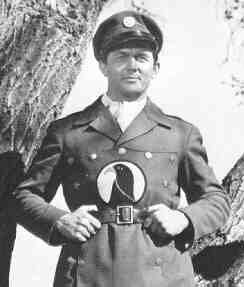 Blackhawk has also appeared in other media from time to time, most notably a 15 part Columbia Pictures serial in 1952 starring Kirk Alyn (better known for playing Superman). In 1982 Warner Books published a Blackhawk novel written by William Rotsler.
Matt Rudder writes to mention Blackhawk's foe Madame Double Cross: "She is featured on the cover of Blackhawk #83, (December 1954) stalking our hero through the Kremlin with a drawn pistol. Listed on the splash page as "The most dangerous female in the history of the world". A normal human being (if her 38-20-36 figure can be considered normal). An NKVD agent working for Malenkov. A blonde on the cover, but a brunette in the story."
CLARIFICATIONS: Not to be confused with
Any Additions/Corrections? Please let me know.
All images and characters depicted on this site are copyright their respective holders, and are used for informational purposes only. No infringement is intended and copyrights remain at source.