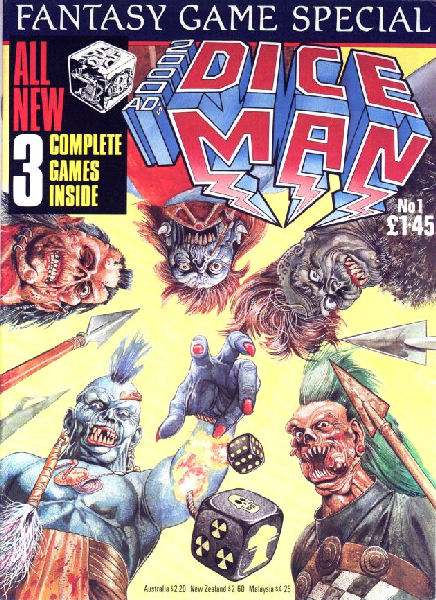 Diceman
a.k.a.:
Publisher: Fleetway
Format: Monthly comic strip anthology
First Issue: 1st February 1986
Last Issue: 1st October 1986 (5 issues)
Absorbed: N.A.
Absorbed into: N.A.
Strips: A.B.C. Warriors, Diceman, Judge Dredd, Nemesis the Warlock, Rogue Trooper, Ronald Reagan, Sláine, Torquemada
Comments: 2000 A.D.'s first proper spin-off title, launched in 1986, Diceman combined new strips for established 2000 A.D. characters such as Judge Dredd, Sláine, Nemesis and Rogue Trooper with the then-fad for "choose your own adventure" gaming. Readers could follow their heroes through an adventure, and at some levels direct the action. Diceman only lasted five issues, and is somewhat of a curiousity, but noteworthy both because some of the tales therein have never been reprinted, and because the second issue introduced the titular character of Diceman, who never reappeared after the title died.
Back to General UK Comic Book Heroes.
Back to UK Superheroes Main Page.
All images and characters depicted on this site are copyright their respective holders, and are used for informational purposes only. No infringement is intended and copyrights remain at source.