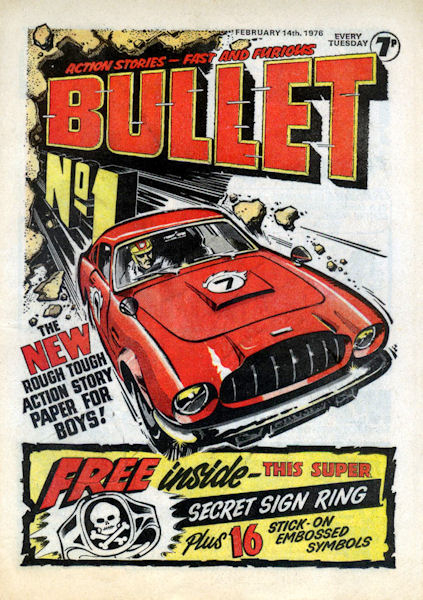 Bullet
a.k.a.:
Publisher: D.C.Thomson
Format: Weekly anthology comic
First Issue: Bullet #1 (February 14th 1976)
Last Issue: Bullet #147 (December 2nd 1978)
Absorbed:
Absorbed into: Warlord
Strips: Fireball, Vic's Vengeance, Smasher, Twisty, 3 Men in a Jeep, Wonder Mann, A Tale of Terror from Solomon Knight, Werewolf, Ginger, Strike Force 2000, Kid Cox, Day of the Zitans, A Boy Called Nothing, The Shark, Spy from the Future, Frontline U.K.
Comments: Launched on 7th February 1976, the same weekend as IPC's Action, Bullet was DC Thomson's attempt to produce a tougher, harder hitting comic aimed at appealing at older boys. However, compared to Action, it was still relatively tame fare. The lead character was secret agent Fireball, whose visual appeared to be based on actor Peter Wyngarde, then recently starring in Department S and Jason King, with additional tales included in the first issue such as the giant robotic menace dubbed the Smasher, controlled by the villainous Dr. Doom; football strip Twisty (the tale of would-be pro-footballer Twisty Lunnon and his struggle to achieve his dream despite an accident partially disabling one leg), war story 3 Men in a Jeep, and vigilante drama Vic's Vengeance, following "young Vic Mason's trail of revenge on London's ganglands" as he sought retribution against his father's murderers. Later issues introduced the Mice of Tobruk, an adventure strip about teenagers stuck behind German lines in Tobruk during World War II; Hunted, following the adventures of fugitive Benny Regan as he sought evidence to clear his name while avoiding the authorities; A Tale of Terror from Solomon Knight; and superhuman athlete Wonder Mann. Though Action had the edge in stories, Bullet proved to have the last laugh, outlasting the prematurely curtailed Action to run 147 issues, before merging with Warlord on 2nd December 1978.
Back to General UK Comic Book Heroes.
Back to UK Superheroes Main Page.
All images and characters depicted on this site are copyright their respective holders, and are used for informational purposes only. No infringement is intended and copyrights remain at source.