Will Scarlet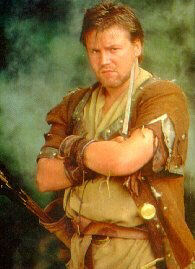 Real Name: Will Scarlet (possibly, but see aliases)
Identity/Class: Normal human
Occupation: Outlaw
Affiliations: Robin Hood and his "Merrie Men" (including, but not limited to Little John, Friar Tuck, Much the Miller's Son, Allan a Dale, "Maid" Marion)
Enemies: Sheriff of Nottingham, Guy of Guisborne, Abbot of St. Mary's - York, Bishop of Hereford, Prince John, Isembart de Baleme, Simon de Belleme.
Known Relatives: Robin Hood (some ballads suggest a relationship, with Robin being either uncle or cousin); Earl of Maxfield (reputed to be his father in some tales), Elena (wife, deceased - from the Robin of Sherwood TV series), Princess (wife - from the ballad Robin Hood and the Prince of Aragon)
Aliases: Will Scarlet has also been referred to as Will Scarlett, Will Scathelock, Will Scarlock. And in the ballads Robin Hood Newly Revived (aka Robin Hood and Will Scarlet) and Robin Hood and the Prince of Aragorn, Will is called Young Gamwell.
Base of Operations: Sherwood Forest, Nottinghamshire; Nottingham; Barnsdale, Yorkshire; Loxley; Dublin, Ireland (there's a legend that Little John and Will Scarlet went to Dublin after Robin's death); Mansfield, Nottinghamshire and/or Maxfield, Yorkshire (based on the legend of Will being the Earl of Maxfield's son); Blidworth, Nottinghamshire (Will's unmarked grave is in the churchyard there)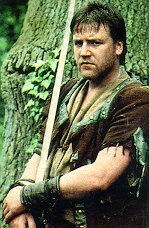 First Appearance: c.1200 -1400 A.D. (same as Robin)
Powers/Abilities: Skilled fighter with swords, archer, woodsman.
History: Several Robin Hood ballads have a character with the first name Will and a last name beginning with S. Some modern stories reconcile this by saying that Will Scarlet is an alias for Will Scathelock or Will Stutely. In other books, these Wills are separate characters.
Like many Robin Hood characters, there are several historical characters with Will Scarlet-like names. One such person is William Schirelock who was expelled from St. Mary's Abbey, York in 1286-7 for committing a crime.
In the ballad Robin Hood Newly Revived (aka Robin Hood and Will Scarlet), Will is Young Gamwell, Robin Hood's nephew and son to the Earl of Maxfield. Will was outlawed for killing his father's steward.
In some versions of the legend, Will is portrayed as a foppish dandy. In the 1980s TV series Robin of Sherwood (written by Richard Carpenter), Will is an angry and violent character. This Will is bitter over the death of his wife, and killed her attackers. Ray Winstone's performance in this television show has influenced later portrayals, such as Christian Slater's Will in Robin Hood: Prince of Thieves.
Will Scarlet is buried in an unmarked, almost arrow-shaped grave in the churchyard in Blidworth. Local legend says that he was killed after a battle with the sheriff's men.
Comments: Thanks to Allen Wright for providing information for this page. Check out his Robin Hood website. Allen notes "The first clear literary reference to the legend occurs in the B-Text of Piers Plowman, published circa 1377. The earliest surviving ballads date from about 1450-1460, Little John, Will Scarlet and Much all appear in those ballads (and there are literary references to Little John just a bit earlier).
Little John, Much and Will Scarlet were part of the Yeoman class."
CLARIFICATIONS: None.
Any Additions/Corrections? Please let me know.
Back to British Historical / Mythical characters
All images and characters depicted are copyright their respective holders, and are used above for informational purposes only. No infringement is intended and copyrights remain at source.