Rampage Monthly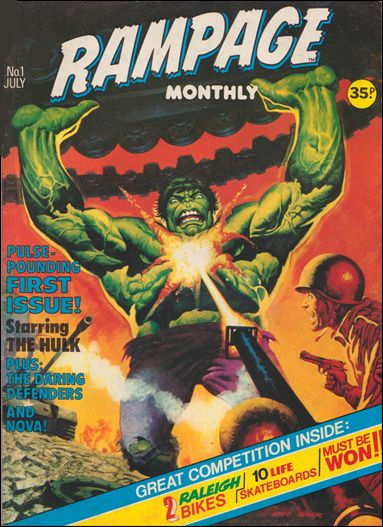 Publisher: Marvel U.K.
Format: Monthly anthology, mostly reprint, magazine
First Issue: Rampage Monthly #1 (July 1978)
Last Issue: Rampage #54 (December 1982)
Absorbed: Blockbuster
Absorbed into: Marvel Super-Heroes
Strips: Hulk, Luke Cage: Hero for Hire, Defenders, The Thing (Marvel Two-In-One), Nova, Uncanny X-Men, Crusader, Time-Smasher
Comments: Rampage was a Marvel UK title that predominately reprinted US Marvel comics. Sharing the name of a previous, weekly reprint title, Rampage's lead story was initially the Hulk, reprinted from the American magazine Rampaging Hulk, but with issue #8 the X-Men began with the first UK printing of the "All-New" X-Men who had debuted in Giant-Size X-Men #1, and they soon became the lead strip. Circa Rampage #40, the title featured some UK originated strips, with Paul Neary's Timesmasher in #40, 42-44, and Alan Davis' Crusader in #41. Blockbuster was merged into Rampage as of Rampage #45, though the only Blockbuster strip to survive the merger was the Iron Fist reprint. Rampage's final issue was #54; a month later it officially merged with Marvel Super-Heroes, with two strips transferring over - X-Men and Iron Fist - as of Marvel Super-Heroes #392.
Back to General UK Comic Book Heroes.
Back to UK Superheroes Main Page.
All images and characters depicted on this site are copyright their respective holders, and are used for informational purposes only. No infringement is intended and copyrights remain at source.