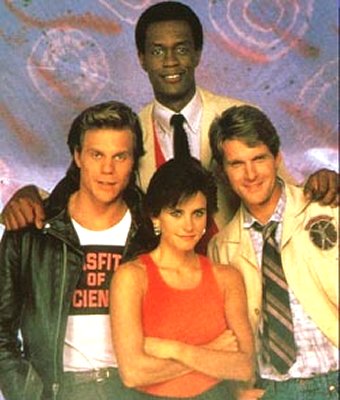 Membership: Billy Hayes; El Lincoln; Glo Dinallo; Johnny B; The Iceman
Purpose: To learn about their powers and fight crime
Affiliations: Dick Stetmeyer, Humanidyne Institute, Link, Brick Tyler
Enemies: Unknown
Base of Operations: Humanidyne Institute
First Appearance: Misfits of Science #1 "Pilot/Deep Freeze" (NBC, October 4th 1985)
History: Scientists Dr. William Hayes and Dr.Elvin Lincoln were investigating biological anomalies for the Human Investigation Team at the Humanidyne Institute think tank. However their discovery of a man who had survived being frozen for fifty years had their employer, Dr.Strickland, seeing dollar signs. He wanted to use the "Iceman" for military experiments, so he transferred him to a military bunker and shut the HIT down. Discovering from Dr.Momquist, Strickland's predecessor, the military's plans for the Iceman, and that they were illegally working on a neutron beam cannon which could conceivably destroy the world, the two scientist recruited two former patients to break into the base, rescue the captives (Momquist was being held too) and end the experiment.
After a successful first mission, Billy and El were reinstated, and allowed to operate their team out of a basement laboratory in the Institute building, answering to company executive Dick Stetmeyer. When they needed to go out on a case, they would often use the Fundae Sundae, an converted ice cream truck, allowing their colleague, the Iceman, to travel in comfort.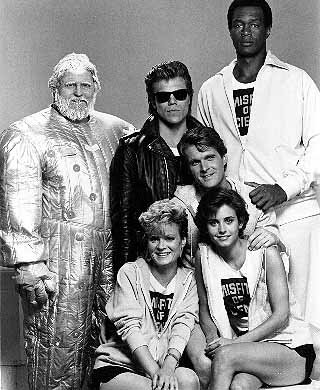 Comments: A short lived series which only lasted 16 episodes:
Pilot (aka Deep Freeze)

Your Place or Mayan?

Guess What's Coming to Dinner?

Lost Link

Sort of Looking For Gina

Sonar...And Yet So Far

Steer Crazy

Fumble on the One

Twin Engines

Grand Theft Bunny

Grand Elusion

Once Upon a Night

Center of Attention

Against All Oz

The Avenging Angel

Three Days of the Blender
After the pilot, the Iceman was never seen again, vanishing without any acknowledgement of his fate. Possibly he went back into suspended animation.
---