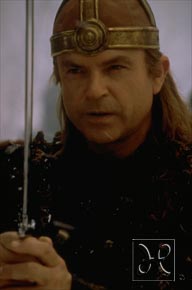 Real Name: Myrrdin (?)
Identity/Class:
Occupation:
Affiliations:
Enemies:
Known Relatives:
Aliases:
Base of Operations:
First Appearance: c. 800?
History: Merlin, Arthur's adviser, prophet and magician. His origins are as murky as those of his liege, with chroniclers throughout history adding their own interpretation to the character until it is difficult to know who, if anyone, the "true" Merlin might have been. The ninth century chronicler Nennius talks of Ambrosius, a man with no human father who prophesied the defeat of the Britons at the hands of the Saxons, and this tale was later mixed with Welsh traditions about a bard and prophet named Myrddin by the twelfth century historian Sir Geoffrey of Monmouth to create the first known instance of a character called Merlin. Having originally been noted only as a prophet, later writings expanded Merlin's powers and his role until he was also a magician and advisor to not only earlier kings, but Arthur as well.
Said to have been born in Caer-Fyrddin (Carmarthen) as Emrys (or Ambrosius), he became known as Myrddin after his birthplace. When Goeffrey Latinized this name, Myrddin became Merlinus instead of Merdinus (the more correct Latinization) because the latter version might have suggested to the Anglo-Norman audience the vulgar French word "merde".
Merlin was the illegitimate child of a monastic Royal Princess of Dyfed. His father was said to be an angel who had visited the Royal nun and left her with child, although Merlin's enemies claimed his father was really an incubus, an evil spirit that has intercourse with sleeping women. The evil child was supposed to provide a counterweight to the good influence of Jesus Christ on earth. Merlin, fortunately, was baptized early on in his life, an event which is said to have negated the evil in his nature, but left his powers intact.
Legend then tells us that after the Roman withdrawal from Britain and the usurpation of the throne from the rightful heirs, Vortigern was in flight from the Saxon breakout and went to Snowdonia, in Wales, in hopes of constructing a mountain fortress at Dinas Emrys where he might be safe. Unfortunately, the building kept collapsing and Vortigern's house wizards told him that a human sacrifice of a fatherless child would solve the problem. One small difficulty was that such children are rather hard to find. Fortunately for Vortigern's fortress, Merlin was known to have no human father and happened to be available.
Before the sacrifice could take place, Merlin used his great visionary powers and attributed the structural problem to a subterranean pool in which lived a red and a white dragon. The meaning of this, according to Merlin, was that the red dragon represented the Britons, and the white dragon, the Saxons. The dragons fought, with the white dragon having the best of it, at first, but then the red dragon drove the white one back. The meaning was clear. Merlin prophesied that Vortigern would be slain and followed on the throne by Ambrosius Aurelianus, then Uther, then a greater leader, Arthur. It would fall to him to push the Saxons back.
True to the prophecy, Vortigern was slain and Ambrosius took the throne. Later, Merlin appears to have inherited his grandfather's little kingdom, but abandoned his lands in favour of the more mysterious life for which he has become so well known. After 460 British nobles were massacred at a peace conference, as a result of Saxon trickery, Ambrosius consulted Merlin about erecting a suitable memorial to them. Merlin, along with Uther, led an expedition to Ireland to procure the stones of the Chorea Gigantum, the Giant's Ring. Merlin, by the use of his extraordinary powers, brought the stones back to a site, just west of Amesbury, and re-erected them around the mass grave of the British nobles. We now call this place Stonehenge.
After his death, Ambrosius was succeeded by his brother, Uther, who, during his pursuit of Gorlois and his irresistible wife, Ygerna (Igraine or Eigr in some texts), back to their lands in Cornwall, was aided by Merlin. As a result of a deception made possible by Merlin's powers, Uther was transformed into the image of Gorlois. He entered their castle, managed to fool Ygraine into thinking he was her husband, had his way with her and in the course of things, conceived a child, Arthur. Poor Gorlois, not knowing what was going on, went out to meet Uther in combat, but instead, was slain by Uther's troops.
After Arthur's birth, Merlin became the young boy's tutor, while he grew up with his foster-father, Sir Ector (alias Cynyr Ceinfarfog (the Fair Bearded)). In the defining moment of Arthur's career, Merlin arranged for the sword-in-the-stone contest by which the lad became king. Later, the magician met the mystic Lady of the Lake at the Fountain of Barenton (in Brittany) and persuaded her to present the King with the magical sword, Excalibur. In the romances, Merlin is the creator of the Round Table (although this table is attributed as being a wedding gift to Arthur from his bride's father in Mallory's version), and is closely involved in aiding and directing the events of the king and kingdom of Camelot. He is pictured by Geoffrey of Monmouth, at the end of Arthur's life, accompanying the wounded Arthur to the Isle of Avalon for the healing of his wounds. Others tell how having fallen deeply in love with the Lady of the Lake, he agreed to teach her all his mystical powers. She became so powerful that her magical skills outshone even Merlin's. Determined not to be enslaved by him, she imprisoned the old man in a glass tower, a cave or similarly suitable prison. Thus his absence from the Battle of Camlann was ultimately responsible for Arthur's demise.
According to Geoffrey's "Vita Merlini" (c. 1151), Merlin/Myrddin was a sixth century prophet living in the north of Britain where his career extended beyond Arthur. Merlin travelled north, after Camlann, to the court of King Gwendoleu of Caer-Guenoleu (north of the Salway) where the locals called him Lailoken (or Llallogan). Shortly afterward, a war broke out between Merlin's Royal master and the three allies, King Riderch Hael (the Generous) of Strathclyde and Kings Peredyr & Gwrgi of Ebrauc (York). Gwendoleu was killed in the ensuing Battle of Ardderyd (Arthuret) and Merlin, sent mad with grief at the death of his nephew and four brothers, fled into the Caledonian Forest. He lived there in a mad frenzy for over a year, becoming known as Myrddin Wylt (the Wild), before Riderch, who was his brother-in-law, found him and brought him to safety in the Strathclyde Court.
Some scholars believe there were two Merlins: Myrddin Emrys and Myrddin Wylt. The fact that Merlin apparently lived from the reign of Vortigern (c.420) to the reign of Riderch Hael (c.580) would certainly support this view. The stretch from Vortigern to Arthur is itself unlikely and early versions of the "Vortigern at Dinas Emrys" story give the fatherless boy as Emrys Wledig (Ambrosius Aurelianus) who was living in Campus Elleti in Glywysing. Despite Myrddin Wylt's story indicating he may have had a conceptual origin in one of the wild-man-in-the-woods motifs common to the ancient folklore of the British Isles, this man's historicity is quite well established. His real name, however, may have been Lailoken. Was this man misplaced in time, by Geoffrey of Monmouth, to become King Arthur's mentor, some memory of a similar character from Caer-Fyrddin giving rise to his new name? PC Bartrum thinks not and points out that "fundamentally there is only one Merlin/Myrddin, and some of the later legends cannot be consistently classified as appropriate to one rather than the other."
His prison and/or burial place is said to be beneath Merlin's Mound at Marlborough College in Marlborough (Wiltshire), at Drumelzier in Tweeddale (Scotland), Bryn Myrddin (Merlin's Hill) near Carmarthen (Wales), Le Tombeau de Merlin (Merlin's Tomb) near Paimpont (Brittany) and Ynys Enlli (Bardsey Island) off the Lleyn Peninsula (Wales).
Sir Thomas Malory, in the Le Morte d'Arthur presents him as the adviser and guide to Arthur. In the modern period Merlin's popularity has remained constant. He figures in works from the Renaissance to the modern period. In The Idylls of the King, Tennyson makes him the architect of Camelot. Mark Twain, parodying Tennyson's Arthurian world, makes Merlin a villain, and in one of the illustrations to the first edition of Twain's work illustrator Dan Beard's Merlin has Tennyson's face. Numerous novels, poems and plays center around Merlin. In American literature and popular culture, Merlin is perhaps the most frequently portrayed Arthurian character.
Powers/Abilities: Merlin has been attributed with a vast array of magical powers over the centuries.
Comments: Merlin is often portrayed as living his life backwards, allowing him to know the future and grow younger as time passes (in Peter David's novel Knight Life, set in the modern age, he has become a pre-teenage youth.)
Merlin is one of the most commonly adapted of Arthurian characters into comics. In Marvel comics we have the cunning chess player Merlyn from the Captain Britain comics, while Bill Willingham's Elementals features the young looking wizard Ambrose, whose full name (only given several years after his debut) turns out to be Merlin Ambrose.
Much of the text in the history above is copyright of David Nash Ford and is reproduced from www.earlybritishkingdoms.com
CLARIFICATIONS:
Any Additions/Corrections? Please let me know.
Back to British Historical / Mythical characters
All images and characters depicted are copyright their respective holders, and are used above for informational purposes only. No infringement is intended and copyrights remain at source.