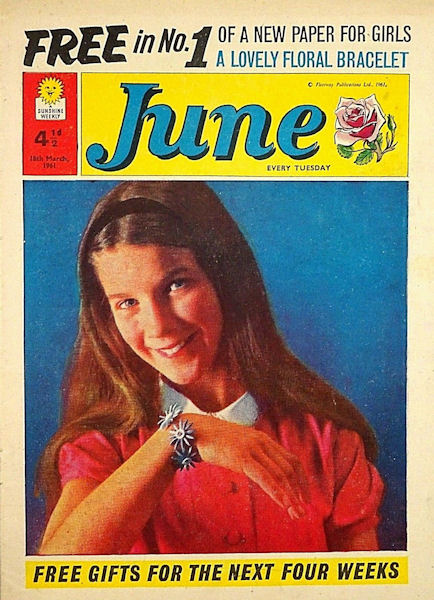 June
a.k.a.:
Publisher: IPC
Format: Weekly anthology
First Issue: 18th March 1961
Last Issue: 15th March 1974 (638 issues)
Absorbed: Poppet, School Friend, Pixie
Absorbed into: Tammy
Strips: The Growing Up of Emma Peel, Mark of the Cat, Diana's Diary, Jenny, The Mystery of Banshee Towers (Enid Blyton text story), The Three Jays Ride Again, Cloris and Claire, The Valley of Swans, Speed-Girl Julie, Orphans of Italy, Lucky's Living Doll, Nursing is My Life, Bessie Bunter, Kathy of Marvin Grange, Vanessa from Venus, Miss Adventure, Surprise Corner, Life at St. Luke's, Fenny from the Outback, Gymnast Jinty, Wild Girl of the Hills, The Grays Fight Back, Call Me Cupid, Sindy and Her Friends, Annie's Army, Wedding in the Family, Sandy's Scoops, They Call Me A Coward!, Poor Polly Flinders, The Firebird, Down Our Street, School for Sports, Slapdash Sal and Her Brainy Pal, The Twin She Couldn't Trust, Who is the Ski Spy?, Pony Trek Penny, Jill in the Dark, Mara of the Islands, The Amazon Adventurers, Nurse Anne, Long-Legged Peg, The Happy Castaways, The Runaway, Holiday Princess, Zanna Queen of the Jungle (text story), Gina's Artful Genie, Against All Odds, The Haunting of Harriet, The Lost Safari, My Name is Nobody, The Silver Savage, Penny Plain of Dock Lane, The Black Pearls of Taboo Island, Tennis Star Tina, Promise Me Paula, The Lonely Ones, No Place for Nell
Comments:
Debuting 25th September 1965, Jacey North is the daughter of a Colonel of the Hussars, who taught her how to fight before he died.


Written by Olympic showjumper Pat Smythe, The Three Jays Ride Again starred a trio already established in her Three Jays novel series, and serialised the novel "The Three Jays Lend a Hand" (though the comic claimed the novel would be published under the title "Darcy Wins His Spurs.")
Back to General UK Comic Book Heroes.
Back to UK Superheroes Main Page.
All images and characters depicted on this site are copyright their respective holders, and are used for informational purposes only. No infringement is intended and copyrights remain at source.