Incredible Hulk Presents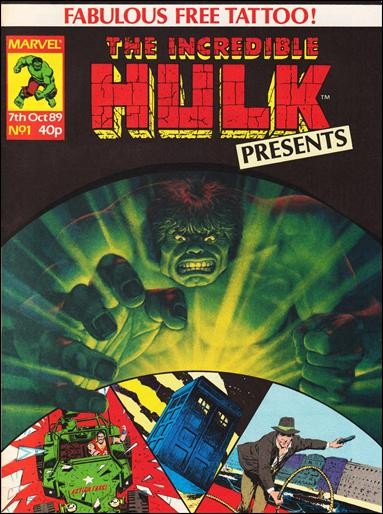 a.k.a.: N.A.
Publisher: Marvel U.K.
Format: Weekly anthology comic
First Issue: The Incredible Hulk Presents #1 (7th October 1989)
Last Issue: The Incredible Hulk Presents #12 (23rd December 1989)
Absorbed: None
Absorbed into: None
Strips: Action Force (reprinting Marvel US' G.I. Joe: Special Missions), Doctor Who, the Hulk, Indiana Jones (reprinting Marvel U.S.' Further Adventures of Indiana Jones comic)
Comments: Seven years after Marvel UK's previous Incredible Hulk title ended, Hulk was given another chance to star in his own title, Incredible Hulk Presents. Despite the name, the Hulk didn't present anything, but he did share the title with a rather eclectic mix of Marvel's licensed titles: Indiana Jones from Marvel's adaptation of Indiana Jones and the Last Crusade and then, once that was fully reprinted, from Further Adventures of Indiana Jones; Action Force from GI Joe: Special Missions; and brand new Doctor Who strips aimed at a younger readership than the strip in Doctor Who Magazine. Less than successful, it was cancelled after 12 issues.
Back to General UK Comic Book Heroes.
Back to UK Superheroes Main Page.
All images and characters depicted on this site are copyright their respective holders, and are used for informational purposes only. No infringement is intended and copyrights remain at source.