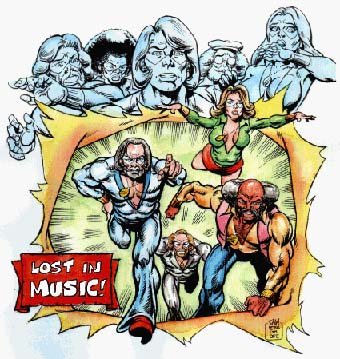 Membership: Discotron, Super Trouper, Dancing Queen, Afro Man, Captain Massachusetts
Purpose: To defend Soul City.
Affiliations: Randy Hogan (receptionist), Lady Xanadu
Enemies: Metalhead, Disco Inferno
Base of Operations: A council flat, Soul City, Britain.
First Appearance: Discotronic Funk Commandos (online comic)
History: The Discotronic Funk Commandos were formed by the mysterious Discotron, who may have empowered each of the members using his Strobe Light of Funkiness. Their adventures were curtailed during a battle with the berserk headbanger Metalhead, when their arch foe Disco Inferno materialised behind them, wearing the Strobe Light. He claimed to have taken it from the absent Discotron, then transported the remainder of the team to a domain of "earth, wind and fire", where they were trapped for an unspecified period. Eventually escaping, they found they had been transported back in time to the 1960's, and across dimensional boundaries to an alternate Earth.
Comments: Created by Simon Williams.