Emma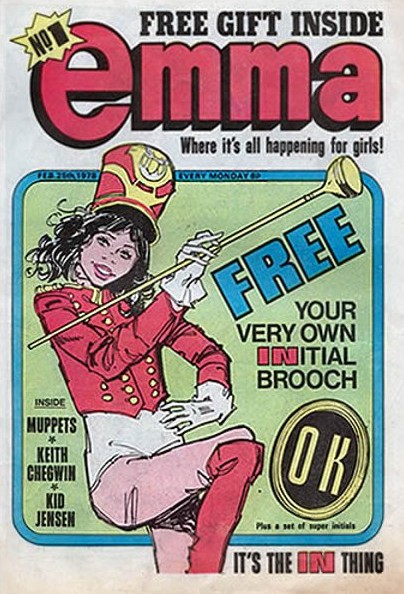 Publisher: D.C. Thomson
Format: Weekly strip anthology
First Issue: Emma #1 (25th February 1978)
Last Issue: Emma #81 (8th September 1979)
Absorbed: None
Absorbed into: Judy
Strips: Angie, Belinda, Beware of Beryl, Blue Eyes, Daddy's Pet, Disco Talk, The Emma Report, A Girl Called Sam, Goldie - Little Lost Dog, Holly of Hazard Unit, House of Fear, Janie Jungle Nurse, Jodie and the Otter, Kay Rules...OK?, Lady Sarah's Secret, They Laughed At Linda, Little Miss Spitfire, Little Nipper, Lucy and Lightning, Lynne Against Lareno, No Joy for Jenny, Nola Girl From Nowhere, Pam on the Purple Planet, Plain Jane, The Power Over Paula, The Rebel, Red Fur, The Secret Life of Dana, Skate-Cat Kate, Stunt Girl, Sue Spiker, Tessa, TV Mad, The White Mouse, Yang Ling
Comments:


Kay Rules...OK?
Vicky Clarke's inventor father's newest invention is a robot friend for Vicky


The White Mouse
Nurse Louise Colbert lives in the Nazi-occupied Belgian town of Verville, and secretly operates helps the Resistance as the masked White Mouse


Lady Sarah's Secret
In 1840 Lady Sarah Cragston revives the legend of the ghostly Dark Lady in order to help the mistreated orphans of Fell Grange Orphanage, bullied and beaten by the Bonneys charged with caring for them.
Back to General UK Comic Book Heroes.
Back to UK Superheroes Main Page.
All images and characters depicted on this site are copyright their respective holders, and are used for informational purposes only. No infringement is intended and copyrights remain at source.