Dorian Gray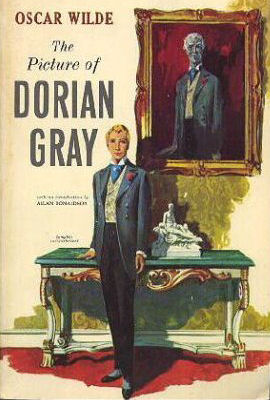 Real Name: Dorian Gray
Identity/Class: Human altered by magic
Occupation: Dilettante
Affiliations: Lord Henry Wotton; formerly Basil Hallward
Enemies: James Vane, Basil Hallward
Known Relatives: None
Aliases: None known
Base of Operations: England
First Appearance: The Picture of Dorian Gray (Lippincott's Monthly Magazine, 20th June 1890) by Oscar Wilde
Powers/Abilities: So long as the picture is intact Dorian does not age nor can any injury affect him - instead all infirmities are passed on to it.
History: Dorian Gray is an orphaned boy who is the heir to a great fortune. Basil Hallward paints his portrait, and Dorian declares that he would give his soul if he were always to be young and the painting instead would grow old. Dorian leaves his fiancée - the actress Sibyl Vane - because through a single bad performance he claims that she has 'killed' his love. She kills herself with poison and Dorian is unaffected. So begins the tale of the boy's descent into low society in London while still giving dinners and musicals for high society. He is inspired by two things: the book Lord Henry Wotton sends him that seems to predict his own life in dissecting every virtue and every sin from the past; and secondly the picture of himself which grows steadily older and more vicious looking compared to his own mirror image which remains young. Fanatical about the portrait, he is driven to murder and deception. As others are drawn into this web of evil Dorian himself longs to return to innocence but his method is horrific and tragic.
Comments: Created by Oscar Wilde.
Appearance checklist (not including reprints):
Canonical: The Picture of Dorian Gray (novel and subsequent adaptations of same)
Non-canonical (beyond the novel):
Novels

Comics

Movies

Anno Dracula novel (cameo mention)
Creepy #44

Witchblade: Shades of Gray #1-4

Prophecy #1-??

League of Extraordinary Gentlemen (cameos only)

The League of Extraordinary Gentlemen
Details below.
In prose: Though Dorian himself does not appear, his portrait's painter, Basil Hallward, has a cameo in Kim Newman's Anno Dracula.
In comics: In November 1956 Leonard Matthews adapted The Picture of Dorian Gray for Thriller Picture Library #148, with cover art by Septimus Scott. It was followed in March 1972 by Warren Magazine's Creepy #44, which included the story Dorian Gray: 2001, a very loose adaptation by Al Hewetson and Bill Barry, which updated the story to the then futuristic 2001 and made Dorian a vampire, rather than using a portrait. Hewetson subsequently did a more traditional adaptation with artist Zesar Lopez in Skywald's anthology magazine Scream #5, published in April 1974.
| | |
| --- | --- |
| | Creepy #44's vampiric Dorian Gray. |
In the early 2000s Eureka's Graphic Classics published an adaptation of Dorian's tale, as did Marvel in a 6 part miniseries in 2007's Marvel Illustrated: The Picture of Dorian Gray, and Self-Made Hero in 2008 in a graphic novel.
Dynamite Entertainment introduced Dorian Gray to their comics in the 2007 crossover story Witchblade: Shades of Gray, portraying him as an adventurer and teaming him up with Witchblade. He returns in the 2012 mega-crossover Prophecy, working with Vampirella, Red Sonja, Kulan Gath, Dracula, Eva, Herbert West The Reanimator, Alan Quatermain, Athena, Purgatory and Pantha to prevent the end of the world.
Dorian also appears in the comic version of The League of Extraordinary Gentlemen, but only in cameo in the 1890s League's British Museum headquarters, where his portrait is visible, in the process of being restored, alongside mementoes of previous Leagues and their missions. Presumably this means Dorian either worked with a version of the League prior to the formation of the 1890s team, or they investigated his case. Additionally, the first series includes a bonus poster of Dorian Gray's portrait, listed as "Basil Hallward's Painting by Numbers No. 1 Dorian Gray."

Dynamite's Dorian Gray


Dorian, depicted on the back of an issue of League of Extraordinary Gentlemen, Vol.1,
and his portrait, hanging in the British Museum.
Occult investigator Martin Mystère met both Dorian Gray and Oscar Wilde in #293 of Martin's title, published in 2007
In film &TV: The early years of 20th century cinema saw Wilde's novel adapted several times in different countries. Though most are relatively faithful to the book, some later ones introduce new love interests or have Gray destroy his portrait with the deliberate intention of ending his unnatural life, rather than the novel's version, where the destruction of the painting is to eradicate its constant reminder of his own transgressions, with Dorian unaware of the consequences to his immortality.
The first cinematic adaptation of The Picture of Dorian Gray was the 1910 Danish movie Dorian Gray's Portræt, which starred Valdemar Psilander as Gray. An American adaptation starring Wallace Reid followed in 1913, a Russian film (Portret Doryana Greya) starring Varvara Yanova in 1915, a British movie starring Henry Victor in 1916, a German movie (Das Bildnis des Dorian Gray) starring Bernd Aldor in 1917, and a Hungarian film (Az élet királya) starring Norbert Dán in 1918. After that there was a break in adaptations until 1945, when another US production starred Hurd Hatfield as Gray.
| | |
| --- | --- |
| Hurd Hatfield as Dorian Gray in the 1941 MGM version | Jeremy Brett as Dorian Gray in the 1961 Armchair Theatre episode |
In 1961 Gray made his television debut when an episode of the British series Armchair Theatre adapted the novel, with Gray played by a young Jeremy Brett, later to become much better known for portraying Gray's contemporary, Sherlock Holmes. Towards the end of the same year the novel was adapted as an episode of the American series The Golden Showcase, this time starring Sean Garrison. Another German movie version, titled simply Dorian Gray, was released in 1970, starring Helmut Berger and notable for transplanting the story from Victorian times to the swinging sixties.

A modern day (1960s) Dorian Gray, as portrayed by Helmut Berger in 1970


Shane Briant as Dorian Gray in Dan Curtis' 1973 adaptation


Peter Firth as Dorian Gray in a 1976 BBC Play of the Month
Shane Briant, better known for parts in Hammer horror movies, played the role in a US TV adaptation in 1973, made by Dark Shadows and Night Stalker producer Dan Curtis. Actor Peter Firth, later to play time traveller Dominick Hyde and more recently Spooks' Harry Pearce, was Gray in a 1976 BBC Play of the Month, ironically cast alongside past Gray performer Jeremy Brett, who in this version played the portrait's painter, Basil Hallward. Patrice Alexsandre played the role in 1977 French movie Le portrait de Dorian Gray, while the 1983 American TV movie The Sins of Dorian Gray moved the story to (then) modern day Los Angeles and reinvented Gray as a female starlet, played by Belinda Bauer.
After a gap from the screen, the start of the 21st century saw a slew of new Dorian Gray adaptations. Among the more notable were Stuart Townsend in League of Extraordinary Gentlemen in 2003, the first appearance of a cinematic Gray that wasn't just adapting the original novel. Ethan Erickson played the role in 2004's Dorian, a US updated version, which transfers the story to 1980s through 2000 America, with the lead character being a photographic model, Louis, who is aware of the Oscar Wilde novel and, after his manager gives him the professional name Dorian, makes an identical wish to remain unaging while his picture (a photograph rather than portrait) ages for him. In 2009 Ben Barnes played the role in another big screen adaptation, which moved the end of the movie forward in time a few years and introduced a new love interest for the character, Lord Henry's suffragette daughter, Emily. In this version of the story, Henry, all too aware of Dorian's depravity, tries to destroy the portrait to spare his daughter, and though he fails, his attempt prompts Gray to realise he truly does love Emily and so destroy the painting in a suicidal fit of conscience.
| | |
| --- | --- |
| Stuart Townsend as Dorian Gray in League of Extraordinary Gentlemen | Ben Barnes as Dorian Gray in the 2009 movie version. |
The story has also been adapted to radio and stage numerous times, but none that I know of are particularly notable.
Alternate versions: The League (movie version)'s Dorian Gray
Creepy #43's space vampire Dorian Gray.
Dynamite's Dorian Gray.
Cameos, analogues and homages: Though initially an unrelated character, Quentin Collins of Dark Shadows became a homage to Dorian when he obtained immortality after being painted by Charles Delaware Tate, with the painting aging for him just as it does for Dorian Gray. In the modern day Quentin took the alias Grant Douglas, his initials thus matching his inspiration, albeit in reverse.


Quentin's portrait

In Warren's Vampirella #18, published in August 1972, the story "The Dorian Gray Syndrome," saw occult investigator Barbara Vash take on the evil of Gordon Hatfield, a man who had sold his soul to Satan for immortality, and who used a portrait to age for him, just as Dorian Gray did. Vash destroyed the painting, ending Hatfield's extended life of evil.

Italian occult investigator Martin Mystère investigated a case inspired by Wilde's novel in Martin Mystère #63's "Operazione Dorian Gray" in 1987 (and, as noted above, Mystère actually meets both Dorian Gray and Oscar Wilde in #293). The plot of #63 was used as the basis for the 2005 Martin Mystère video game, Operation: Dorian Gray.

Dorian is mentioned in Zenescope's Grimm Fairy Tales #35, where his story inspires a rockstar, Don, to use a painting to achieve immortality, with inevitably disastrous results.
CLARIFICATIONS: None
Any Additions/Corrections? Please let me know.
All images and characters depicted on this site are copyright their respective holders, and are used for informational purposes only. No infringement is intended and copyrights remain at source.