Captain Black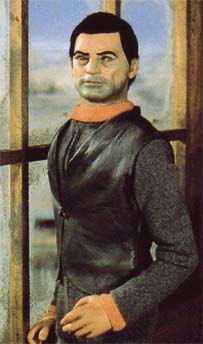 Real Name: Conrad Turner
Identity/Class: Human mutate (or artificial construct in human form, depending on your viewpoint)
Occupation: Mysteron agent; former Spectrum agent
Affiliations: Mysterons, formerly Spectrum, Captain Scarlet, World Army/Air Force, British Air Force
Enemies: Spectrum, Captain Scarlet, Colonel White, Captain Blue, Captain Ochre, Captain Magenta, Lieutenant Green, Doctor Fawn
Known Relatives: Unidentified parents (both deceased), unidentified foster parent
Aliases: None
Base of Operations: Unknown
First Appearance: "The Mysterons", Captain Scarlet and the Mysterons (ITC, 29th September 1967)
Powers/Abilities: Black's body heals at a superhuman rate, even from seemingly fatal wounds; however he is vulnerable to electricity. His body blocks x-rays (as do all Mysterons and their agents, a ready way of identifying them). Highly intelligent, with degrees in science and technology, diplomas in international law, physics and space navigation, and trained in strategy and piloting.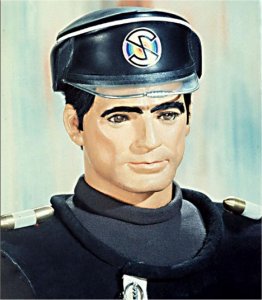 History: Born on 17th March 2029, but orphaned that same year during the atomic war, Conrad Turner grew up under the care of a relative who provided him a secure home but no real affection. A cold but logical child, with a burning desire to see world peace, he proved highly intelligent, enrolling in Manchester Technical Academy when he was 15, and graduating only a year and a half later with several diplomas, then repeating the same rapid accumulation of qualifications at Northern University. He enlisted in the Air Force at 18, where he distinguished himself a few years later stopping a terrorist bombing of an airbase by piloting a booby trapped plane out to sea, then ejecting moments before it exploded. The acclaim this brought him opened new doors; he joined the World Army/Air Force as a field agent, and then several years later transferred to the World Space Patrol. When world security organisation Spectrum was founded in 2065, Turner was an early recruit, codenamed Captain Black, their number one agent. A few years later unidentified radio signals were detected coming from Mars, and Black was part of the expedition sent to investigate. They discovered a Mysteron base, but mistaking alien scanners for weapons and believing the expedition under threat of imminent attack, Black ordered his subordinate Lieutenant Dean to open fire. The Mysterons retaliated, apparently slaying him, and taking control of his resurrected body as their agent. Feeling Earth had attacked them, the Mysterons launched the "War of Nerves" and sent Black back to his homeworld.
Comments: Created by Gerry Anderson, voiced by Donald Gray, and by Jeremy Wilkin in the first episode as the pre-resurrection Captain Black. His true name was revealed in the Captain Scarlet comic strip in TV 21.
There's a nice site covering all the Anderson series as they have appeared in comics.
---
Captain Black (CGI version)
Real Name: Conrad Lefkon
Identity/Class: Human mutate (or artificial construct in human form, depending on your viewpoint)
Occupation: Mysteron agent; former Spectrum agent
Affiliations: Mysterons, formerly Spectrum, Captain Scarlet, U.S. Special Forces
Enemies: Spectrum, Captain Scarlet, Colonel White, Captain Blue, Doctor Gold
Known Relatives: George Lefkon (father), Isabella Theodopoulos (mother)
Aliases: None
Base of Operations: Unknown
First Appearance: "Instrument of Destruction" Gerry Anderson's New Captain Scarlet (12th February 2005)
Powers/Abilities: Captain Black's "retrometabolism" makes him virtually indestructible; any attacks he can't simply ignore, he heals from at an accelerated rate. Even weapons powerful enough to "kill" him only do so for a short period of time. He possesses a weak telepathic connection to Captain Scarlet.
History: The son of a Brooklyn crimelord, Conrad Lefkon chose the army as a means of escaping falling into the family business. He proved a natural soldier and killer, soon joining Special Forces, where he befriended his commanding officer Paul Metcalfe. After leaving the forces, both men enlisted in world security organisation Spectrum, and Lefkon was codenamed Captain Black. However, during a mission to Mars with Metcalfe (now Captain Scarlet), Lefkon misread a sensor sweep instigated by the native Mysterons for an attack, and fired on the aliens' city. The Mysterons retaliated, slaying both men, and feeling Earth had attacked them, declared war. They reanimated Metcalfe to be their agent, and when he broke free of their control, they reanimated Lefkon. Now Captain Black heads the Mysteron attacks on Earth.
Comments: Created by Gerry Anderson, voiced by Nigel Plaskitt.
CLARIFICATIONS: Not to be confused with
Any Additions/Corrections? Please let me know.
All images and characters depicted are copyright their respective holders, and are used above for informational purposes only. No infringement is intended and copyrights remain at source.