News, Reviews and Previews
Welcome to the reviews and previews section on International Hero. I've been asked several times by people writing in to me about what books, comics and DVDs I'd recommend checking out. I'm not sure why anyone thinks my opinion is more valid or interesting than anyone else's, but since people have persisted in asking, I'm going to start a semi-regular reviews section where I cover the odd new release, as well as the odd older gem that takes my fancy. I'll warn readers now that anything I review here is probably going to get a positive review, simply because if I don't like something, I'm unlikely to buy it or waste my time writing about it. As ever, comments below are my opinion only, and your feelings may differ stuff about the stuff I like or dislike.
---
THE DARK KNIGHT TRILOGY: ULTIMATE COLLECTOR'S EDITION
A must-own for collectors and fans, The Dark Knight Trilogy: Ultimate Collector's Edition comes out September 24th!
The Dark Knight Trilogy - Ultimate Collector's Edition includes six discs featuring all three films in director Christopher Nolan's epic superhero trilogy, starring Christian Bale in his dual role as Bruce Wayne/Batman and a wealth of extra content.
Batman Begins: Batman Begins explores the origins of the Batman legend and the Dark Knight's emergence as a force for good in Gotham. In the wake of his parents' murder, disillusioned industrial heir Bruce Wayne (Christian Bale) travels the world seeking the means to fight injustice and turn fear against those who prey on the fearful. He returns to Gotham and unveils his alter-ego: Batman, a masked crusader who uses his strength, intellect and an array of high tech deceptions to fight the sinister forces that threaten the city.
The Dark Knight: The follow-up to Batman Begins, The Dark Knight reunites director Christopher Nolan and star Christian Bale, who reprises the role of Batman/Bruce Wayne in his continuing war on crime. With the help of Lt. Jim Gordon and District Attorney Harvey Dent, Batman sets out to destroy organized crime in Gotham for good. The triumvirate proves effective, but soon find themselves prey to a rising criminal mastermind known as The Joker, who thrusts Gotham into anarchy and forces Batman closer to crossing the fine line between hero and vigilante. Heath Ledger stars as archvillain The Joker, and Aaron Eckhart plays Dent. Maggie Gyllenhaal joins the cast as Rachel Dawes. Returning from Batman Begins are Gary Oldman as Gordon, Michael Caine as Alfred and Morgan Freeman as Lucius Fox.
The Dark Knight Rises: It has been eight years since Batman vanished into the night, turning, in that instant, from hero to fugitive. Assuming the blame for the death of D.A. Harvey Dent, the Dark Knight sacrificed everything for what he and Commissioner Gordon both hoped was the greater good. For a time the lie worked, as criminal activity in Gotham City was crushed under the weight of the anti-crime Dent Act. But everything will change with the arrival of a cunning cat burglar with a mysterious agenda. Far more dangerous, however, is the emergence of Bane, a masked terrorist whose ruthless plans for Gotham drive Bruce out of his self-imposed exile. But even if he dons the cape and cowl again, Batman may be no match for Bane.
Also included are;
Exclusive villain prints from Mondo

Reproductions of the Tumbler (from Batman Begins), Bat-Pod (from The Dark Knight) and Bat (from The Dark Knight Rises)

Large 48-page photo book of the trilogy

Over 90 minutes of new special features--The Fire Rises: The Creation and Impact of The Dark Knight Trilogy; Christopher Nolan and Richard Donner: A Conversation

The Complete IMAX sequences from The Dark Knight and The Dark Knight Rises.

A letter from director Christopher Nolan
Above is the official info about what is in this Ultimate Collector's Edition, a somewhat lengthy list because it's a somewhat hefty collection. Let's get the movies out the way first - they are, without question, in my opinion simply the best screen (big or small) adaptations of Batman ever. I've got a fondness for the two Burton movies, and for many of the cartoon adaptations; heck, I even enjoy the 1940s Batman serials. But the Dark Knight trilogy eclipses them all. Though none of the movies are perfect, and I personally feel Dark Knight Rises is the weakest of the trilogy, none of them are clunkers either (hello Schumacher Batman movies!) and being the weakest of three excellent movies still sees Dark Knight Rises standing head and shoulders above the majority of superhero movies. DC's success with movie adaptations has been spotty at best, but Chris Nolan and his uniformly excellent cast showed how to do it right with these three movies - not so much the "make it dark," which did work because it suits Batman's character but which worked against the Superman adaptation Man of Steel, but the treating the characters with respect. So, without reservation, I can recommend that any comic fan should buy a copy of these movies.
However, the next question is, why buy this particular product? Many fans will have already picked up at least the first two movies, or might be eyeing the noticably cheaper regular Blu-Ray set retailing at around half the price of this collector's edition. Let's look at the extras:
Christopher Nolan's letter - it's a nice add, but it isn't enough to sway me to pay out extra cash.

The booklet holding the Blu-Rays - pretty, but somewhat impractical, as I am always a touch worried that I'll end up damaging either the booklet or the discs trying to extract the latter from the former. But it is nice looking.

The digital Ultraviolet versions of the films - a nice bonus, definitely worth having, and a start at justifying the extra moolah.

The photo booklet - very nice indeed, showing a mixture of character shots and behind-the-scenes shots. Low on text, high on visuals, and another solid plus for the serious collector trying to decide whether to splash out for this set.

The villain prints - another very nice addition, one apiece for each of the series' five main male villains. The only shame is the absence of Catwoman (I know, she's not so villainous in the end) and another who will remain nameless for the sake of not spoiling those who have not seen all three movies.

The reproductions of Batman's vehicles - not entirely my thing (I've somewhat outgrown miniatures, or, at least, have learned to not want to collect them since I have no space available to display them properly ), but I have to admit that they are nicely made, and do add value to the set.

The extra disc and its special features - now, this is the kind of thing I don't mind paying extra for, though on its own it wouldn't justify doubling the price. The two documentaries are thought-provoking and entertaining, but the IMAX sequences are the best bonuses, making me wish I'd seen the movies in that format when they were at the cinema.
Overall, I'd say that if you are just a casual fan, then the regular releases will stand you in good stead, but I think the extras are worth the additional cash if you are even vaguely a collector. Whatever version of these films you buy, the films themselves are heartily recommended.
---
THE LONE RANGER: HI-YO SILVER AWAY!; WHO WAS THAT MASKED MAN?; KEMO SABE; THE LONE RANGER COLLECTOR'S EDITION
Available on DVD now!
The Lone Ranger began life as a radio serial in 1933, and first transferred to the screen with two Republic Pictures serials in 1938 and 1939, but it is fair to say that the version of the character best known to the general public, and the most successful incarnation of the character was the one portrayed by Clayton Moore (and, for one season, by John Hart), which ran on US television from 1949 through to 1957, an impressive run of 221 episodes. Equally complicit in the show's success was Jay Silverheels as Tonto, who appeared in even more episodes of the show than Moore; both actors became synonymous with their characters, and remain so to this day. Now, with Armie Hammer and Johnny Depp due to appear as the Ranger and Tonto respectively in the latest screen incarnation, Classic Media have released several episodes of the show in both single DVD releases and a complete series collectors' set.
The three individual releases are subtitled Kemo Sabe, Who Was That Masked Man? and Hi-Yo Silver Away!, and feature eight episodes apiece of the show, with a run time of approximately 200 minutes apiece. On one level they are great value, retailing at $7.77 (or cheaper on selected sites) per DVD, great value for money for a casual fan of the show. However, for die-hards or serious collectors, you need to be aware that the episodes are not sequential, and are taken from across multiple seasons (notably with only a minimal showing from the third season, which featured the less popular John Hart in the title role).
Who Was That Masked Man? features The Masked Rider from December 1949 (Season 1, Episode 14), Gold Train from March 1950 (Season 1, Episode 27), Bad Medicine from December 1950 (Season 2, Episode 65), The Hooded Men from February 1951 (Season 2, Episode 76), Two for Juan Ringo from December 1954 (Season 4, Episode 146), Wanted: The Lone Ranger from May 1955 (Season 4, Episode 165), The Return of Don Pedro O'Sullivan from October 1956 (Season 5, Episode 189) and Outlaws in Greasepaint from June 1957 (Season 5, Episode 221).
Kemo Sabe features Trouble for Tonto from July 1950 (Season 1, Episode 45), The Fugitive from September 1954 (Season 4, Episode 131), Enfield Rifle from January 1955 (Season 4, Episode 149), The Tell-Tale Bullet from April 1955 (Season 4, Episode 162), Framed for Murder from July 1955 (Season 4, Episode 177), Courage of Tonto from July 1957 (Season 5, Episode 201), Mission for Tonto from June 1957 (Season 5, Episode 216) and The Banker's Son from May 1957 (Season 5, Episode 218).
Hi-Yo Silver Away! features The Lone Ranger Fights On from September 1949 (Season 1, Episode 2), Outlaw of the Plains from July 1950 (Season 1, Episode 43), Mr. Trouble from March 1961 (Season 2, Episode 78), The Brown Pony from May 1953 (Season 3, Episode 114), The Old Cowboy from June 1953 (Season 3, Episode 120), The Midnight Rider from July 1953 (Season 3, Episode 123), Trapped from August 1955 (Season 4, Episode 178) and Quarter Horse War from November 1956 (Season 5, Episode 191).
The episodes themselves are enjoyable, good examples of the series for both existing and new fans. Given the age of the show, the picture and sound quality is excellent, and, though there's nothing by way of extras, you can't really complain given the price. If you are a casual fan or just curious about checking out the series to see if it is your cup of tea, I'd heartily recommend these DVDs.
For the more serious fan, it is worth checking out the Collector's (sic) Edition, which includes not only all 221 episodes of the regular show but also the 1956 Lone Ranger feature film and its sequel, the 1958 Lone Ranger and the Lost City of Gold, both starring Moore and Silverheels, plus "Peace Patrol", a Lassie episode from 1958 in whic Clayton Moore guest starred as the Lone Ranger (or, arguably, as himself playing the Lone Ranger). While the official price tag of $199.95 might sound like a lot, it is actually cheaper per episode than the individual DVD releases, and you can get a substantial discount on it at sites such as Amazon. Sadly, many of the episodes are slightly edited down syndicated version, losing a minute or two at either end, but since it seems the original versions may no longer exist, it's something both Classic Media and the fans buying the set just have to live with. So, even with that last caveat, I'd seriously recommend this set to anyone who considers themselves a true fan of the Lone Ranger.
---
YOUNG JUSTICE: INVASION - DESTINY CALLING
Available on DVD January 22nd. Own it on DVD!
For the Young Justice squad being a teenager means proving yourself over and over — to peers, parents, teachers, mentors and, ultimately, to yourself. But what if you're not just a normal teenager? What if you're a teenage super hero? How much harder will it be to prove yourself in a world of super powers, super villains and super secrets? Are you ready to come of age in such a world? Are you ready for life or death rites of passage? Are you ready to join the ranks of the great heroes and prove you're worthy of the Justice League? That's exactly what the members of Young Justice — Robin, Aqualad, Kid Flash, Superboy, Miss Martian and Artemis — will find out … whether they have what it takes to be a proven hero. The latest season of the critically acclaimed series jumps ahead in time 5 years to re-introduce the original squad as well as all new members Nightwing, Wonder Girl, Blue Beetle, Batgirl, and Beast Boy as they fight off a secret alien invasion affecting the entire planet.
The cover image doesn't make it clear, but the side of the box does - this is Season Two, Part One. After the resounding success of the first Young Justice season, we fast forward five years for the start of the second season, and there have been several changes to the status quo. It's a tad misleading to say that Nightwing is a new team member, as he's really the first season's Robin, Dick Grayson, with the mantle of Batman's sidekick having passed down to Tim Drake between seasons. The writers have made good use of the time jump to also introduce several other suitable youthful heroes from the DC universe, not just the ones listed above in the solicitation blurb - for fans of DC there's also Zatanna, Rocket, Bumblebee, Mal Duncan, Lagoon Boy and Impulse. With ten episodes of Young Justice in this set, you've got around half the season (and most of the episodes which have aired as of the time of this review) included, though sadly Warner Bros have also confirmed this is to be the final season, a shame since this is such a good show. The team's battle against the villainous conspiracy known as the Light has stepped up its pace, but Aqualad appears to have defected to the enemy. Meanwhile future boy Impulse has come back in time to alter the timeline and prevent his own future coming to pass, a world where Blue Beetle turned to the dark side and took over the world. Every episode of this series is strong individually, but what makes this show stand out from other comic to cartoon adaptations is the truly breathtaking ongoing plotline, with unexpected twists and turns galore.
For once the DVD extras are also noteworthy, this time consisting of three bonus episodes of the Batman: Brave and the Bold cartoon, Rise of the Blue Beetle!", "Fall of the Blue Beetle!" and "Revenge of the Reach!", each of which is a welcome addition to this box set. At a RRP of $19.97 , this DVD set is highly recommended.
---
TOM AND JERRY: TRICKS & TREATS
Available on DVD September 4th. Own it on DVD!
Get set for a ghoulishly good time with that tussling twosome, Tom and Jerry as they scare up some fun for the whole family this Halloween with their latest DVD release, Tom & Jerry: Tricks and Treats, available September 4, 2012 from Warner Home Video (WHV). This "spooktacular" collection showcases 20 Tom and Jerry cartoons plus two bonus cartoons. Tom & Jerry: Tricks and Treats will retail for $19.97 SRP.
Tom and Jerry are in for spooks galore in this monster collection. With 20 eerie cartoons plus two bonus cartoons, everyone's goodie-bag will overflow with fun! Tricks and treats are at every turn, from ancient Egypt to Transylvania, from creepy houses to haunted forests, the hair-raising hilarity is non-stop! Our favorite Cat and Mouse mingle with ghosts, mummies, werewolves and witches in these terrific tales. Of course Tom and Jerry have a bounty of tricks up their own sleeves as well! Fear not, the chase is on! It's a "scare-iffic" good time for the whole family!
Tom and Jerry: Tricks & Treats is a collection of (mostly) spooky-themed Tom and Jerry cartoons released for the Halloween market, and originally aired (again, mostly) as part of the Tom and Jerry Tales show that aired on Kids WB between September 2006 and March 2008. Why the mostlys? I guess it proved difficult to find enough Tom and Jerry cartoons that properly fitted the Halloween / spooky theme, and so there's a number of the entries in this DVD that really don't fit that tagline, instead making do with putting either or both protagonists in costume, which I guess counts as Halloween fancy dress. Plus, six of the twenty main cartoons are from older iterations of Tom and Jerry, rather than Tom and Jerry Tales - but that's not necessarily a bad thing, because old Tom and Jerry is generally good Tom and Jerry.
Putting aside quibbles over how close to the stated theme the contents actually are, what exactly does this particular DVD offer? There are twenty-two cartoons on here (twenty "main" ones and two Christmas-themed "bonus cartoons" included as "special features"), of which sixteen are from Tom and Jerry Tales. I hadn't seen this version of the cartoon cat and mouse before, so I went into watching them with a mixture of anticipation and trepidation - I like Tom and Jerry, but I also know how frequently new versions of old classics fall short of the mark. Luckily, by and large, I didn't need to worry - while I don't think they quite had the zing of the best of the classic cartoons, most of the new cartoons ranged from being perfectly watchable to actually quite excellent. Among the best of the set are the suitably spooky Over the River and Boo! the Woods, the eerie Invasion of the Body Slammers, the haunted mansion tale Fraidy Cat Scat, and Monster Con, which includes a clear homage to the 2004 Van Helsing movie. Some of the others, such as the Egyptian-themed Tomb it May Concern and funhouse story Spook House Mouse, are atmospheric and fun, but spoiled a touch by weak endings. The only really dire cartoon in the set, in my opinion, is the inane and unfunny medieval musical, The Itch. Overall, there's over two and a half hours worth of cartoons to while your time away with here, most of it time well spent, and as such, my final analysis of this set is to recommend it, with a caveat. If you are wanting something to keep the kids happy, or just wanting a random set of Tom and Jerry cartoons to watch yourself, this is a set worth getting. If you are a more serious collector, it should be noted that all the sixteen Tom and Jerry Tale cartoons on this set were already released in Tom and Jerry Tales: Vol 1 through 6, which also included the rest of that series, so if you already own those, you'd be double dipping and only picking up this set for the "classic" Tom and Jerry cartoons on it, some of which have also likewise been included in other past collections.
---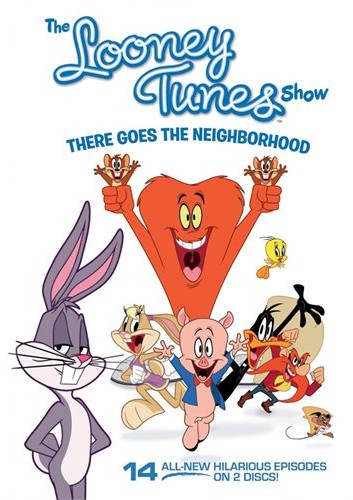 THE LOONEY TUNES SHOW: THERE GOES THE NEIGHBORHOOD
Available on DVD August 7th. Own it on DVD!
Bugs, Daffy, Elmer, Foghorn, Sylvester, Tweety, Granny and all your favorite Looney friends are back! It's The Looney Tunes Show! Get ready to laugh till it hurts, when the Looney Tunes gang takes you on one hilarious roller coaster ride of fun after another! It's episode after episode of Looney Tunes adventure and Looney Tunes insanity for the whole family to enjoy. And wait, there's more! Not only will you get all these side-splitting madcap shows, you'll also get brand new Merrie Melodies and Road Runner shorts. The laughs never end with The Looney Tunes Show! Includes the 2nd half of the 1st season, 14 episodes.
Like Young Justice: Dangerous Secrets, The Looney Tunes Show: There Goes The Neighborhood is actually The Looney Tunes Show: Season 1, Vol.4, and like that other recent release, it features more episodes in a single release than the other three volumes combined, all the remaining fourteen episodes not previously released, taking viewers to the end of the season. The show reimagines the old Looney Tune characters in what amounts to a sitcom setting, all living alongside one another in an L.A. suburb, with the decidely odd couple of Bugs Bunny and Daffy Duck in the lead roles as roommates, while other established long-time Warners characters play friends and neighbors (such as Yosemite Sam portrayed as Bugs and Daffy's paranoid but well-meaning immediate neighbor). Longer episodes (roughly 22 minutes, including the shorts) allow for more plot driven tales, resulting in a somewhat different experience from watching the Warners cartoons of yesteryear, but frankly that isn't necessarily a bad thing - previous attempts to simply reproduce the style and humor of past animators have had mixed success, and it's better to give the show's writers the chance to find their own style, influenced by but not attempting to ape what has come before.
Most, but not all, episodes includes two additional segments seguing from the main story. New Road Runner vs. Wile E. Coyote cartoons provide more traditional Warners cartoon fare, distinguished from their past counterparts by the use of computer animation to bring them to life; even though most people are used to seeing CGI cartoons these days, I still found it somewhat jarring to see computerized versions of characters I'd grown up with watching in hand-drawn cartoons, though you do get used to it. As noted in the previous paragraph, you don't do yourself favors trying to mimic the style of a classic rather than finding your own, if only because you invite additional and usually unflattering comparisons, but that aside, these make a valiant attempt at recapturing the feeling of old Road Runner cartoons. Were they as good as the Chuck Jones tales? No. But they weren't bad either. The second additional segment are the Merrie Melodies, short music videos featuring established cartoon characters singing new and original songs. As you'd expect, some are better than others - I particularly liked Tasmanian Meltdown (starring the Tasmanian Devil, naturally), but Speedy Gonzales' Pizzaribba was weak, and Daffy the Wizard (one of the longest Melodies at around 4 minutes) was just plain bizarre, as we watched Daffy's dream of living in a fantasy milieu.
Overall, though I still retain a soft spot for the old Warners cartoons of the 1930s through 50s, this stands out well as one of the better revivals of those classic characters, beating hands down the likes of Tiny Toon Adventures. Recommended.
---
All images and characters depicted on this site are copyright their respective holders, and are used for informational purposes only. No infringement is intended and copyrights remain at source.