News, Reviews and Previews
Welcome to the reviews and previews section on International Hero. I've been asked several times by people writing in to me about what books, comics and DVDs I'd recommend checking out. I'm not sure why anyone thinks my opinion is more valid or interesting than anyone else's, but since people have persisted in asking, I'm going to start a semi-regular reviews section where I cover the odd new release, as well as the odd older gem that takes my fancy. I'll warn readers now that anything I review here is probably going to get a positive review, simply because if I don't like something, I'm unlikely to buy it or waste my time writing about it. As ever, comments below are my opinion only, and your feelings may differ stuff about the stuff I like or dislike.
---
YOUNG JUSTICE: INVASION - DESTINY CALLING
Available on DVD January 22nd. Own it on DVD!
For the Young Justice squad being a teenager means proving yourself over and over — to peers, parents, teachers, mentors and, ultimately, to yourself. But what if you're not just a normal teenager? What if you're a teenage super hero? How much harder will it be to prove yourself in a world of super powers, super villains and super secrets? Are you ready to come of age in such a world? Are you ready for life or death rites of passage? Are you ready to join the ranks of the great heroes and prove you're worthy of the Justice League? That's exactly what the members of Young Justice — Robin, Aqualad, Kid Flash, Superboy, Miss Martian and Artemis — will find out … whether they have what it takes to be a proven hero. The latest season of the critically acclaimed series jumps ahead in time 5 years to re-introduce the original squad as well as all new members Nightwing, Wonder Girl, Blue Beetle, Batgirl, and Beast Boy as they fight off a secret alien invasion affecting the entire planet.
The cover image doesn't make it clear, but the side of the box does - this is Season Two, Part One. After the resounding success of the first Young Justice season, we fast forward five years for the start of the second season, and there have been several changes to the status quo. It's a tad misleading to say that Nightwing is a new team member, as he's really the first season's Robin, Dick Grayson, with the mantle of Batman's sidekick having passed down to Tim Drake between seasons. The writers have made good use of the time jump to also introduce several other suitable youthful heroes from the DC universe, not just the ones listed above in the solicitation blurb - for fans of DC there's also Zatanna, Rocket, Bumblebee, Mal Duncan, Lagoon Boy and Impulse. With ten episodes of Young Justice in this set, you've got around half the season (and most of the episodes which have aired as of the time of this review) included, though sadly Warner Bros have also confirmed this is to be the final season, a shame since this is such a good show. The team's battle against the villainous conspiracy known as the Light has stepped up its pace, but Aqualad appears to have defected to the enemy. Meanwhile future boy Impulse has come back in time to alter the timeline and prevent his own future coming to pass, a world where Blue Beetle turned to the dark side and took over the world. Every episode of this series is strong individually, but what makes this show stand out from other comic to cartoon adaptations is the truly breathtaking ongoing plotline, with unexpected twists and turns galore.
For once the DVD extras are also noteworthy, this time consisting of three bonus episodes of the Batman: Brave and the Bold cartoon, Rise of the Blue Beetle!", "Fall of the Blue Beetle!" and "Revenge of the Reach!", each of which is a welcome addition to this box set. At a RRP of $19.97 , this DVD set is highly recommended.
---
TOM AND JERRY: TRICKS & TREATS
Available on DVD September 4th. Own it on DVD!
Get set for a ghoulishly good time with that tussling twosome, Tom and Jerry as they scare up some fun for the whole family this Halloween with their latest DVD release, Tom & Jerry: Tricks and Treats, available September 4, 2012 from Warner Home Video (WHV). This "spooktacular" collection showcases 20 Tom and Jerry cartoons plus two bonus cartoons. Tom & Jerry: Tricks and Treats will retail for $19.97 SRP.
Tom and Jerry are in for spooks galore in this monster collection. With 20 eerie cartoons plus two bonus cartoons, everyone's goodie-bag will overflow with fun! Tricks and treats are at every turn, from ancient Egypt to Transylvania, from creepy houses to haunted forests, the hair-raising hilarity is non-stop! Our favorite Cat and Mouse mingle with ghosts, mummies, werewolves and witches in these terrific tales. Of course Tom and Jerry have a bounty of tricks up their own sleeves as well! Fear not, the chase is on! It's a "scare-iffic" good time for the whole family!
Tom and Jerry: Tricks & Treats is a collection of (mostly) spooky-themed Tom and Jerry cartoons released for the Halloween market, and originally aired (again, mostly) as part of the Tom and Jerry Tales show that aired on Kids WB between September 2006 and March 2008. Why the mostlys? I guess it proved difficult to find enough Tom and Jerry cartoons that properly fitted the Halloween / spooky theme, and so there's a number of the entries in this DVD that really don't fit that tagline, instead making do with putting either or both protagonists in costume, which I guess counts as Halloween fancy dress. Plus, six of the twenty main cartoons are from older iterations of Tom and Jerry, rather than Tom and Jerry Tales - but that's not necessarily a bad thing, because old Tom and Jerry is generally good Tom and Jerry.
Putting aside quibbles over how close to the stated theme the contents actually are, what exactly does this particular DVD offer? There are twenty-two cartoons on here (twenty "main" ones and two Christmas-themed "bonus cartoons" included as "special features"), of which sixteen are from Tom and Jerry Tales. I hadn't seen this version of the cartoon cat and mouse before, so I went into watching them with a mixture of anticipation and trepidation - I like Tom and Jerry, but I also know how frequently new versions of old classics fall short of the mark. Luckily, by and large, I didn't need to worry - while I don't think they quite had the zing of the best of the classic cartoons, most of the new cartoons ranged from being perfectly watchable to actually quite excellent. Among the best of the set are the suitably spooky Over the River and Boo! the Woods, the eerie Invasion of the Body Slammers, the haunted mansion tale Fraidy Cat Scat, and Monster Con, which includes a clear homage to the 2004 Van Helsing movie. Some of the others, such as the Egyptian-themed Tomb it May Concern and funhouse story Spook House Mouse, are atmospheric and fun, but spoiled a touch by weak endings. The only really dire cartoon in the set, in my opinion, is the inane and unfunny medieval musical, The Itch. Overall, there's over two and a half hours worth of cartoons to while your time away with here, most of it time well spent, and as such, my final analysis of this set is to recommend it, with a caveat. If you are wanting something to keep the kids happy, or just wanting a random set of Tom and Jerry cartoons to watch yourself, this is a set worth getting. If you are a more serious collector, it should be noted that all the sixteen Tom and Jerry Tale cartoons on this set were already released in Tom and Jerry Tales: Vol 1 through 6, which also included the rest of that series, so if you already own those, you'd be double dipping and only picking up this set for the "classic" Tom and Jerry cartoons on it, some of which have also likewise been included in other past collections.
---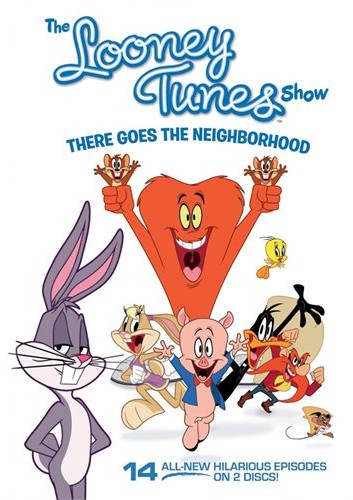 THE LOONEY TUNES SHOW: THERE GOES THE NEIGHBORHOOD
Available on DVD August 7th. Own it on DVD!
Bugs, Daffy, Elmer, Foghorn, Sylvester, Tweety, Granny and all your favorite Looney friends are back! It's The Looney Tunes Show! Get ready to laugh till it hurts, when the Looney Tunes gang takes you on one hilarious roller coaster ride of fun after another! It's episode after episode of Looney Tunes adventure and Looney Tunes insanity for the whole family to enjoy. And wait, there's more! Not only will you get all these side-splitting madcap shows, you'll also get brand new Merrie Melodies and Road Runner shorts. The laughs never end with The Looney Tunes Show! Includes the 2nd half of the 1st season, 14 episodes.
Like Young Justice: Dangerous Secrets, The Looney Tunes Show: There Goes The Neighborhood is actually The Looney Tunes Show: Season 1, Vol.4, and like that other recent release, it features more episodes in a single release than the other three volumes combined, all the remaining fourteen episodes not previously released, taking viewers to the end of the season. The show reimagines the old Looney Tune characters in what amounts to a sitcom setting, all living alongside one another in an L.A. suburb, with the decidely odd couple of Bugs Bunny and Daffy Duck in the lead roles as roommates, while other established long-time Warners characters play friends and neighbors (such as Yosemite Sam portrayed as Bugs and Daffy's paranoid but well-meaning immediate neighbor). Longer episodes (roughly 22 minutes, including the shorts) allow for more plot driven tales, resulting in a somewhat different experience from watching the Warners cartoons of yesteryear, but frankly that isn't necessarily a bad thing - previous attempts to simply reproduce the style and humor of past animators have had mixed success, and it's better to give the show's writers the chance to find their own style, influenced by but not attempting to ape what has come before.
Most, but not all, episodes includes two additional segments seguing from the main story. New Road Runner vs. Wile E. Coyote cartoons provide more traditional Warners cartoon fare, distinguished from their past counterparts by the use of computer animation to bring them to life; even though most people are used to seeing CGI cartoons these days, I still found it somewhat jarring to see computerized versions of characters I'd grown up with watching in hand-drawn cartoons, though you do get used to it. As noted in the previous paragraph, you don't do yourself favors trying to mimic the style of a classic rather than finding your own, if only because you invite additional and usually unflattering comparisons, but that aside, these make a valiant attempt at recapturing the feeling of old Road Runner cartoons. Were they as good as the Chuck Jones tales? No. But they weren't bad either. The second additional segment are the Merrie Melodies, short music videos featuring established cartoon characters singing new and original songs. As you'd expect, some are better than others - I particularly liked Tasmanian Meltdown (starring the Tasmanian Devil, naturally), but Speedy Gonzales' Pizzaribba was weak, and Daffy the Wizard (one of the longest Melodies at around 4 minutes) was just plain bizarre, as we watched Daffy's dream of living in a fantasy milieu.
Overall, though I still retain a soft spot for the old Warners cartoons of the 1930s through 50s, this stands out well as one of the better revivals of those classic characters, beating hands down the likes of Tiny Toon Adventures. Recommended.
---
All images and characters depicted on this site are copyright their respective holders, and are used for informational purposes only. No infringement is intended and copyrights remain at source.