Red Ketchup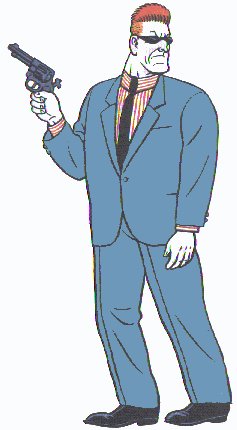 Real Name: Steve "Red" Ketchup
Identity/Class: Human empowered by chemical means
Occupation: former police officer, now F.B.I. agent
Affiliations: F.B.I.; Edgar G.Sullivan (boss)
Enemies: His father
Known Relatives: Stanley Ketchup (father, deceased), unidentified mother, Sally (sister)
Aliases: None
Base of Operations: United States
First Appearance: Croc Magazine
Powers/Abilities: Ruthless and violent combatant, skilled in both armed and unarmed fighting techniques. Invulnerable, apparently through a combination of being incredibly fit, having a high pain threshold, and drug overdose - Philippe Chayer mentions "that his blood is more like a mix of anti-freeze, cocaine, and other chemical stuff... I think he has to "recharge" to keep his powers..."
History: Born an albino, Steve Ketchup was the son of Polish immigrant, a violent alcoholic who beat his son regularly to "educate" him. He used to force Red to play chicken with oncoming trains to help him "become more of a man." and would beat Red if he dodged the train too quickly. As soon as Red was sixteen he enlisted to get away from his father, and was sent to Vietnam, where he became heavily decorated. After the war he joined first the Detroit police force, and then the F.B.I.
His father suffered a massive stroke after beating Red's older sister for her hippy lifestyle. Months later, Red was asked by his sister to take their wheelchair-bound father for a walk around the neighbourhood. Red took his dad for a nostalgic trip to the trainyard and left Dad's chair (complete with Dad) on the tracks (you can imagine the result).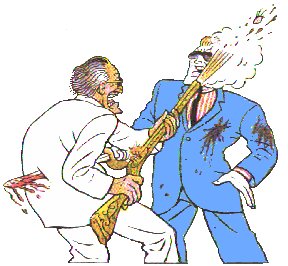 In the Bureau he swiftly established a reputation for being extremely violent, but terrifyingly effective. "Red" Ketchup, as he had become known, was investigating the drugs trafficker Raul Escobar, when he was exposed to a mixture of drugs including cocaine, and somehow became nearly invulnerable (see notes below). Since then his boss in the F.B.I., Edgar G. Sullivan, has employed him on the most dangerous missions that the agency encounters, including (from what I can divine with my non-existent French) tracking down Elvis, taking on a cloning racket, and going to Hell.
Comments: Created by Réal Godbout and Pierre Fournier.
Éric Roy filled in some of the blanks I had with this character for me. He explained that Red's drug usage apparently started accidentally, when he was exposed to cocaine after some bags containing it burst (or something of that ilk). "Soon afterwards Red Ketchup was always looking for drugs (medical mostly), suffering shakes when he hadn't had any, and I recall he might have been shaking once, when needing drugs, and was surprised about it. Most of the time, Red Ketchup would bust into a drugstore or pharmacy, and take any drug crossing his path, but often, he would take street drugs or domestic chemical products. In other words, anything he could find." His "invulnerability" is mostly down to a combination of his incredibly fitness and naturally high resistance to injury and drugs, the iron will his father instilled in him, combined with being so hyped up he just doesn't feel pain or injury (like someone on PCP). It clearly extends a little beyond this though, as one illustration depicts him taking a shotgun blast to the side of his face; no matter how pumped you are, that should cause serious damage.
Red first appeared as a back-up character in Godbout and Fournier's Michel Risque strip, before moving on to his own series in sister magazine Titanic in 1983. When that magazine cancelled a year later, he returned to Croc, but retained his own strip. His stories have been published in collected form in Quebec and France (by Lucom-Hook and by Dargaud respectively). He's also had the odd story in Hook magazine and Safarir magazine.
Thanks to Mike Murphy for additional information about Red's origins, specifically his father's fate. He also sent me the two images used on the lower portions of this site. Thanks to Vincent Goudreault for clarifying about the names of Red's relatives.
Links: Red Ketchup site recommended by Philippe Chayer.
CLARIFICATIONS: None
Any Additions/Corrections? Please let me know.
Back to Canadian Superheroes Main Page
All images and characters depicted on this site are copyright their respective holders, and are used for informational purposes only. No infringement is intended and copyrights remain at source.