John Carter, Warlord of Mars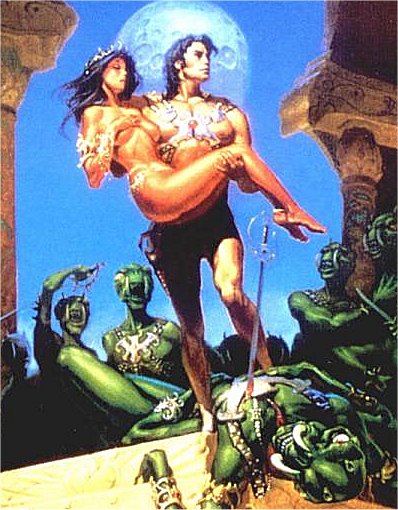 Real Name: Captain John Carter
Identity/Class: Normal (?) human
Occupation: Soldier, adventurer
Affiliations: Woola, James K. Powell, Confederate army, the Tharks, Tars Tarkas
in comics Tarzan, Gulliver Jones
Enemies: Issus
in comics H.G.Wells' Martians
Known Relatives: Dejah Thoris (wife)
Aliases: Warlord of Mars, Uncle Jack, Captain Jack Carter of Virginia
Base of Operations: Barsoom (a.k.a. Mars)
First Appearance: All-Story Magazine (1912)
Powers/Abilities: On Mars, Carter has superhuman strength. Tall (six foot, two) and athletic, he was an expert horse rider, as well as being a skilled fighter, swordsman and rifle man.
History: John Carter (who was also known as Captain Jack Carter of Virginia) claimed later in life not to remember his childhood at all. He also stated that for as long as he remembered, at least forty years, he had looked like he was thirty and had never aged. Certainly, it was true that when he passed away, he still looked a young man - as for the rest of it, only John knew for sure how much of what he claimed was real.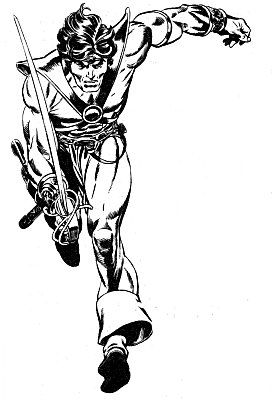 Carter was a Southerner. Presumably prior to the advent of the Civil War, he spent several years living among the Sioux tribes in the north, but when conflict split America asunder, he enlisted in the Confederate Army, becoming a cavalry officer; he was a Captain by the end. Finding his savings of Confederate dollars worthless with the supremacy of the North, he and his friend, Captain James K.Powell, headed into the southwest to prospect for gold. After a year, they struck a rich vein of gold-bearing quartz in the winter of 1865; over the next three months they uncovered more than a million dollars of ore. At the start of March 1866, they decided one of them should return to civilisation to procure better equipment and hire men to work their find, while the other remained to stop claim jumpers. Since Powell had an engineering background which would make him better suited for choosing machinery, he elected to make the trip, while Carter watched things. But shortly after Powell departed, Carter spotted dots on the horizon which he felt certain were Apaches, trailing his companion.
Fearing Powell would not be able to handle several Apache warriors single-handedly, Carter mounted up and rode to the rescue. His fears proved all too accurate, and it became clear from the trail that his friend had been captured. Following the Apaches back to their camp, Carter raced in shouting and firing like a man possessed; believing themselves to be under attack from a large force of enemies, the braves fled in panic. Sadly the rescue came to late; Powell was already dead, and all Carter achieved was to retrieve his friend's corpse before it could be mutilated. He fled as the Apaches came to the realisation their foe was but a single man. With the braves pursuing, Carter managed to temporarily give them the slip among the mountain trails, and sought refuge in what he judged to be a defensible cave. As he began to explore, he started to feel inexplicably drowsy, and as he tried to make it to the exit, he passed out.
Though he was aware of what was happening, Carter found himself unable to move or react as the braves located him. Something about him seemed to awe and scare the Apache warriors, though Carter would not know why for a decade. Then a moaning noise from the back of the cave caused them to flee in terror. For several hours he lay paralyzed, terrified of what might be hidden lurking outside his line of vision. Carter finally managed to move after nightfall. He stood with his back to the wall of the cave and turned to confront his foe, only to see his own body lying on the ground, apparently dead. Glancing down he saw he was naked, and wondered if he might be dead, but swiftly realised he was still corporeal. Realising he could still hear something moving in the back of the cave he raced outside, and as he glanced up at the sky, he saw Mars, and felt himself drawn to it. Closing his eyes, he felt an instant of cold and utter darkness, and when he open his eyes, he was on Mars, lying on the ground.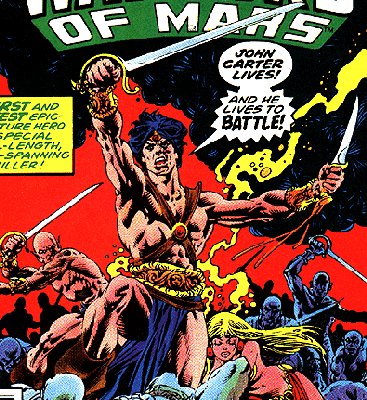 Standing up to explore, Carter realised that the lighter gravity made him more agile, as he unintentionally leapt into the air. Swiftly adjusting to his newfound strength, he learned how to compensate so that he could walk normally, then set off to explore. Naked and unarmed on a hostile world, he was swiftly captured by the Tharks, a tribe of giant, four-armed barbarian nomads, the "Green Men of Mars". While their prisoner, he encountered the beautiful Dejah Thoris, princess of Helium, a city of the more humanoid "Red Men of Mars". As his adventures continued, Carter became Dejah's lover and later husband, and forged alliances between the Tharks and the residents of Helium. He soon found his niche in a dying civilisation where war and assassination were daily events among beings who could otherwise live for thousands of years.
Ten years later Carter returned to Earth, where his corpse had laid undiscovered and undamaged during the decade he was absent. After returning he never seemed to age, and after making his fortune in Arizona, he moved to New York, where he lived in a small cottage next to the Hudson River. He would often be seen by friends standing outside at night, looking heavenward with his arms out in supplication. Years later, when he believed he was about to die, he laid down his stories of Mars in a manuscript which he gave to young Edgar Burroughs, a writer who would publish them as fictional accounts in the magazines of the era. On the morning of March 4th 1886 Carter's corpse was found, still warm, lying in the snow outside his home. His body was returned to Virginia, where it was entombed in an open coffin without embalming. The tomb, which Carter himself had built, had a door with a single large spring lock, only openable from the inside.
Comments: Created by Edgar Rice Burroughs in 1911.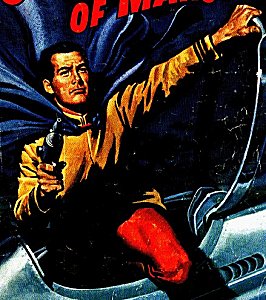 In total, there are 11 novels set on Barsoom:
A Princess of Mars

The Gods of Mars

The Warlord of Mars

Thuvia, Maid of Mars

The Chessmen of Mars

The Master Mind of Mars

A Fighting Man of Mars

Swords of Mars

Synthetic Men of Mars

Llana of Gathol

John Carter of Mars.
No explanation was ever given for how Carter got to Mars - a dream, teleportation, astral projection / out-of-body experience? No one knows.
Initially appearing in early pulp magazines, John Carter's adventures were swiftly gathered into novels. He transferred to comics for the first time in May 1939, when he appeared in The Funnies #30, a title he continued to guest star in until #56, in June 1941. During this period, he also turned up in Dell Comics Fast Action Story in February / March 1940, reprinting stories from The Funnies. Better Little Books also released a John Carter title, #1402 in their series. Then in the 50s and 60s both Dell Comics and Gold Key released three issues apiece of their versions of John Carter. However his most notable comics run was the one released by Marvel Comics, where he starred in 28 issues (June 1977 to October 1979) and three "King-Sized" Annuals (1977 to 1979) of his own title, John Carter, Warlord of Mars in the early 1970s.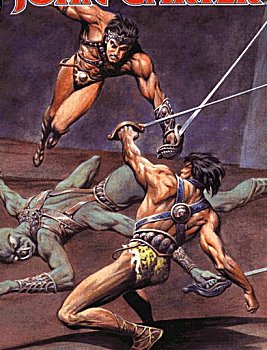 Since then he has appeared only sporadically - in 1996 Dark Horse Comics released Tarzan / John Carter: Warlords of Mars, a four issue mini-series detailing the meeting of two of Burroughs' greatest creations. He also turned up in League of Extraordinary Gentlemen Vol.2 #1, where he and Gulliver Jones (star of Edwin J.Arnold's Gulliver Jones of Mars novel) led their respective Martian armies in driving H.G.Wells' Martians from the Red Planet, unwittingly initiating The War of the Worlds.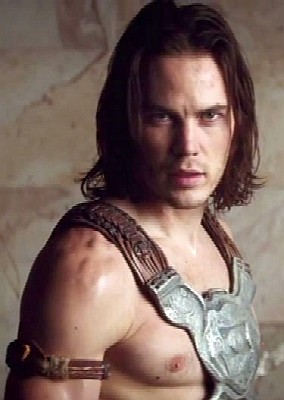 A movie version by Walt Disney, John Carter, was released in 2012, with Taylor Kitsch playing the title role. Though an excellent movie (in my opinion at least), it was a financial flop, eliminating any chances of a sequel in the foreseeable future.
Returning to Gulliver Jones, a character who predates John Carter's literary debut by several years (1905 vs. 1912): Given the similarities between the two and their respective depictions of Mars, it seems highly likely the former inspired the latter. Years later author Michael Moorcock would create his own homage to both of them, with his character Michael Kane, a.k.a. Kane of Old Mars.
Further details of John Carter can be found at his official site.
CLARIFICATIONS: Not to be confused with
Gulliver Jones, another soldier who became a warlord on Mars.

Michael Kane, another Earthman on Mars, written later but set earlier.
Any Additions/Corrections? Please let me know.
All images and characters depicted on this site are copyright their respective holders, and are used for informational purposes only. No infringement is intended and copyrights remain at source.