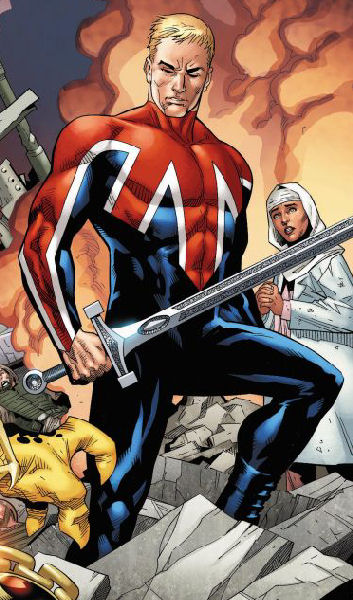 Real Name: Brian Braddock
Identity/Class: Human / extra-dimensional human hybrid, augmented by magic
Occupation: Government agent; former ruler of Otherworld
Affiliations: The Corps; Excalibur; Merlyn; Roma; King Arthur; Black Knight; Mastermind; Saturnyne; Captain U.K., Crusader X; RCX; S.T.R.I.K.E.; the Special Executive; Jackdaw
Enemies: Reaver; Hurricane; Red Skull; Corruptor; Highwayman; Dr.Synne; Mastermind; Slaymaster; Vixen; Mad Jim Jaspers; Crazy Gang; Sat-yr-nin; Kaptain Briton; Hauptmanne Englande; Black Air; RCX; Gatecrasher's Technet; Fury; Doctor Claw; Lord Hawk; Necromon; Jamie Braddock;
Known Relatives: Sir James Braddock (father, deceased); James Braddock (brother); Elizabeth Braddock (twin sister); Meggan (wife)
Aliases: Britannic
Base of Operations: Otherworld
First Appearance: Captain Britain Weekly #1
Powers/Abilities: Captain Britain is a hybrid human/Otherworldian. All of his powers-- energy storage, flight, super strength (100 tons)-- are derived from his alien origin. In the past, Captain Britain has used mechanical devices to augment his powers. His last suit had an energy force field that could be extended and used as a weapon.
Braddock possesses the ability to absorb extradimensional energy which is created by the "friction" between the layers of alternate realities existing side by side. His superhero costume amplifies this ability, granting him super human strength, speed, endurance, the ability to fly, and projects a personal force field with extreme resistance to most forms of attack. Early in his career, Braddock was able to project his force field outward and manipulate it, like an extended pair of hands, but he lost this ability when he was rebuilt after being killed by the Fury (he briefly regained it during his fight against the Hellfire Club). Braddock was able to use his powers without his costume on, but without it, his powers operated at a lesser extent and perhaps not at all, if away from Britain for an extended time.
Originally a costumed athlete, Braddock was given increased strength and fighting abilities when wielding his magical sceptre which contained all the abilities of his current costume.
As Britannic, Braddock had became "one with the time stream," granting him a type of cosmic awareness (and strange aloofness) along with his super powers. Once his purpose as Britannic was revealed, however, this persona and powers disappeared.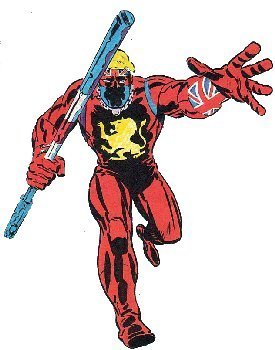 History: Brian Braddock is the older twin brother of Elizabeth (later, Psylocke) and younger sibling to elder brother, Jamie. Unknown to his children, their father was actually a native to the other-dimensional Otherworld and agent of its ruler, Merlyn. Their father created an elaborate organic computer beneath their mansion, calling it Mastermind, to monitor their children in hopes that one of them would become this dimension's version of the hero Captain Britain.
Brian grew up a quiet, reserved child, and studied science and chemistry. Landing a job at the Darkmoor Research facility during a university break, Brian was present when Joshua Stragg, a.k.a. the Reaver, attacked the facility. Escaping on a motorbike, Brian was forced off the road, and crashed near a group of standing stones. Severely injured, Brian had a vision, of Merlin and his daughter Roma, who bade him to choose one of the mystic objects before him: the amulet of right or the sword of might. Braddock chose the amulet of right and was instantly bombarded with mystical energy that transformed him into a costumed champion, Captain Britain, and he was given a sceptre that enhanced his powers.
Braddock fought crime and injustice in the U.K. for some time, battling against foes such as Hurricane, Dr.Synne, the Red Skull, the Corruptor and the Highwayman, and alongside STRIKE, Nick Fury, Captain America and Spider-Man. Returning from a trip to America, Braddock jumped from a plane into the Atlantic Ocean, while believing himself to be under attack from evil magical forces. He survived, but spent months amnesiac living as a hermit on the coast of Cornwall, until Merlyn sent the Black Knight to awaken his memories and bring him to Otherworld. There the heroes battled the forces of Necromon, and aided in the revival of King Arthur. Before the end of that fateful battle, Arthur dispatched Captain Britain, along with new ally Jackdaw the elf, back to Earth, saying they had another, greater task to undertake.
The Earth he arrived at though, was not his own. With his costume and powers transformed en route, Captain Britain and Jackdaw landed in a Britain run by a fascist regime, where all the heroes appeared to have been killed off by the government. There they made the acquaintance of Opal Luna Saturnyne,who was leading an extra-dimensional expedition to try and salvage this world. They would have succeeded had it not been for the cancer hidden at the root of all this world's problems - an insane reality warping mutant called Mad Jim Jaspers. Saturnyne fled, abandoning the heroes. First Jackdaw, and then Captain Britain himself, died at the hand of the Fury, a cyboite designed by Jaspers to be the ultimate super-human killer.
Merlyn and Roma rebuilt him from his remains (a rag, a bone, a hank of hair) and returned him to his own dimension, leaving him unaware that he had been killed. He soon found out that Saturnyne had been placed on trial for her failure to save the reality they had been in, and watched as her successor as Omniversal Majestrix destroyed the tainted dimension to prevent the infection from spreading. It was also at this point he began to discover that he was operating as a part of a league of Captain Britain dimensional analogues, the so-called "Captain Britain Corps".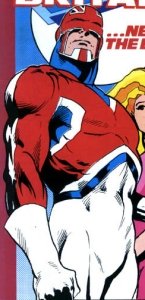 Soon the hero was forced to face his own dimension's version of Jaspers, an incarnation even more powerful than the one that had defeated him before. Also, the Fury, unable to comprehend defeat, survived the destruction of its own reality, and pursued him back to this one to finish the job. Ironically, the Fury proved to be the one thing powerful enough to defeat Jaspers, and weakened by that battle, it finally fell at the hands of Captain Britain and Captain UK, the only hero to escape from the Fury's home dimension and CB's counterpart from same.
Afterwards Braddock continued to adventure as Captain Britain, and soon encountered Meggan, his future fiance. When his home was taken over by government agency RCX and used to house children who had been mutated by Jaspers' reality manipulations, he quit the role of Captain Britain, escaping to a lighthouse with Meggan. During this time, his sister Betsy took on the mantle of Captain Britain, and was severely injured by Braddock's archenemy, Slaymaster. Upon hearing this, Braddock returned to his heroic identity and killed Slaymaster in retaliation. He continued to adventure as Captain Britain, but only as an independent operator.
After hearing of his sister's death while she was working with the X-Men, Brian fell into drunken despair. Seeking to draw him out of this, Meggan contacted some of the surviving X-Men, and got involved in an adventure which drew Captain Britain into association with these other heroes who would soon form the team Excalibur. Eventually it was revelaed that Merlyn had manipulated events to ensure the creation of the team, in a ploy to collapse all of the infinitely diverged realities into one plane of reality and control the resulting energies. Braddock was instrumental in restoring the realities to their proper place, but briefly left the team afterward for some soul searching. At this time, he proposed marriage to Meggan who readily accepted.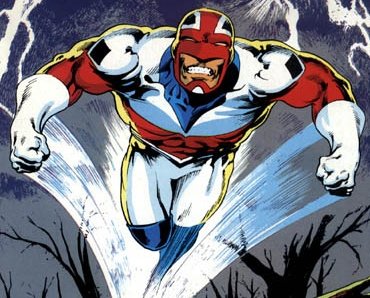 Braddock and Meggan were soon drawn back into Excalibur's fold, and helped their teammate Rachel Summers (Phoenix) restore peace to her native timeline: an alternate future. Upon returning to the present, however, Braddock was lost in the time stream. He was soon saved by Rachel Summers taking his place, but Braddock returned significantly changed in powers and demeanor, and adventured with Excalibur as Britannic. Eventually, his purpose for being Britannic was revealed, and Britannic helped saved the world from the threat of the alien-spawned villains known as the Phalanx.
Braddock then returned to normal, and although he continued to associate with Excalibur, he again took a brief respite from adventuring, focusing more on his scientific abilities. In this manner, he infiltrated the London branch of the would-be world dominating Inner Circle of the Hellfire Club. He then returned to one of his old costumes (the original helmeted version, which he had fixed to allow him greater control of his forcefield once again), and ultimately defeat the villains of the Inner Circle, resuming the mantle of Captain Britain. Soon after, however, he drained all his powers to defeat the Dragons of the Crimson Dawn, and he left Excalibur once again.
Braddock returned as Captain Britain to marry Meggan in a ceremony on Otherworld. Afterwards, Excalibur disbanded, and Braddock and Meggan remained in Great Britain.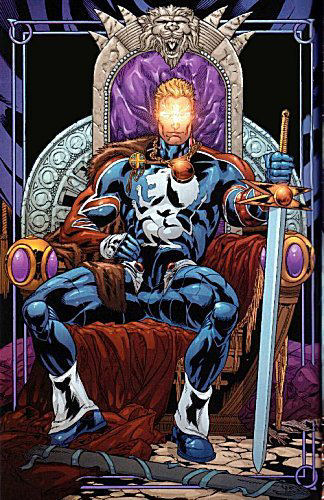 More recently, the computer Mastermind was manipulated by the time-travelling villain Kang, the end result of which made Mastermind believe that it should be Captain Britain and even guardian of the multiverse. As such, it made its way into the dimension of Otherworld, captured the current guardian, Roma, and impersonated her. In an effort to draw Brain Braddock into battle, Mastermind, as Roma, began killing other members of the Captain Britain Corps. Braddock and Meggan joined with other allies (Psylocke, Captain U.K., Crusader X, and the Black Knight) to confront "Roma," and in the process Braddock pulled the sword Excalibur from its resting place in Otherworld. Newly empowered, Braddock was able to oust Mastermind and defeat him. In gratitude, Roma offered Braddock her position as guardian of the multiverse, which he accepted.
Braddock currently resides in Otherworld with Meggan by his side.
Comments: Thanks to Barry Reese for supplying the image of Captain Britain as ruler of Otherworld. Thanks to Alan Rundle for some corrections to the history section.
CLARIFICATIONS:
Any Additions/Corrections? Please let me know.
Back to UK Superheroes Main Page
All images and characters depicted on this site are copyright their respective holders, and are used for informational purposes only. No infringement is intended and copyrights remain at source.