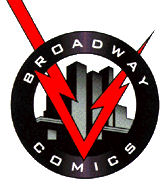 Broadway Comics
Founded in 1995 by Jim Shooter after the collapse of Defiant Comics, Broadway Comics was yet another attempt by the former Marvel editor-in-chief to re-enter the comics field. The first title launched was Powers That Be, which previewed other, upcoming Broadway titles. Sadly, like Defiant before it, Broadway came to a premature end; sold in 1996 to Golden Books, its new owners almost immediately went bankrupt, and Broadway went down with them, having published only just 33 issues (or 23, once you discount the promotional previews and trade paperbacks).
Apparently, had the company not died so young, Jim Shooter intended to bring in some of the characters and concepts from Defiant Comics into the Broadway Comics storylines.
Broadway Comics Checklist
Powers That Be #1-6 (title changed name with #7 to Star Seed)
Star Seed #7-9
Fatale #1-6
Knights on Broadway #1-3
Miracle on Broadway #1 (exceptionally rare, as only 1,150 copies were printed)
Shadow State #1-5
There is an excellent site devoted to Broadway comics here.
All images and characters depicted on this site are copyright their respective holders, and are used for informational purposes only. No infringement is intended and copyrights remain at source.