The Blonde Phantom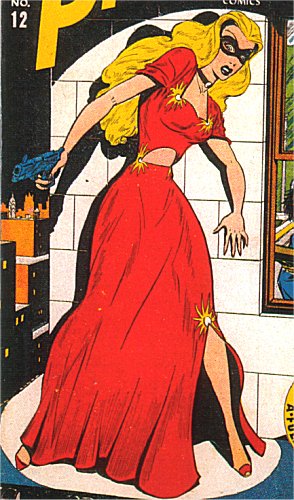 Real Name: Louise Grant
(Silver Age) Louise Grant Mason
Identity/Class: Normal human
Occupation: (Golden Age) Secretary for Mark Mason Detective Agency
(Silver age) Secretary for D.A.Blake Tower and Jennifer (She-Hulk) Walters
Affiliations: (Golden Age) Mark Mason (employer), "Father Time, the Grim Reaper"
(Silver age) All Winners Squad, She-Hulk
Enemies: Baron Frankenstein, Carlo the Killer, Stillface
Known Relatives: (Silver age) Mark Mason (husband, deceased), Wanda (daughter, the Phantom Blonde)
Aliases: None
Base of Operations: New York City
First Appearance: All Select Comics #11 (Timely Comics, Fall 46)
Powers/Abilities: The Blonde Phantom is a capable hand-to-hand combatant and a good shot with a pistol. She also displayed the ability to see beyond the "fourth wall" and address the reader of her comics directly.
She very briefly gained the strength and durability of the She-Hulk.

History: (All-Select Comics #11, ga) The secretary to a detective, Louise Mason decided to help her boss Mark Mason, whom she secretly loved. She adopted the identity of the Blonde Phantom, and fought crime in a domino mask, high heels, and a daring evening dress.
(Blonde Phantom #12-22, ga) No synopses available
(Marvel Mystery Comics #84-91, ga) No synopses available
(Sub-Mariner #25-28, ga) No synopses available
(Blackstone the Magician #2-4, ga) No synopses available
(All-Winners Comics II #1, ga) No synopses available
(Namora #2, ga) No synopses available
(Sun Girl #2-3, ga) No synopses available
(She-Hulk II #22) The Blonde Phantom briefly worked alongside the All-Winners Squad.
(bts) In 1949 Louise hung up her mask, and finally got Mark's attention. They married and had a daughter. Eventually Mark died, and Louise sought to return to comics so as to retard her own aging again, realising that her fellows who had stayed comic book heroes were mainly still in their prime.
(She-Hulk II #2-4, 7-8, 10-11, 13-19, Avengers #325, She-Hulk II 21, 23, Hulk Annual #16, She-Hulk I #25) Louise began work as the secretary for Jennifer Walters, the She-Hulk.
(She-Hulk II #28-36, 40-43, Marvel Comics Presents #123-126, She-Hulk I #44-47, 49) Kidnapped by the Mole Man, Louise was exposed to a liquid which restored her to the physique of a twenty year old. She began a relationship with Jennifer Walters' father,
Note: Since the Phantom, as far as we know, never had an origin, it might be theorized, as Ronald Byrd points out, that Louise Grant was inspired to fight crime as the "Blonde Phantom" by the Blonde Phantom (I).
Comments: Debuting in All-Select Comics #11, with the next issue the title renamed itself, making the Blonde Phantom the star. Others have speculated(Ronald Byrd being the first I believe) that since Louise Mason was not the first person to call herself the Blonde Phantom (see Millie the Model), perhaps that other B.P. inspired her choice of identity.
Thanks to Jess Nevins for allowing me to use information from his excellent Golden Age Heroes Directory and his Guide to Golden Age Marvel Characters. Thanks also to Richard Boucher & Darrin Wiltshire @ PR-Publications for permission to use information from their equally brilliant collection of Golden Age Sites, PR Publications. Their knowledge of Golden Age characters far outstrips my own.
Thanks to Brad Newman for permission to use images from his Comic Book Cover Quest site on this page.
CLARIFICATIONS: Not to be confused with
The Blonde Phantom, a.k.a. Millie the Model

The Phantom Blonde, Louise's daughter
Any Additions/Corrections? Please let me know.
All images and characters depicted on this site are copyright their respective holders, and are used for informational purposes only. No infringement is intended and copyrights remain at source.